Los Angeles Rams: Even Jared Goff Thinks He's Ready to Start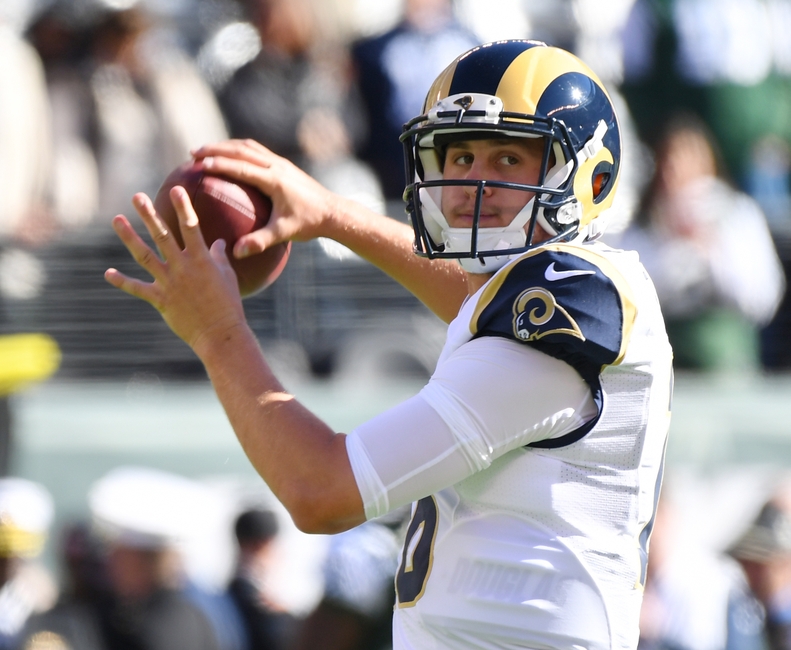 It's been 10 weeks and the Los Angeles Rams still haven't started Jared Goff, even though he was the first-overall pick in the 2016 NFL Draft.
The Los Angeles Rams are technically still in playoff contention at 4-5 and it isn't like their division has been a true gauntlet this season. While the Rams did win in Week 10 against the Bryce Petty-led New York Jets, it was far from a convincing performance. Los Angeles won 9-6, and they haven't scored more than 10 points in a game since Week 6.
In fact, the Rams win over the Jets was their first victory since Week 4. And it's fair to wonder if their fourth win of the season was due to luck instead of skill. The Jets offense, once again, had nothing going for it outside of Matt Forte. Moreover, they are one of the worst teams in the NFL at 3-7. Beating them 9-6 is hardly worthy of praise. Yet, Jeff Fisher had the gall to say Case Keenum did a "nice job".
Keenum completed just 17-of-30 passes for 165 yards. He was awful. And what makes things more frustrating is the fact that he couldn't realize just how easily Kenny Britt was dominating Darrelle Revis. This season, Keenum has nine touchdowns to 11 interceptions and a quarterback rating hovering under 80.0. As we saw in London against the New York Giants, he is poised to implode in any given game.
And yet, the Rams still don't see a reason to move to rookie quarterback Jared Goff, who could very well be an upgrade over Keenum. I mean, just look at how Dak Prescott and Carson Wentz have performed this season for the Dallas Cowboys and Philadelphia Eagles, respectively.
The Rams don't seem to be budging from their stance, which is reportedly to hold off on starting Goff until the team is mathematically eliminated from playoff contention. If that doesn't make sense to you, join the club.
It's a club that reportedly includes Goff. A source told Pro Football Talk's Mike Florio that Goff believes he is ready. Detractors will point to his lackluster preseason performance, but after watching Keenum lead the Rams to several 10-and-under displays on the scoreboard, it's hard to believe Goff is a worse option.
At Cal, Goff was known for his accuracy and decision-making, not for his build, moxy, or arm strength. Goff can spread the ball around and maybe having him at quarter can help Todd Gurley put together a season that more closely resembles his excellent rookie campaign.
ESPN's Adam Schefter reports that the Rams could start Goff next week against a Miami Dolphins team that just beat Philip Rivers's San Diego Chargers on a game-winning pick-six. The Dolphins, however, also allowed three touchdown passes. So it is a matchup that figures to be more favorable for Goff than others.
I wonder how much Goff is in Fisher's ear. But since a report about Goff's feelings was sent out by Florio, it means that somebody in his camp wants the media's attention.
This article originally appeared on