Los Angeles Rams End Losing Streak Following 9-6 Win Over New York Jets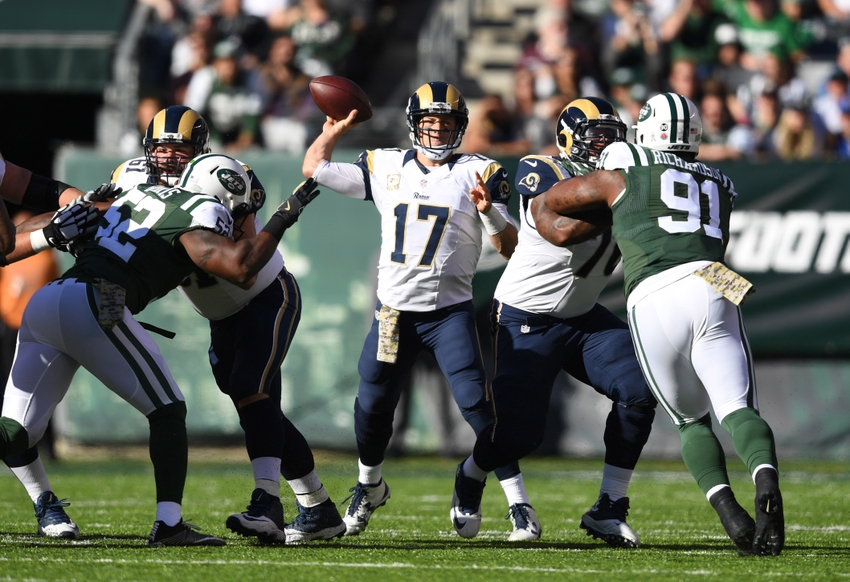 The Los Angeles Rams put an end to their four game losing streak thanks to a win over the New York Jets in Week 10.
For the second time this season, the Los Angeles Rams found a way to win a football game without finding the end zone. It may not have been the best performance on offense, but the Rams managed to put an end to their four game losing streak with a win over the New York Jets on Sunday thanks to a strong performance by the defense.
In a game where Case Keenum was limited to 17 of 30 passing for 165 yards and Todd Gurley was held to just 64 rushing yards on 21 carries, Los Angeles heavily relied on their defense to hold off New York 9-6. While the argument can be made the Rams had an extra advantage with Bryce Petty making his first career start, Jeff Fisher's squad will take wins any way they can when looking back at how this season has been.
After ranking near the bottom of the league in 2015, Fisher was hoping to see Keenum take the Rams' offense to the next level this season, but that obviously has been far from the case as the veteran has struggled over the last few weeks. Just look at how Los Angeles has been limited to scoring just 29 points over their last three games, and it's clear how much Keenum has struggled this season as it was obvious once again on Sunday.
With the Rams finally closing out a game to hang on for a win, Fisher has to be relieved a little bit when it comes to his job security as the head coach has been on the hot seat during the team's previous losing streak. Apparently, a game against an unexperienced quarterback in Petty and a poor offense in New York was all Los Angeles needed to finally get the ball rolling again.
Now, if only the Rams can figure out a way to cure Gurley's struggles as the running back is still waiting for his first 100-yard game of 2016, which nobody could have predicted after taking home Rookie of the Year honors las season.
This article originally appeared on