Los Angeles Rams' Case Keenum Reacts to Jared Goff Talk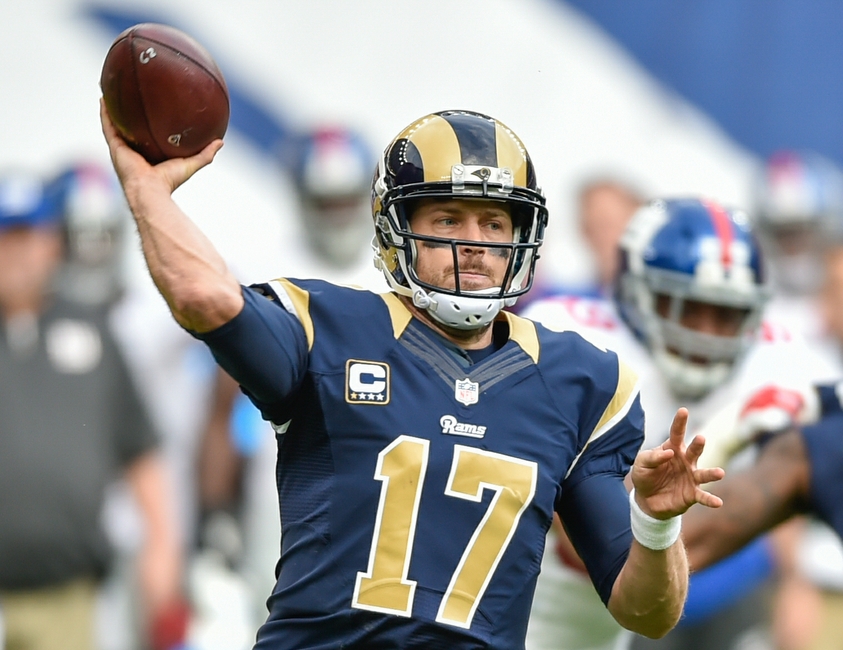 As Case Keenum continues to struggle under center for the Los Angeles Rams, the talk about rookie quarterback Jared Goff finally getting a start is heating up.
It's only natural that Keenum has heard the noise and it will only grow louder if Keenum performs like he did in Week 7 against the New York Giants when he tossed four picks in a dreadful effort.
Despite Goff's name being thrown around as his potential replacement sooner rather than later, Keenum isn't paying attention to any of it, as was reported by Gary Klein of the LA Times:
"I don't pay attention to a lot of that," he said after practice Wednesday.
Keenum doesn't have to pay attention to it considering he knows he isn't playing well enough to keep his job in the first place. Keenum's spot as the starter is safe for now with the support of head coach Jeff Fisher behind him. However, fans are growing frustrated by the week because Keenum is not getting this Rams offense anywhere.
His inability to stretch the field has been the biggest problem because teams don't have to respect the pass, thus allowing them to stuff the box and focus on stopping Todd Gurley. The hope is that Goff can change this, but as we all know there have been several reports stating Goff simply isn't ready.
What Los Angeles Rams Should do with Jared Goff
Maybe this is the best thing for Goff right now. To be honest, the Rams aren't exactly flush with talent other than Gurley, and the team's offensive line has been lackluster to say the least. With a bad offensive line and few viable receiving options, Goff would be setup to fail from the jump.
Los Angeles is better off waiting it out with Goff in the hopes that the team can improve during the offseason and put Goff in a better position to succeed. Aside from that, would the Rams really keep their No. 1 overall pick on the bench in the first year back in Los Angeles if he was ready to go? That's not likely.
While it's frustrating to see other rookie quarterbacks taking the league by storm, you have to understand that not all quarterbacks are created equal. Some can jump right into the fray, but others need more time to develop. Goff's time will come, it just isn't coming right now.
This article originally appeared on