Los Angeles Rams: 3 Things Fans Have to be Thankful For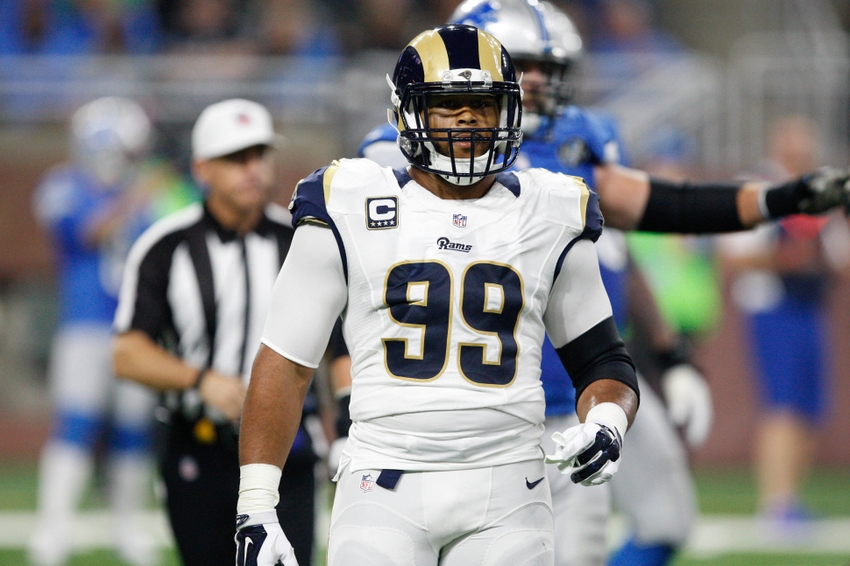 It hasn't been an easy 2016 campaign for Los Angeles Rams fans, but there are some things they can be thankful for.
As the Los Angeles Rams struggle to another season below .500, it's hard to be optimistic about the future. The offense can't score, the head coach is a disaster and ownership is holding on to him for far too long.
It's enough to make any fan want to quit.
But Rams fans aren't quitting. They know there are greener pastures ahead as long as the organization can finally move forward into the future. It was a step in the right direction when Jared Goff started last week, however there is still more work to be done.
So what can we hang on to?
Well, there are three things to at least be excited about as we move to Week 12 and enter the stretch run of the season. Unfortunately none of these things are going to change the fortunes of this year and it's going to take time to see any dividends.
Just try to see the bright side, if for at least a day. Let's celebrate Thanksgiving this year by looking at the positive instead of the negative and let's be thankful for what we do have.
Aaron Donald and the Defense
Despite having an offense that can't sustain drives and score, the Rams defense has done a remarkably good job. In per game averages, the Rams defense ranks sixth in points, total yards and passing yards allowed per game, while owning a 16th-ranked run defense.
That's something to hang your hat on. The Rams defense is not only good, it's become one of the best in the league.
Highest-graded NFL interior defenders:

1. Aaron Donald, 95.4
2. Calais Campbell, 87.8
3. Ndamukong Suh, 86.8
4. Fletcher Cox, 86.6 pic.twitter.com/s3BvlGxjHP

— Pro Football Focus (@PFF) November 23, 2016
Even if that isn't enough to sink your teeth into, consider that you have arguably the best defense player in the league on your side in Aaron Donald. He's a guy that every offense in the league fears and has to game plan for.
The praise out there for the 25-year-old is enough to make a Rams fan blush.
The Rams defense as a whole has come together nicely under defensive coordinator Gregg Williams. At least the one thing going right for the Rams at the moment is the same thing that wins championships.
Jared Goff is Playing!
Hopefully after the season, we can change the word "playing" for "dominating."
We haven't seen the best of Jared Goff yet. His debut in Week 11 against the Miami Dolphins had little to be excited about with the exception of a few nice plays. He's still raw and that's normally to be expected for most rookies.
Don't get caught up in comparing Goff to other rookie quarterbacks who do historic things, like Dak Prescott. Cases like his are few and far between.
This @JaredGoff16 throw… 👌

19 yards for the first down! #MobSquad #MIAvsLA https://t.co/1u6SCMuoLO

— NFL (@NFL) November 20, 2016
Still, the guy's out there. He's playing. We waited 10 long weeks to hear the words "Jared Goff is starting" and the time is finally here. Rams fans can only hope this is the start of something great even if he has to overcome his head coach to do it – at least for now.
Just imagine if you had to endure another six weeks with do-nothing Case Keenum at quarterback. Another six weeks of Jeff Fisher explaining to you why Keenum gives the Rams the best chance to win.
We'd all have concussions from repeatedly hitting our heads against the wall, Rams fan or not. Let's be thankful for no head injuries.
The Jeff Fisher Era is Almost Over
Or is it?
We can only hope this season spells the end of Jeff Fisher's career as the Rams head coach. He's in his fifth year and the team has yet to finish with a record of .500 or better, with the 2016 season set to make Fisher 5-for-5.
Most, if not all coaches around the league would be fired for such a run, and in the vast majority of those cases in three to four years. Fisher is still hanging on – albeit by a pinky – and we simply can't predict what will happen since owner Stan Kroenke has let Fisher come this far.
#Rams' record after 10 games through Jeff Fisher's tenure as HC
2012: 3-6-1
2013: 4-6
2014: 4-6
2015: 4-6
2016: 4-6https://t.co/nVVhHqogeu

— TurfShowTimes (@TurfShowTimes) November 21, 2016
Will Stan Kroenke Do the Right Thing?
One thing's for certain: it isn't going to look good for the franchise when Fisher, who is tied for the second-most losses by a head coach in NFL history, inevitably becomes the biggest loser to ever walk a sideline.
What possible explanation could be given for allowing that guy to continue his losing ways for FIVE seasons? And to let it continue in the team's return to a big market in Los Angeles?
There's just no way this can be allowed to happen. If Kroenke allows it, he'll become a laughingstock. Some would wonder if Fisher has dirt on Kroenke, forcing him to employ the 58-year-old head coach.
#Rams coach Jeff Fisher is closing in on a #NFL record: Most games lost ever, by a head coach. Congratulations Jeff #NFL

— Drew Boylhart (@DrewBoylhart) November 21, 2016
The evidence against Fisher keeping his job past this season is overwhelming. Firing a coach has never been more of a slam dunk than this situation right here and Kroenke can either be a hero or major villain depending on his ultimate decision.
No extensions, Stan. Just move on and get this franchise on the right track.
This article originally appeared on