Locked on Chiefs – KC Survives to take the AFC West lead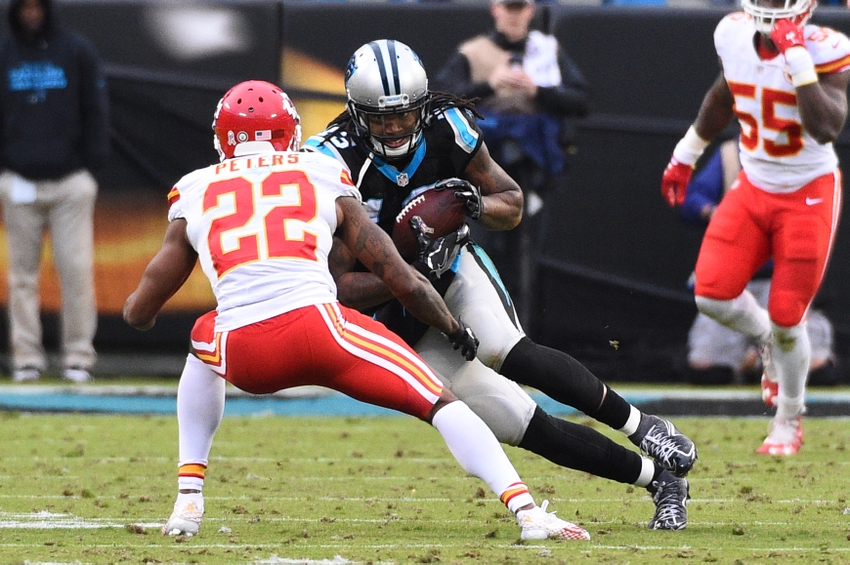 The Kansas City Chiefs went into Carolina and came out 7-2.
They didn't lead for any of portion of the game and won on a last second field goal by Cairo Santos. The story of the day is the Chiefs defense and what a day they had. While they allowed 17 points in the first half they showed up when it mattered most. Kansas City didn't allow any points in the second half and got two takeaways to squeak by with a win.
Secondary leads the Way
When you look back at the game for KC it really comes down to the defensive play of two players. Eric Berry and Marcus Peters played very well in the Chiefs secondary and allowed them to get out of Carolina with a win. Berry had a huge pick-six in the fourth quarter that was caused by a terrific blitz by Daniel Sorensen. Berry was able to weave his way into the end-zone and got a key block from Marcus Peters around the five-yard line.
Peters was the receiver that was covering Funchess on the Panthers only passing TD but looked like he was expecting help over the top. On a day where he got injured early in the fourth quarter and had to come out for a play he was very close to having multiple turnovers on the day as Newton continued to throw at him.
In the end, Peters made his best play of the game causing and recovering a fumble by Kelvin Benjamin by sheer will. Peters grabbed the ball and ripped it from Benjamin's arms and gave the Chiefs the ball inside the Panthers 30. Peters will need to learn to keep his head as he quickly got up after being tackled and punted the ball for the second straight week.
Trouble hearing podcast? Go Here to stream it from the source.
Locked on Chiefs is a daily podcast show that drills down to the bottom line and gives you a 360-degree view of the Kansas City Chiefs.  Take a few minutes to hear about your Chiefs each day. We want to cover the topics you want to hear about. So reach out to us on twitter @LockedOnChiefs with questions and for up to the minute analysis and episode information.
Thanks, Addicts!
More from Arrowhead Addict
This article originally appeared on