Locked on Chiefs – AFC Power Rankings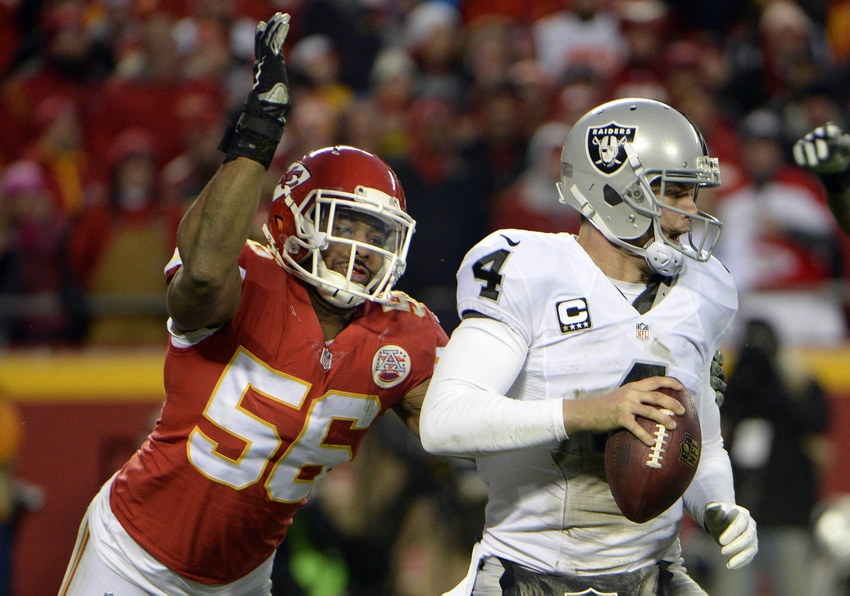 It's RAIDER week! For the first time in a long time this week's game against the Raiders has pretty big divisional implications for the Chiefs.
Oakland is sitting at 4-1 and has started the season strong behind Derek Carr and their young playmaking offense. The Oakland defense however is struggling mightily and might be a big cause for concern if the Raiders can continue their play throughout the season. Oakland's defense was supposed to be much better this year but they have yet to round into shape. Offseason acquisition Sean Smith has not been the corner that they were hoping he would be so far in his Raider career.
An Old Friend
Smith and the Oakland secondary have been repeatedly beaten throughout the season and are on pace to be historically bad. Kansas City has the pieces they need to attack the weak secondary of the Raiders and they know Smith's tendencies. Kansas City needs to run Tyreek Hill down the field multiple times early in the game against Smith to see how the Oakland defense is going to react to it.
Smith has shown he is willing to throw to Hill deep so set it up and air it out. Of all the players on the Chiefs team that played bad against the Steelers you have to think that Alex Smith is the one that wants this game the most. Smith has played bad consistently this season and has only really had a good half once this season against the Chargers. Smith wasn't the cause of the loss to the Steelers but he definitely played a part.
Trouble hearing podcast? Go Here to stream it from the source.
 Locked on Chiefs is a daily podcast show that drills down to the bottom line and gives you a 360-degree view of the Kansas City Chiefs.  Take a few minutes to hear about your Chiefs each day. We want to cover the topics you want to hear about. So reach out to us on twitter @LockedOnChiefs with questions and for up to the minute analysis and episode information.
Thanks Addicts!
More from Arrowhead Addict
This article originally appeared on