Lions Steal One in Minnesota, Win 22-16 in Overtime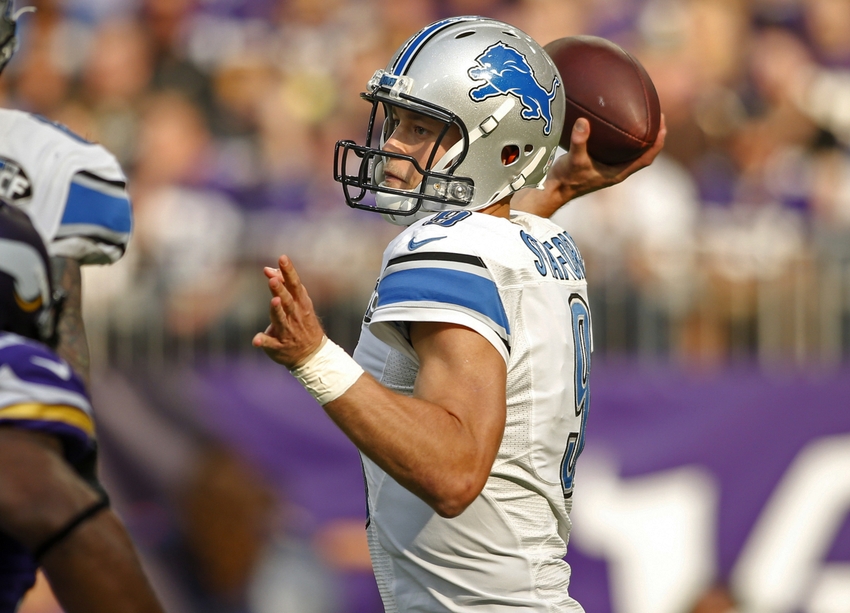 Detroit led for most of the game, but as fans are accustomed to, blew the lead late only to somehow pull out a win, 22-16.
The Lions found a way to win another game late and yet another in which they trailed in the fourth quarter. After outplaying Minnesota for most of the day, they let the Vikings score late in the fourth quarter, and with 23 seconds left, drove down for a game-tying field goal. Stafford confidently drove the Lions down, as he has all season and found Golden Tate for the game-winning touchdown in overtime. The Lions defense got after Sam Bradford for most of the day. Kerry Hyder continues to make plays, adding another two sacks. It was a crazy game but the Lions moved to 5-4. Check out my quarter-by-quarter notes from the game below!
1ST QUARTER
Minnesota received to start the game and Sam Bradford came out firing. He hit Matt Asiata and Stefon Diggs on quick-hitters for first downs. Jerick McKinnon was stuffed, though, and after an incompletion, the Vikings punted. The Lions took over at their own 14. After a completion to Golden Tate, a couple negative runs had the Lions facing a 3rd and long. Jim Bob Cooter called a draw – which caught Minnesota off guard – and Riddick busted loose for a 42-yard run. Boldin couldn't catch it on 3rd-and-nine, so Prater kicked a 47-yard field goal.
Minnesota took over and continued to spread out Detroit's defense and let Bradford throw quick passes. He got them across midfield, mixing up with McKinnon but a Vikings penalty negated a third-down conversion. Nevin Lawson may have had a little too much contact but wasn't called and Detroit got the ball back with 4:23 left in the quarter. A drop by Lions WR Marvin Jones propelled a quick 3-and-out for Detroit. Bradford hit Laquon Treadwell for a 15-yard game (first catch of his career) for a first down. A couple Cordarelle Patterson receptions had the Vikings on the move.
END OF 1ST: Detroit-3, Minnesota-0.
2ND QUARTER
The Vikings had the ball near the Lions' 30 and Detroit's defense held them to a field goal, making it a tie at 3. Lions received the ball, looking to finally get something going on offense. Stafford made a terrible decision – throwing right to Vikings' LB Chad Greenway for an interception – and the Vikings had the ball with great field position. Back-to-back penalties backed them up to a 3rd-and-23. Kerry Hyder got his 6th sack of the year on the next play, forcing a punt. Somehow, Detroit took over like the INT never happened a few minutes later.
Dwayne Washington had some powerful runs without much blocking. A catch by Marvin Jones and then one by Eric Ebron kept the drive going. Boldin caught a pass just short of the first, but a penalty tacked on gave Detroit the conversion. He grabbed another catch in traffic for a first down. A holding penalty on Dwayne Washington backed Detroit up, but Stafford hit Ebron for the another first down. With under 30 seconds left in the half, Stafford found Ebron again to get Detroit near the Vikings' 5.  After a penalty on rookie Mackensie Alexander, Stafford hit Boldin for the short TD pass to end the first half.
HALFTIME: Detroit-10, Minnesota-3.
3RD QUARTER
The Lions got the ball and after a couple conservative run calls punted it to Minnesota. The Vikings were no match for Kerry Hyder who got his second sack of the game (7 total) and forced it right back to Detroit. Marvin Jones looked like he was a victim of a defensive hold on a deep shot up the right sideline, but it wasn't called. After an incompletion to Anquan Boldin over the middle, Sam Martin punted again.  The Vikings took over but had trouble slowing Detroit up front. A pass-interference call on Bademosi bailed out and extended the Vikings' drive.
The Detroit penalty seemed to awaken Minnesota who started to put together a great drive. A Matt Asiata run had them in a 1st-and-goal situation before a penalty backed them up. The Vikings were back to 3rd-and-goal on the one. Bradford hit Kyle Rudolph on a play-action pass for a touchdown. Blair Walsh missed the extra point, however, making it a 10-9 Detroit lead before the Lions got the ball. The Vikings were starting to really unleash the pressure on Stafford and on 3rd-and-long, he nearly completed a ball to Jones, but contact and good coverage by Waynes forced a punt. Bradford looked extremely comfortable and got close to field goal range as the quarter ended.
END OF 3RD: Detroit-10, Minnesota-9.
4TH QUARTER
The Vikings stalled out and brought Blair Walsh back out to attempt the field goal. The kick was blocked by Detroit and recovered by Glover Quin, who took it out past mid-field. Stafford just barely missed Golden Tate so Detroit brought out kicker Matt Prater, who drilled a 53-yarder to make it a 13-9 Lions lead. The Vikings took over with 12 minutes left in the game and again came out firing the football. Ronnie Hillman caught a pass out of the backfield and took it 32-yards to the Lions' 14. Hillman was stopped short and after a Vikings challenge, they went for it. They were marked just short again, and Detroit took over at their own 4.
Riddick had a pretty catch for a 1st-down where he made a nice move to make a man miss in the open field. Ebron caught a diving grab for a first down on the next play. Detroit slowed down and couldn't hit another deep shot to Jones, and instead were forced to punt to Minnesota with four minutes left in the quarter. Bradford hit Thielen for a big gain and followed it up with another quick pass to him, while taking a big shot from Antwione Williams. A penalty on A'Shawn Robinson hurt the Lions – who had let the Vikings get to the Detroit 16, with 1:30 left. The Vikings just missed on a couple of touchdown shots but converted to make it 1st-and-goal with 1:11 left.
Minnesota gained positive yardage but suddenly faced a 3rd down, with 27 seconds left. Ellison took a tight end sweep to the right in for a TD. The Vikings went up 16-13, with 23 seconds left. Things looked grim without any timeouts left. Stafford hit Tate who got right out of bounds, then Stafford somehow threw across his body for 27-yarder to Andre Roberts. Prater had a tying attempt for a 58-yard field goal, which he drilled as time expired.
END OF 4TH: Detroit-16, Minnesota-16.
OVERTIME
Stafford hit Tate to get near the 20, after a poor return from Roberts. Ebron – lining up out wide – caught it for a first and ran for 24 yards. Stafford found Golden Tate on 3rd-and-eight for a first down conversion. After a toss to Riddick, Stafford was sacked. On 3rd, Marvin Jones drew a pass interference penalty to give the Lions the critical first. Stafford, on 3rd down, found Tate again who made a beautiful broken tackle, stayed inbounds, and ran it in for a touchdown and a Detroit victory!
END OF GAME: Detroit-22, Minnesota-16.
3 STARS OF THE GAME
3. Matthew Stafford
This was the kind of game Stafford couldn't win in the past – a tough road game against a winning team. Maybe not his greatest game for all 4 quarters, but he was UNBELIEVABLE in the clutch. A 27-yarder with 17 seconds left to tie then a game-wining touchdown pass in overtime Tate pretty much sums up his day.  Stafford was 23-36 for 219 yards, 2 TDs and 1 INT.
2. Kerry Hyder Jr.
2 Sacks for Detroit's surprise gem helped Detroit stop Minnesota in key moments. He has really helped add to a depleted front seven for Detroit and this was yet another impressive performance from Hyder.
1. Golden Tate
Tate was huge in the clutch, making catch after catch. He finished with 11 grabs for 79 yards and a TD. His touchdown was the most Golden Tate play ever. He caught it along the sideline, toe-tapped and stayed in somehow then dived into the end zone. Tate deserves some love after a slow start. Matt Prater is an honorable mention for being so damn good all game. Follow SLR Editor Matt Urben on Twitter @MattUrben88
More from SideLion Report
This article originally appeared on