Lions Player Spotlight Week 11: Tahir Whitehead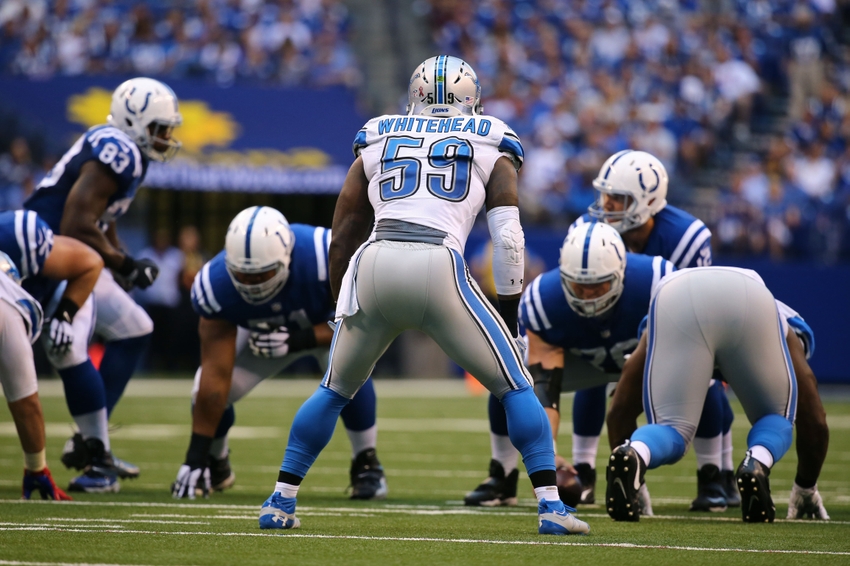 Tahir Whitehead has played well in a middle linebacker role that he's still growing into.
When Tahir Whitehead was drafted, former head coach Jim Schwartz raved about him, but many weren't sure where he fit exactly. Like DeAndre Levy before him, Tahir has been asked to move back and forth from inside to outside linebacker as needed by the Lions due to injuries and scheme adjustment. Also like Levy, he's made the move each year without complaining. This season, he's playing what looks like his long-term position — middle linebacker. Fortunately for the Lions, Whitehead has played best when playing inside.
While Whitehead is still developing his instincts, he has been impressive in coverage, particularly without DeAndre Levy. The Lions re-signed Whitehead to an extension as one of several low-key moves made by 1st-year GM Bob Quinn in the off-season. Quinn also extended Darius Slay, Sam Martin and Theo Riddick — core young players — in his first NFL offseason.The Lions released fan-favorite Stephen Tulloch, who held down the middle linebacker position for years, with Whitehead stepping in when he was injured and playing extremely well in 2014.  According to NFL.com, Tahir is currently is tied with his career-high in tackles with seven games remaining.
Whitehead will only get better if DeAndre Levy — who was reportedly practicing with the team on Wednesday — can return to his dominant self. Whitehead still needs to improve in some areas, such as getting off of blocks and staying with bigger tight ends, but his stats show he's made significant strides. He has moments where he is pretty damn good in coverage and his 5 pass deflections show that.
The Lions' back seven hasn't been too strong basically because injuries at corner and linebacker have held them back. Levy is one of the best linebackers in the league against both the pass and run. But he's essentially played in 2 games over the past two years. Couple that with changes at strong safety and injuries at corner and you have a group that really lacks chemistry.
Just how much Levy will be able to contribute this week or going forward this season, in general, is certainly unknown even by those closest to the team. Being at practice doesn't mean Levy is all the way back to starting shape. Whitehead's play, however, has been one of the few bright spots for a Lions defense that is still in transition. At just 26-years-old, Tahir is just going to continue to improve. Having the defined role at middle linebacker has been an integral part of that improvement.
Follow Matt Urben on Twitter @MattUrben88.
More from SideLion Report
This article originally appeared on