Let's Make the San Francisco 49ers Great Again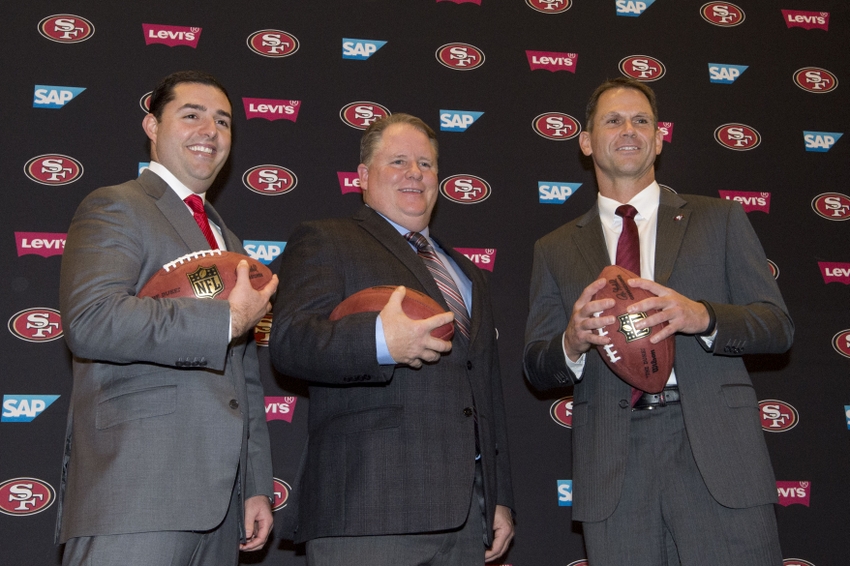 It's Election Day in America, and while millions will flock to the polls, how can the San Francisco 49ers go about being "made great" once again?
Happy Election Day, everyone. If you haven't already, go out and vote.
Saints vs. 49ers: The Good, Bad and Ugly from San Francisco's Week 9 Effort
Too bad fans can't exactly vote for change for the San Francisco 49ers. And while the reference to one particular Presidential candidate's play on words is, by no means, a ringing endorsement, wouldn't it be oh-so nice if there was a way to make the Niners great again?
San Francisco is now 1-7 — a far cry from the perennial Super Bowl-contending teams seen just a few years ago.
This article could be about everything wrong with the 49ers. But it's the same story week after week. The defense, ranked dead last in the NFL, continues to suffer from the same problems. Head coach Chip Kelly's offense is inconsistent at best. And this is a roster lacking talent and with no major reinforcements on the horizon.
So yes, let's make the 49ers great again.
As with any major organization, change must be ushered in from the top. That means CEO Jed York.
And while many Niner fans may feel York simply doesn't care, he remains the lone person capable of actually making any changes here. Just ask @SoCaliSteph of Niners Nation:
I'm most likely in the minority, but know Jed York wants to win. He just doesn't know who to hire to make that work. Poor guy.

— So Cali Steph (@SoCaliSteph) November 7, 2016
Here's the gist of that argument — York hasn't put the right people in charge of making the key decisions in Santa Clara. Fingers point, and deservedly so, at general manager Trent Baalke.
A Not-So Ringing Endorsement for Trent Baalke
Baalke is, let's say, the constant over the entire course of the Niners' downfall. San Francisco already had a well-stacked roster when he took over GM duties in 2011. And while that year's draft class might be considered Baalke's best, subsequent ones have left much to be desired.
OK, so no general manager can get things 100 percent right each and every year.
But it doesn't take a genius to figure out how the roster has degraded so swiftly since the vast majority of inherited players have departed the team.
So that's a problem. A major one. As some political pundits might put it, the current way of doing things isn't working. It's time to usher in some changes.
It's Time to Blow It All Up
On paper, most of us probably expected the 2016 49ers to be better than what was seen under one-and-done head coach Jim Tomsula a year ago.
And yet here we are — a Niners team with, currently, two fewer wins compared to its 2015 counterpart. Is it actually safe to say last year's 49ers were better than what's being fielded right now?
It's getting to that point, if we haven't reached it already.
Kelly might be the answer, somewhere. But it's hard to suggest he's the right guy to fix all that is going on with the red and gold right now. Heck, he might easily be swayed to jettison this dumpster fire and return to the college ranks while he still has some stock value at the NCAA level.
But it's more than just a change at head coach and at general manager. What of player development? What of scouting? How can the Niners feel good about each of those respective approaches in recent seasons?
York isn't capable of making these decisions. And, in fairness, it shouldn't be his job to do so. Yet the Niners clearly lack someone atop the organization capable of putting the right people in the right place.
The situation starts and ends there.
So, if you want to see some change in Santa Clara, one better hope these changes start from the top.
Oh yeah, get out there and vote today too.
This article originally appeared on