LeSean McCoy Injures Thumb; Robert Woods Injures Knee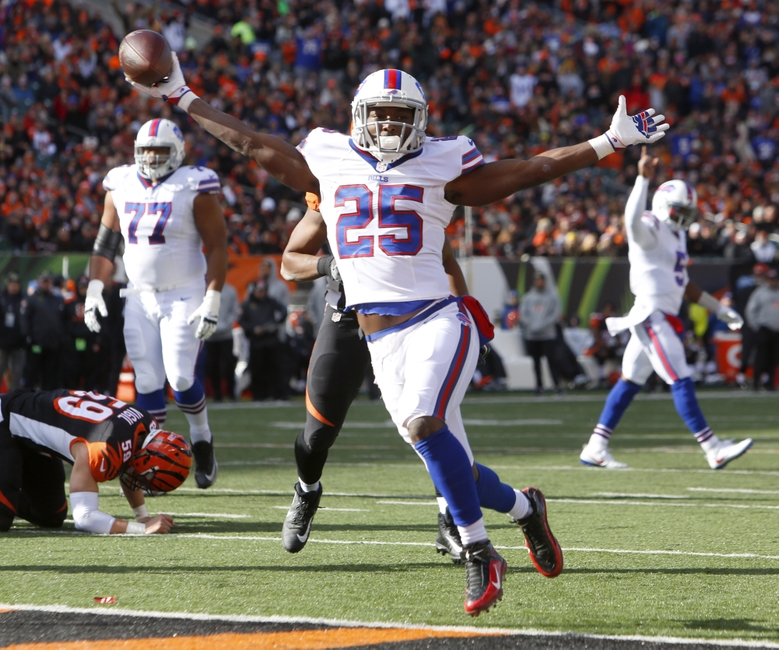 As the first half neared an end on Sunday vs. the Bengals, Buffalo Bills' running back LeSean McCoy suffered a thumb injury.
So far this season, LeSean McCoy has only missed one game due to his hamstring — something many Buffalo Bills' fans were overly concerned about heading into this season.
However, in two other games he was forced to leave early — one due to his hamstring and again on Sunday vs. the Bengals due to a thumb injury. His hamstring injury came against the Dolphins, limiting him to 11 yards on 8 carries.
He only had 5 carries on Sunday, although he made good use of them.
With just under two minutes remaining in the second quarter, McCoy caught a pass from Tyrod Taylor and takes it out of bounds for a 8-yard gain on 1st and 10. However, as soon as he gets up from being hit by Shawn Williams — a clean hit — McCoy is seen headed to the locker room holding his left arm.
At first, Mike Rodak listed him as questionable to return. It wasn't long before that was changed and LeSean McCoy was listed as out for the second half with a dislocated thumb.
The good news is, Bills' fans are not to worry about McCoy's thumb or his availability moving forward. Chris Brown, lead reporter at www.buffalobills.com, quickly reported on Twitter that McCoy will undergo surgery immediately and is still expected to play next Sunday vs. the Jacksonville Jaguars.
LeSean McCoy was on his way to having a nice game and could've helped the Bills put this one away with a little more ease. Given just five carries, McCoy had 33 yards on the ground and 12 yards through the air.
He also added a 7-yard rushing touchdown — the Bills' only touchdown on the day.
LeSean McCoy isn't expected to miss any time with this injury, which is a good thing for the Bills' offense. However, his wasn't the only injury concern for the Buffalo Bills after this game. Unfortunately, Robert Woods couldn't escape the injury bug vs. Cincinnati and his return isn't looking as hopeful as McCoy's.
Let's take a look at what he's dealing with now.
Robert Woods also suffered an injury vs. the Bengals, but his return isn't as promising as McCoy's is.
Robert Woods was also on his way to having a productive day for the Buffalo Bills' offense, but saw his day end fairly quick. He suffered a knee injury as the first quarter was nearing an end after catching a 13-yard pass from Tyrod Taylor.
When he was going down after the catch, he was met by three Bengals' defenders that squished Woods and his knee. It was an ugly-looking injury that caused him to leave the stadium in crutches.
Reported by Chris Brown, Woods will be re-evaluated on Monday — hopefully with good news.
After the game, Buffalo Bills' legend Thurman Thomas sent his prayers to Robert Woods on Twitter, which was equipped with a reply:
With Sammy Watkins already missing an extended amount of time, losing Robert Woods for a long time would certainly hurt the Bills' offense. In the event that happens, Buffalo will have to rely on Percy Harvin, Brandon Tate, Justin Hunter and Marquise Goodwin moving forward.
Plenty of Bills' players reacted to Woods' injury:
Nickell Robey-Coleman: "Now that hurt my heart. That's my boy. We go back to freshman year in the dorms together. As soon as it happened, I got on my knees and I started praying just for his family and for his health. I really hope he comes out on top of this situation he has going on right now."
Percy Harvin: "It was disappointing. Rob is one of the toughest guys I've been around. He played with an injured groin all year last year. It's tough seeing a soldier go down, especially one that's in your position."
Rex Ryan: "I told the official what I thought, but it is what it is. (Woods) had a Buffalo helmet on."
For now, we just hope that Robert Woods isn't forced to miss any time due to this knee injury.
How long do you expect Robert Woods to be out for? What about LeSean McCoy? Leave your thoughts in the comments section located below the ads!
This article originally appeared on