Leonard Fournette Back in the Thick of Things Now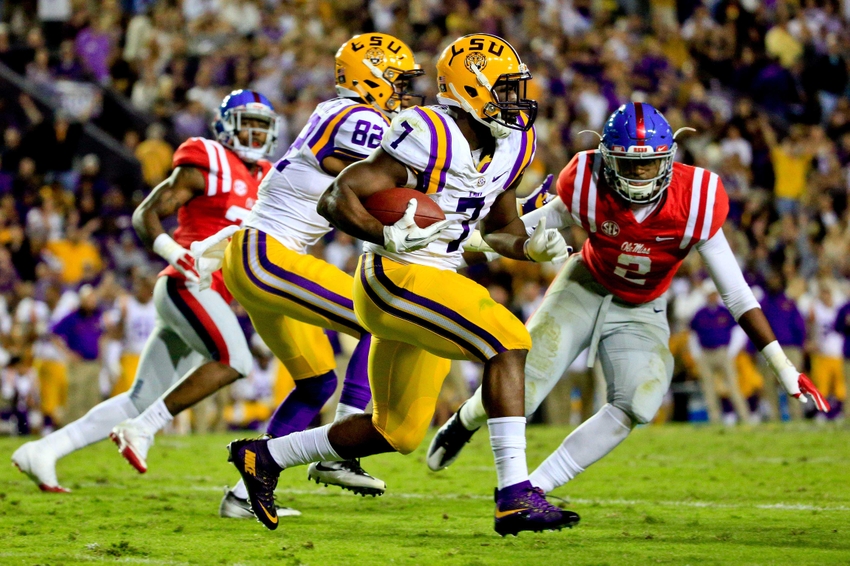 The SEC usually sends busts to the NFL at the running back position But when they send a good one, it's a great one. Hershel Walker, Bo Jackson, Emmitt Smith and Todd Gurley came from the SEC and now, it's Leonard Fournette.
Have you any doubts about LSU running back Leonard Fournette now?
He plays the undervalued RB position but he's one of the best overall prospects for the 2017 NFL Draft. He started out on Heisman Watch and on all the top prospects lists. But he has been out with an ankle injury so many have forgotten about him.
But he came back looking to get back the memory of those with Heisman votes and draft scouts. He made up for lost time and broke an LSU's single-game rushing record against Ole' Miss Saturday. He was electic with 284 yards and three TDs on 16 carries.
No, it's not a misprint, Fournette averaged of nearly 18 yards per attempt on the night. He only needed eight carries to break the previous record of 250 yards held by Alley Broussard. And to think that was his first action since Sept. 24.
Fournette told ESPN, "That means my O-line is blocking,"
His average was so high because he scored on touchdown runs of 78, 76 and 59 yards. He lost a chance to build his numbers up as he missed three games this season. When Fournette went out, he had 386 yards just two TDs and 5.8 yards per carry in three games.
After Saturday night's performance, he has 670 yards and five TDs on 8.1 yards per carry. With five games left, he's back on pace to go over 1,000 yards again. And with a few more performances like that, especially against Alabama, he could get back in the Heisman race.
But more importantly for his future, he's a top prospect again!
More from With the First Pick
This article originally appeared on