LeBron James Calls Ezekiel Elliott MVP After Cowboys Win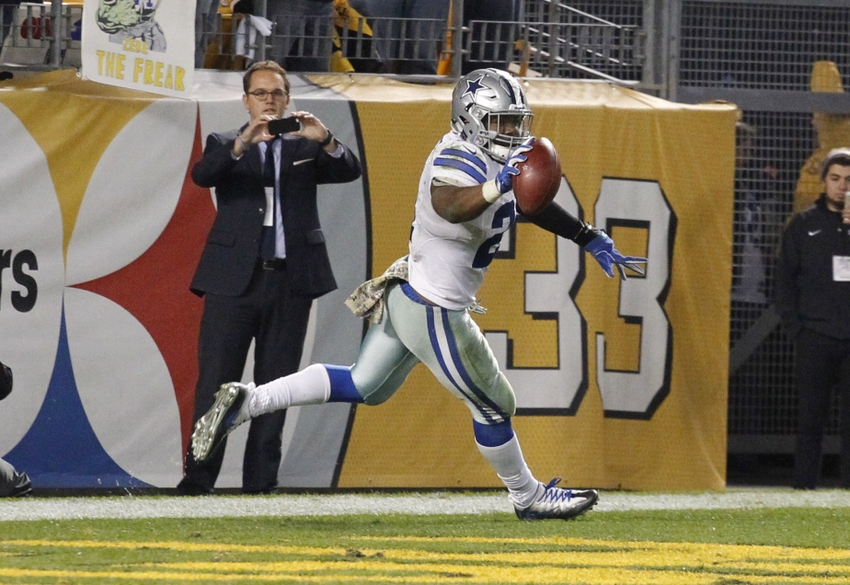 The best basketball player on the planet, LeBron James, called Dallas Cowboys running back Ezekiel Elliott the best football player on the planet—for the 2016 season.
Even before Sunday's 35-30 win over the Pittsburgh Steelers, Dallas Cowboys running back Ezekiel Elliott has been soaking up MVP love. Quarterbacks Derek Carr, Matt Ryan, and Tom Brady are all great candidates with exceptional 2016 resumes, but there's something special about Elliott has done as a rookie, leading the Cowboys to a 9-1 record in pursuit of Eric Dickerson's rookie rushing record.
With over 200 yards from scrimmage, three touchdowns, and a game-winning 32-yard score with nine seconds left in Week 10, Elliott showed the whole world that he is MVP caliber. The Rookie of the Year award is already his to own, because not even teammate Dak Prescott can touch what he has done.
The MVP debate, however, is still very much that: a debate. But that doesn't appear to be the case for LeBron James. While James isn't a Cowboys fan, the Cleveland-area native and Cavs star is an Ohio State fan, and he tweeted out strong words of support for the former Buckeye, Elliott.
MVP and Rookie of the Year? I'm sure there are plenty of people who agree and I wonder if Elliott truly became the MVP favorite after this evening's display. Tom Brady is my pick and will state his case on a huge stage tonight against the best secondary in the NFL (the Seattle Seahawks, in case you forgot), but Elliott has as strong of an MVP bid as anyone.
It's nice to see athletes tweeting their support for athletes in other sports—especially when their tweet reads like something a hardcore fan would send out to the world. Even the best basketball player in the world can't help but fan-boy a bit over what Zeke is doing in 2016.
This article originally appeared on