Kyle Rudolph knows the Vikings need a quicker offensive start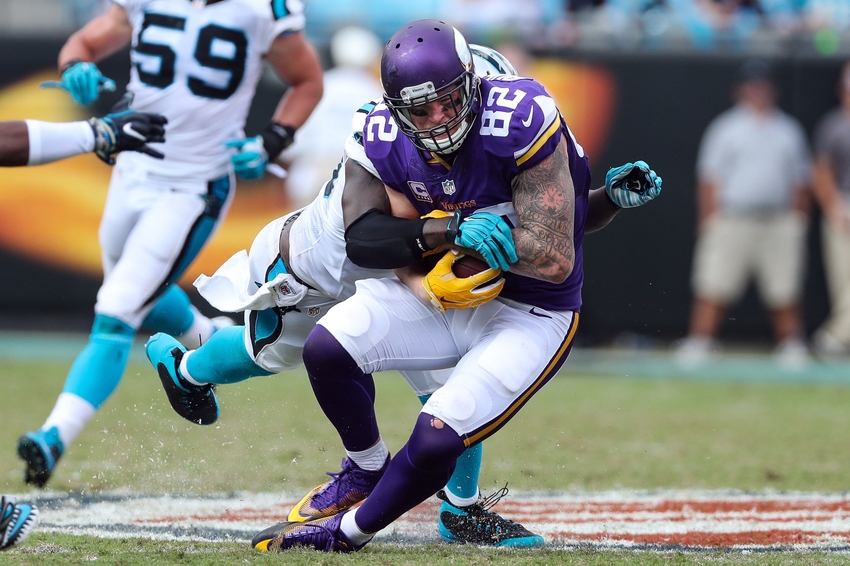 If the Minnesota Vikings can get off to a faster start offensively to pair with their defense, they could be the most dangerous team in the NFL.
When it comes to discussions about the Minnesota Vikings, two things come to mind right away: a smothering, dominating defense and a team that has been decimated by injuries during the 2016 season.
Sadly, the offense isn't something that is a hot topic. Despite Stefon Diggs having a breakout year and Sam Bradford playing conservative, yet efficient football, the team can't seem to get going to give the team an early advantage.
Tight end Kyle Rudolph spoke about the need to get a faster start and put the team in better position to win early in games. Here is what he had to say according to the official Minnesota Vikings website:
"For us, we're making plays; we just have to start quicker. That's on us as an offense and us as players … it's important for us to make first downs. When we make first downs, we seem to string drives together and score points. Against Carolina, we didn't make very many first downs in the first half. It's hard when you're not sustaining drives … hard to protect, hard to run the ball, hard to do anything."
The best part of this entire quote is the way that Rudolph uses the words "us" and "we" whenever talking about the offense. It is this kind of team-first thinking that has helped the Vikings buy in to their chances of winning.
However, that doesn't mean that Rudolph doesn't hold himself accountable. He knows that catching footballs is great, but there are plenty of other ways that he can work hard to help his team be victorious.
"Understanding there's more ways to help this team win than by catching balls. Some games are going to be like Sunday where I catch seven, and some games are going to be where I catch two. There's still 50 or 60 other plays throughout that game where I can help our team and help our offense be successful."
The Minnesota Vikings may need to get off to a hot start against Eli Manning, Odell Beckham, and the rest of the New York Giants on Monday Night Football, as Big Blue has been known to be able to put up a ton of points in a hurry. Hopefully, Kyle Rudolph and the rest of the offense is ready to tackle that task.
This article originally appeared on