Kolby Listenbee: Will Buffalo Bills' Rookie WR Play This Season?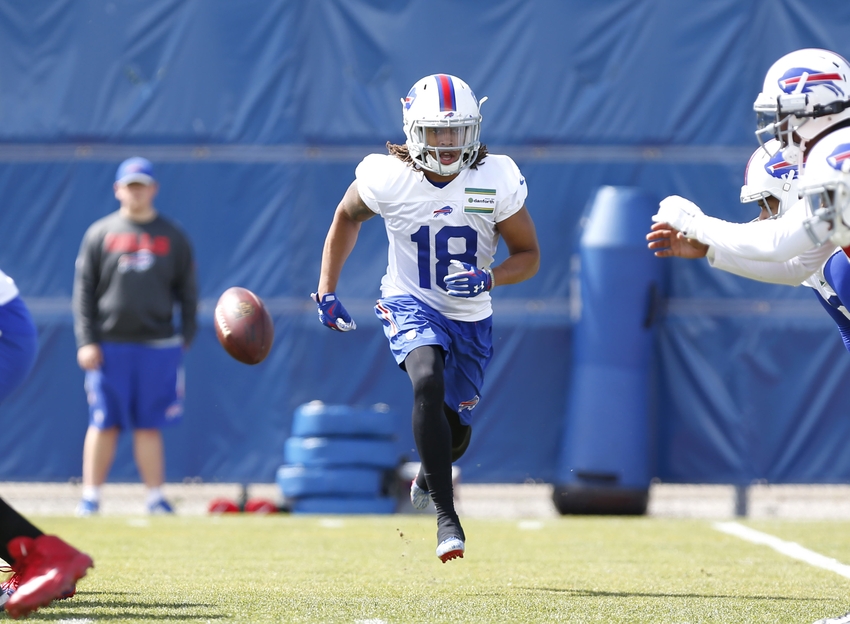 Buffalo Bills' rookie wide receiver Kolby Listenbee dropped the hard truth on Twitter this Saturday.
The Buffalo Bills have had a depleted wide receiving corps all season long and it has affected the way this team's offense has played.
We even have one rookie wide receiver — Kolby Listenbee — that hasn't seen any action at all this season, with his NFL debut being held back by a surgery he had following a double sports hernia. He made early statements after being drafted by the Bills in the sixth round of the draft:
"I'm the fastest player probably in the NFL," said Listenbee after being drafted by the Bills. "So I bring speed, I got great hands. Right now, I got a chip on my shoulder because I got to go out there and show what I have and I mean. I just work hard," continued the rookie out of TCU.
However, Kolby Listenbee had to drop some cold, hard truth on Twitter this weekend that a lot of us probably expected, but at the same time is still sad to hear:
For everyone that is curious.. NO I'm not playing this season, at all. Thanks. ????????

— Kolby Listenbee ™️ (@List10bee_Swagg) November 19, 2016
It's true, we won't see Kolby Listenbee this season. Now that the question has been answered, it will be interesting to see what he can add to the team next year. He definitely has the potential to grow and the time to learn this offense.
Let's start with his speed, which he thinks is the fastest in the NFL.
There's definitely some justification here, although it's a subject that can never really be written in stone. At TCU, Listenbee not only played football, but also ran track and field. Featured in the 100m dash, 4x100m relay and 4x400m relay, Listenbee was a 4-time All-American in track and field. His best 100m time, according to ESPN, was recorded at 10.03 seconds. The current world record, which is held by Usain Bolt, is listed at 9.58 seconds.
In addition to his success in track, Kolby also showed his speed at the NFL Combine. Although he walked away with the 8th fastest time in the 40 yard dash, it is essential that you note he was dealing with a double sports hernia at the time. A 4.39-second 40-yard dash isn't anything to complain about, but it definitely could've been faster.
Kolby Listenbee was drafted by the Buffalo Bills out of TCU.
Kolby Listenbee first started making a name for himself while playing at Bowie High School in Arlington, Texas. Coming out of high school, he was listed as a 3-star athlete by Rivals.com, as well as the No. 31 athlete in the nation (8th in TX).
With a difficult decision to make, which included turning down Oklahoma State, Kansas State and Texas A&M, Listenbee decided to attend Texas Christian University.
As a freshman, Kolby Listenbee added much needed depth to the team's WR position. Appearing in 9 games that season, Listenbee recorded just one catch. However, it should be noted that his one catch was a 59-yard touchdown against Michigan State.
The following season, he played in a similar role with the team. Only appearing in 7 games, Listenbee recorded two catches all season long, an 18-yard catch against Southeastern Louisianna and a 5-yard reception the following game against Texas Tech.
Bills vs. Bengals QB and WR Fantasy Football Advice & Predictions
In 2014, as a junior, Kolby Listenbee finally started to prove himself at TCU. Finally getting the chances he deserved, Kolby played in 13 games and started in 12 of those. He came out with a bang, posting 3 catches for 76 yards and two touchdowns (38 yard and 2 yard) in TCU's season opener against Samford. He posted a career high in receiving yards in a single game with 146 against Baylor. He also had a career-high 6 catches against Kansas State. His other 100-yard game came against Oklahoma, when he caught 5 passes for 103 yards.
At the end of the season, Listenbee had recorded 41 catches for 753 yards and 4 touchdowns. He also added 2 rushes for 19 yards and one pass, which was a 31-yard touchdown against Ole Miss in the Chick-fil-A Peach Bowl. He also had a 35-yard touchdown catch in that game.
His excellent play led to him being named an All-Big 12 Honorable Mention.
In 2015, Listenbee had another productive season, although not as productive as the season before. Once again being named an All-Big 12 Honorable Mention, Kolby played in 11 games and started in 10 of those. After starting the first three games of the season, he went down with an injury that kept him out of play for the next two games.
He had two 6-reception games in 2015. His best came against Stephen F. Austin, when he caught 6 passes for 142 yards and a 60-yard touchdown. The other one came against Iowa State, when he had 6 receptions for 101 yards and a 21-yard touchdown. There was also a 5-game streak where Listenbee caught at least a 30-yard pass in each game.
Overall, he recorded 30 catches for 597 yards and 5 touchdowns. He ended the season with a 19.9 yards-per-catch average.
So, let's be honest, could Kolby Listenbee be the fastest player in the league?
Kolby Listenbee will have to prove himself next season when he makes his debut.
When you think about some of the fastest players in the NFL, it's hard to think that this rookie can beat them all. Although possible, it's hard to tell who the fastest really is.
However, there's no doubt that he was one of that fastest at the NFL Combine and taking into account that he had a double sports hernia, he can definitely be listed as one of the fastest players in the NFL — once he gets healthy.
Kolby Listenbee will definitely have a lot of competition, though, when it comes to that discussion. Even his new teammate, Marquise Goodwin, will have to say that isn't true.
Goodwin is in his 4th year in the NFL and holds the third-fastest 40-yard dash in NFL Combine history. In 2013, he ran it in 4.27 seconds (0.12 faster than Kolby). The two have a lot in common, especially with Goodwin's track record. As a long jumper, Goodwin competed in the 2012 Olympics and was training for this year's Summer Olympics, once again for long jump.
The Bills should be excited to add Kolby Listenbee to their roster next season and see what he can do. It was a very nice 6th-round pickup that will no doubt add depth to the list of Tyrod Taylor's targets that he has yet to build chemistry with.
The Buffalo Bills have had a lot of young talent just like his step into similar situations, but none have proved worthy enough to stay — like Roscoe Parrish and T.J. Graham. Marquise Goodwin is another one that is still fighting to gain a solid reputation with this offense.
For now, let's see if Listenbee can get healthy and then see if he can live up to the hype he's created around himself.
As a Bills' fan, I think I speak for everyone in saying I certainly hope so.
This article originally appeared on