Know Your Enemy: Buccaneers vs. Saints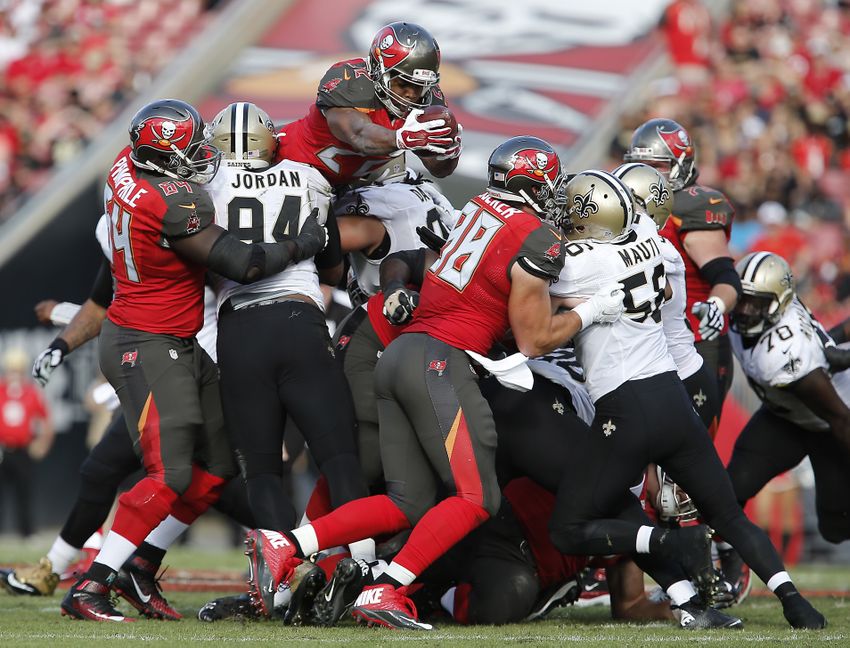 As the Buccaneers get ready to face off against the division rival New Orleans Saints for the first of two times this month, we took some time to speak with Ty Anania of Who Dat Dish.
There's no question this is the epitome of "must win" for the Buccaneers. In fact, every game from here on out is a must win in the truest sense of the term. The Bucs control their own playoff destiny and one slip up could take them out of the race. Even more importantly, three of the final four games are within the division including the first of two against the New Orleans Saints this Sunday.
The Saints provide a mountain of issues for the Bucs, mostly on the offensive side of the ball. Drew Brees can still sling it as good – if not better – than anyone else in the league. Their woes, and their losing record, seem to stem more on defense. Before a loss to Detroit last week, New Orleans was every bit in the playoff hunt Tampa Bay was.
Again, one slip up can take you out of the race.
However, as I discussed with Ty, the Saints aren't out of it yet. And if any team can run the score up high enough to run the table the remaining four weeks, it's the Saints.
With that said, it's time to get to know the opponent a little more with Ty Anania.
The Saints aren't out of the playoff hunt quite yet, but they need a lot of help. Do you think they can potentially run the table – which includes two games against the Buccaneers and one against the Falcons – and make that late season push?
Well, possibly, yes. I do believe this team is capable of winning out. But it's a line that you could say about most teams: on a good day, they can play with anyone. And I actually think most fans would agree that the potential is there. The problem is that all too often this team has failed to play up to that potential.
The Saints often play well in at least one phase of the game. But whether it's the offense, the defense, or, frustratingly, the special teams, they have consistently blown up on one side of the ball. The offense may not be quite as culpable as the defense, but it's certainly cost the team games. Last week against Detroit was a prime example. And for all it's troubles, the defense has really smothered teams at times. Generally, this defense has been trending up.
So, is it possible that the team wins four games? Yes, it's possible. Is it likely? Well, I'm an optimist. But after twelve games, we've yet to see the team play complete, complementary football. The talent is there. But they've yet to put it all together.
What weaknesses have you seen in the defense, which is still struggling? Is it in need of a full overhaul or are the Saints just a few pieces away from getting that defense back on track?
The strange thing about this defense is that every week the problem seems to lie somewhere else. Early in the season, the team had an absolutely abysmal pass rush. Then came a few games in which their LBs were badly exposed in coverage and against the run. And in the last few weeks, it's been a struggling secondary. The pass rush has recently improved, and Dannell Ellerbe's return greatly improved the LB play. But the unit still struggles to contain teams.
Early in the season the team had a problem with playing the full 48 minutes. They'd often fall apart in the second half or 4th quarter. Now, suddenly, they're a very strong second half unit. But to the ire of Saints fans, the team consistently gives up huge plays on 3rd-and-long. Against the pass, the unit really struggles.
The question of how far away the defense is from "getting back on track" is contentious. On the one hand, there's no position group that you can say is abhorrently weak. The team has solid depth at just about every position, besides maybe DE. And DE Cam Jordan is the unit's best player, so it's hard to call the position weak. The problem, on the other hand, is that the team has no game-breaking players. Jordan is very good, and has been playing some of his best football of late. But he's always been more of a disciplined rusher. He excels against the run and can occasionally struggle to make an impact against the pass.
I am of the belief that a few impact players at DE, MLB, and possibly CB can pull this defense up out of the gutters. And the team has some talent on IR at CB, and possibly at DE as well. I more than understand the desire for an overhaul, but I don't think most Saints fans feel that way.
It seemed that for quite a long stretch, this team owned the NFC South yet they seem to be stuck in neutral at this point. What is the general feeling on this team among Saints fans? Is there some worry that this team can't get it turned around before Brees runs out of time?
The Saints fanbase, I'd say, is divided into two camps. Both sides are, naturally, frustrated with the team's play in recent years. The core of the division is on the gravity of the team's woes: is the team improving, or are they treading water?
I am of the camp that believes the team has improved over the last few years. The team is plagued by a number of bad personnel decisions made, generally, two or three years ago. Most infamous is the Junior Galette escapade, which tied up huge chunks of the cap space. And Jairus Byrd's huge contract is no laughing matter among fans. These blunders have forced the team to develop youth and work the bargain bin in free agency to fill defensive holes. But after undergoing some internal evaluation, it seems Sean Payton and Mickey Loomis have found a more appropriate approach to roster-building. This year, for the first time since maybe 2006, most of the Saints' free agent pickups have played very well. And many of them were signed from the bargain bin.
Unfortunately, the improvement hasn't shown up in the win column. The team is young, and I chalk much of that failure up to young inconsistency. But many fans think the problem is more widespread and concerning. Many writers at Who Dat Dish are of the belief that Sean Payton should be fired. He finished the last two seasons 7-9, and it's looking like another losing season is at hand in 2016. Fans don't generally question his offensive mind, but it's astounding that he's fielded abysmal defenses year after year after year. Despite the fact that he appears very much comfortable handing the defense over to his DC, it's hard to look past the pattern.
Ultimately, it's unclear how long Brees can sustain such a high level of play. But, encouragingly, he's looked as dangerous as ever this year. In many ways, more so. Arm strength was never truly a strength of his. But he's looked sharp, decisive, and accurate. I doubt the Saints can fully right the ship on defense next year, but it's possible. And with the way this offense has played, the defense doesn't need to excel for the team to have success.
Michael Thomas has been an absolute stud so far and he seems to be getting better each week. What are your thoughts on his play? Do you think we've only scratched the surface and he's got the Julio Jones/Mike Evans potential or do you think he will be somewhat under utilized given Brees' propensity to spread the ball out to so many different guys?
No player is going to put up Jones' or Evans' numbers while Brees is under center. Like you said, this offense is based around spreading the ball to the open man. The Saints game against the Rams was a perfect example of this. The team put up 49 points, and yet their ostensive WR1, Brandin Cooks, went without a single target.
That said, I believe, as does the rest of the Saints fanbase, that Michael Thomas is the real deal. He may not ever be as dangerous as Julio Jones, because he doesn't have the elite speed that Jones has. And Thomas is actually a few months older than Evans. I think the player Thomas most encouragingly compares to is Dez Bryant. They're big, powerful receivers, with great hands, great route running, and a hard nose.
The thing about Thomas is that he can really attack you in any way. Based on the composition of the receiver group here in New Orleans, Thomas serves primarily as a slant/screen threat. But he can beat you deep, and I expect as his career goes on we'll see more and more of that. Make no mistake, he is, absolutely, a stud. Besides his multiple fumble game against Denver, he hasn't looked for a moment like a rookie.
What problems do you feel the Buccaneers will cause the Saints? Is there a certain player or match-up that you think the Saints may have an issue stopping?
Mike Evans is obviously an easy answer here. The Saints have Delvin Breaux, their closest thing to a lockdown corner. But Breaux is still shaking some rust off after missing most of the season with a broken fibula. And Mike Evans has, from what I understand, taken his game to the next level for Tampa Bay. I doubt the Saints will be able to shut him down. That said, when Breaux is on his game, he can really play. He's so strong at the line of scrimmage. He makes it hard to receivers to get out of their breaks. And while he may not be able to shut Evans down, he may be able to contain him.
I'm going to answer a slightly different question, if you don't mind: there is a match-up that I believe, if the Bucs can win, will make the difference in the game. And that's along the Tampa Bay defensive line. The Saints offense struggled mightily against the Lions last week, almost entirely due to consistent pressure on Drew Brees. If you can get pressure on Brees without selling out in coverage, you'll have success.

This offensive line has, at times, played very well. But Jahri Evans has slowed as the season progressed, and so long as Terron Armstead is out there are some holes along the line. Even when he plays, Armstead hasn't been his typically dominant self. From what I understand, your pass rush has played very well of late. If they can keep that up on Sunday, it'll be a long day for the Saints.
What are your game predictions?
I keep going back and forth on this one. My heart tells me the Saints will win, because they have to. Because if they lose, their season is over. I want to think that their backs are against the wall, and that they'll finally come out firing on all cylinders. They have the talent and the coaching to get it done.
But, when I'm thinking more clearly, it's hard to predict a Saints victory. Their loss last week to the Lions was utterly deflating, and their backs were, by any measure, certainly against the wall then. They came out flat, and lost in every phase.
I'm going to have say Buccaneers take this one. But, like I said, I keep going back and forth. Ask me on another day and I may have said the Saints win it. But I think you guys get after Drew Brees, win the turnover battle, and pull out a close game at home. 27-21 Bucs.
A very sincere thank you to Ty for taking the time to do this. For those interested, I answered some questions Who Dat Dish had regarding the Buccaneers which can be found here.
We can't stress enough how vital this game is for the Buccaneers and their postseason hopes. Not only can the Bucs really not afford to lose a game, winning eight straight is nearly impossible. If they are going to lose one, it certainly can't be to a division rival this week. Especially with the chance of a division title still on the line.
More from The Pewter Plank
This article originally appeared on