Know your enemy, Buccaneers: One on one with The Pewter Plank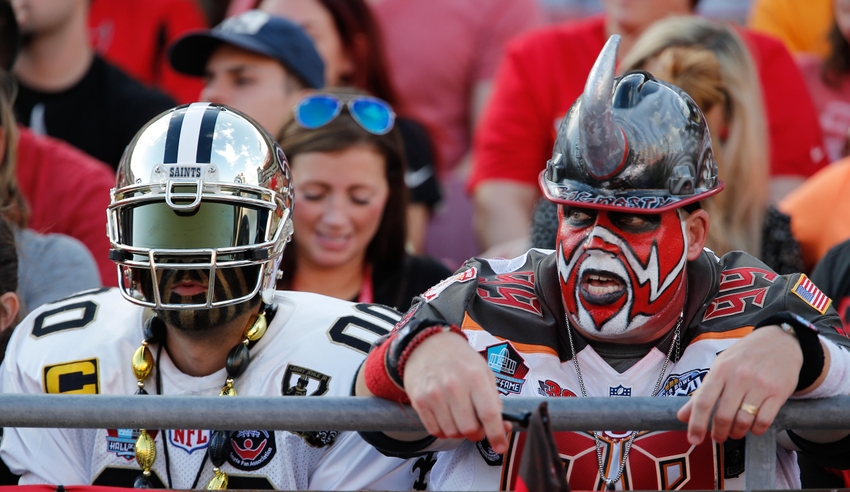 The Saints travel to Tampa Bay this week to play the Buccaneers. The game is a must-win for the Saints if they want to keep their playoff hopes alive.
In a scheduling quirk, the teams play twice in three games after thirteen weeks apart. The Saints need to win both if they want a shot at the playoffs.
The Buccaneers, in their first season under head coach Dirk Koetter, have played very well of late. They're now 7-5, and tied for first place in the NFC South. Their defense especially has turned out a very solid season. With Lovie Smith gone, the unit has abandoned the team's historical commitment to Tampa-2 coverages. And so far the move has paid dividends. Additions at DE and CB have solidified the defense into a dangerous unit.
Like last year, quarterback-receiver combo Jameis Winston and Mike Evans are backbones of the offense. But the difference is that Mike Evans has come into his own as a receiver. He always had the tools. Now he seems to have brought it all together.
Well, this reporter wasn't all too familiar with the ins and outs of the Buccaneers season. So to give you all a full picture, we sat down with James Yarcho at The Pewter Plank to get the inside scoop. Here's what James had to say about his Buccaneers.
Glancing through Buccaneers social media, I see there's a strong sense of optimism among fans about the team. What most excites you, looking towards both the playoffs and the coming years?
I think what has fans excited is the fact that this team is doing something they haven't seen in nearly a decade – win meaningful games late in the season and be in contention for postseason football. Jameis Winston brought with him hope for a franchise that has never had a quarterback like him. There have been talented guys to come and go, but never the kind of leader and competitor that Winston is. With that comes Super Bowl aspirations. They're certainly not at that level now, but fans – even ones that doubted or didn't want him – believe in Jameis and what he has done, and will do, for this team.
In a similar vein, what are some of the biggest differences in your team from last season? Is it more of the same, with better execution? Or has your team made any systemic changes?
There have certainly been changes on this team. Yes, it's a lot of the same players, but adding guys like Brent Grimes and Robert Ayers in free agency as well as Vernon Hargreaves and Noah Spence in the draft has added another level of talent that wasn't here in 2015. Lovie Smith, for all he's done and accomplished, was in way over his head. He refused to adapt to today's NFL, refused to maximize the talent he did have, and was dead set on it being his way or the highway. He supplemented the team with former Bears that "knew his scheme", but would force players out of their comfort zone to follow his scheme, rendering their strengths useless. As an avid University of Illinois fan, I'm personally having to deal with that again from a fan perspective.
The best thing GM Jason Licht could have done was exactly what he did and that was hire Dirk Koetter as head coach. Koetter brings a level of fun and enjoyment to the locker room for this team. They love to play for him. He does what he can to put his players in positions to succeed rather than telling them they have to do something that either doesn't make sense or that ignores what his players do well. The addition of Mike Smith as defensive coordinator was a brilliant move and as we've seen over the last few weeks, Smith has no issues tweaking his system to adapt to the game. That's why a team that was giving up tons of points and unable to get to the quarterback is all of sudden leading the NFL in points allowed over the last four weeks and has the most takeaways in the NFL since week five.
How has your 2016 draft class looked so far? Any disappointments? Any surprise gems?
Roberto Aguayo has been somewhat disappointing, of course. Licht put his neck out there to not only draft a kicker in the second round, but traded up to do so. However, there is hope that some of Aguayo's struggles can be chalked up to rookie growing pains. It's not like every other kicker in the NFL has been tearing it up, right? Kickers as a whole have struggled mightily this season. Hargreaves seems to get better and better each week. Keith Tandy – who had the game winning interception against the Chargers – said after the game that is was Hargreaves who tipped him off before the play on what San Diego was doing. He recognized it from film study and gave Tandy a signal. Tandy was then able to be in position to make the play. The awareness and recognition of a rookie playing in his twelfth NFL game to do that is remarkable.
My favorite player for this team headed into the draft was Noah Spence. I was adamant about taking him in the first round. Luckily, he was still there in the second and has been phenomenal. He's another one that gets better by the week. He was the defensive rookie of the month for November. He's sitting with 5.5 sacks on the year and he's doing it with a torn labrum in his shoulder, so he isn't even fully healthy. This kid has a really, really bright future here.
If you had to name a lesser known player that could have a major impact on Sunday, on either side of the ball, who would that be?
Each week, it seems as if there is a new hero for this team that steps up in a big way. We've had Jacquizz Rodgers, Chris Conte, Alterraun Verner, and most recently Keith Tandy. A "lesser known" guy to keep an eye
on Sunday
would have to be wide receiver Josh Huff. He was just called up from the practice squad due to the injuries to Adam Humphries and Cecil Shorts. He was cut by Philadelphia following a weapons and marijuana charge and the Bucs stashed him on their practice squad. He can certainly be an impactful player on special teams, but given the injury issues he will see time at receiver.
He's not going to put up crazy fantasy numbers or anything like that, but he's certainly dangerous in space. Huff is incredibly fast and can make plays once the ball is in his hands. His best career game in Philly was, ironically, against the Saints where he had 78 yards and a touchdown. Winston will find ways to get him the ball and put him in position to make something happen.
Any predictions for the Saints game? Who do you think wins?
It's funny, it seems as though for years the Bucs and Saints would split, but it was the road team that would come away victorious. The Saints still seem to be having some defensive issues, but with Drew Brees under center there isn't a game they can't win. At the end of the day, I truly believe this Bucs team stays hot. They're coming off victories in Arrowhead – which is darn near impossible – as well as a complete domination of Seattle followed by a cross-country trip to San Diego culminating in a win. Raymond James is going to be hopping, which isn't something we've seen much of in recent years. Fans are excited, optimistic, and want to see this streak continue. I think it's close, but the defense will come up with another big fourth quarter play to seal the deal. My prediction is Bucs win 30-28.
Well, you made it this far. But this is only half of the conversation. So please, do yourself a favor and check out what we had to say about the Saints over at The Pewter Plank.
This article originally appeared on