Kirk Cousins needs to sign a long-term deal with the Redskins, right now
The Washington Redskins placed the franchise tag on Kirk Cousins on Tuesday, hours before the league's deadline, a move that basically ensures Cousins will play for the burgundy and gold in 2016 with a one-year deal worth a little less than $20 million. Both parties can continue to negotiate a long-term deal until July 15, but should they? Is this the right move for Cousins? Does it make sense for the Redskins?
Let's look at the two scenarios, one or both of which could have been the guiding force behind the tag:
1. Cousins wants to bet on himself.
2. The Redskins aren't prepared to invest significant money into Cousins.
Ordinarily we'd break these apart to go over each side's point of view, but in this case they overlap so much they can be discussed together.
When talking about Kirk Cousins, let's throw away his first three years in the league when he was at times a backup to Robert Griffin III, a starter on a team that had quit under Mike Shanahan or a fill-in year-end quarterback playing on a lost team that wasn't buying into the system of rookie head coach Jay Gruden. That leaves us with 2015, when Cousins led Washington to an NFC East title.
Ordinarily, this would have Dan Snyder opening his wallet so wide it'd be bigger than most Manhattan apartments. But in an era of sensibility and frugality in Washington, general manager Scot McCloughan has apparently convinced Snyder to either wait on a long-term deal, or Cousins has decided to bet on himself and declined one. Both sides can justify their decision.
Cousins may have won the NFC East but me, you and the nine other people here at Starbucks could have at least gone 6-10 in that division. Washington won it at 9-7 — hardly a juggernaut. And in the course of that season, Cousins beat no teams that finished with a winning record. He was 0-4 in such games.
The counter there: Three of those games were against the Patriots, Panthers and (in the playoffs) the Packers, teams lots of quarterbacks would have gone 0-3 against. (Note: Cousins not good against teams starting in "P.") The fourth loss was to the Jets. There's no silver lining in that one.
The 'Skins also started the year 2-4, with Cousins throwing for 6 touchdowns and 8 interceptions. His passer rating was under 70.0 in four of those games. That slow start has to be on the Redskins' mind. But so does this: In the next 10 games, Cousins went 7-3, with 23 touchdowns and 3 interceptions. (He was okay in the playoff loss to the Packers — a loss that was mostly on the Washington secondary.)
It was a tale of two seasons and both sides are wondering the same thing: Is Cousins the quarterback from the first six games, the last 10 games or a mixture of both. It's the Nick Foles Conundrum.
If you frame everything in the way of gambling (as some are wont to do), ask yourself this: What would Vegas do? If there was a way to bet on what kind of quarterback Cousins will be and the two options were "closer to weeks 1-6" and "closer to weeks 7-17," which would be the favorite? I think it's the latter. That's not to say we're going to see 23/3 in every 10-game stretch, but the fact that Cousins ended strong but started slow could be explained away by saying he was getting used to Gruden's system. Once he became comfortable (and DeSean Jackson returned — a huge deal), Cousins looked great.
And he played great in a non-RG3 way — not thriving in a new system that defenses would soon figure out or would take a physical toll on a quarterback, but a tried-and-true NFL offensive setup. That's what Cousins (could be) banking on. He might believe that the best is yet to come and with 10 games under his belt, the next 10 will be an even bigger improvement.
But here's what Kirk Cousins needs to ask himself: What's his salary ceiling? Now that the Redskins have given him north of $19 million for one year, one has to think the team has basically hamstrung itself in long-term negotiations. Imagine the discussion: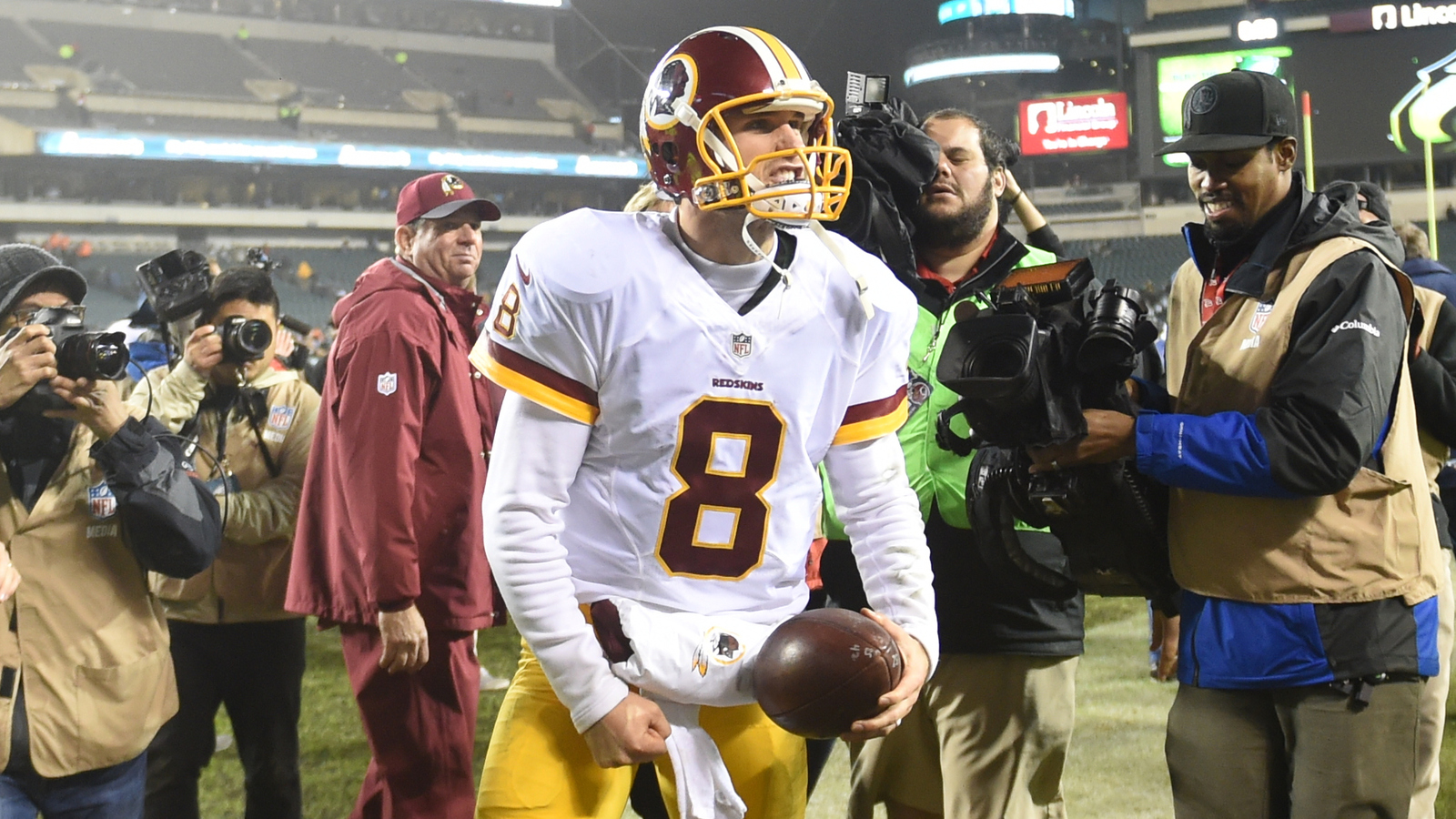 Redskins: "We're looking to give Kirk $14 million per year."
Cousins' agent: "You just gave him, like, $20 million!"
This doesn't mean Washington made a bad move in tagging Cousins. It could have a "real" quarterback for the first time since Joe Theismann. But that's also why it makes sense for the Redskins to get a long-term deal done. They can keep franchising Cousins and taking up massive cap space (Cousins will have the most base pay of any NFL player next season) or they can accept that they essentially raised the market on their quarterback, suck it up and give him something like $16 million per year — Andy Dalton, Sam Bradford and Alex Smith money.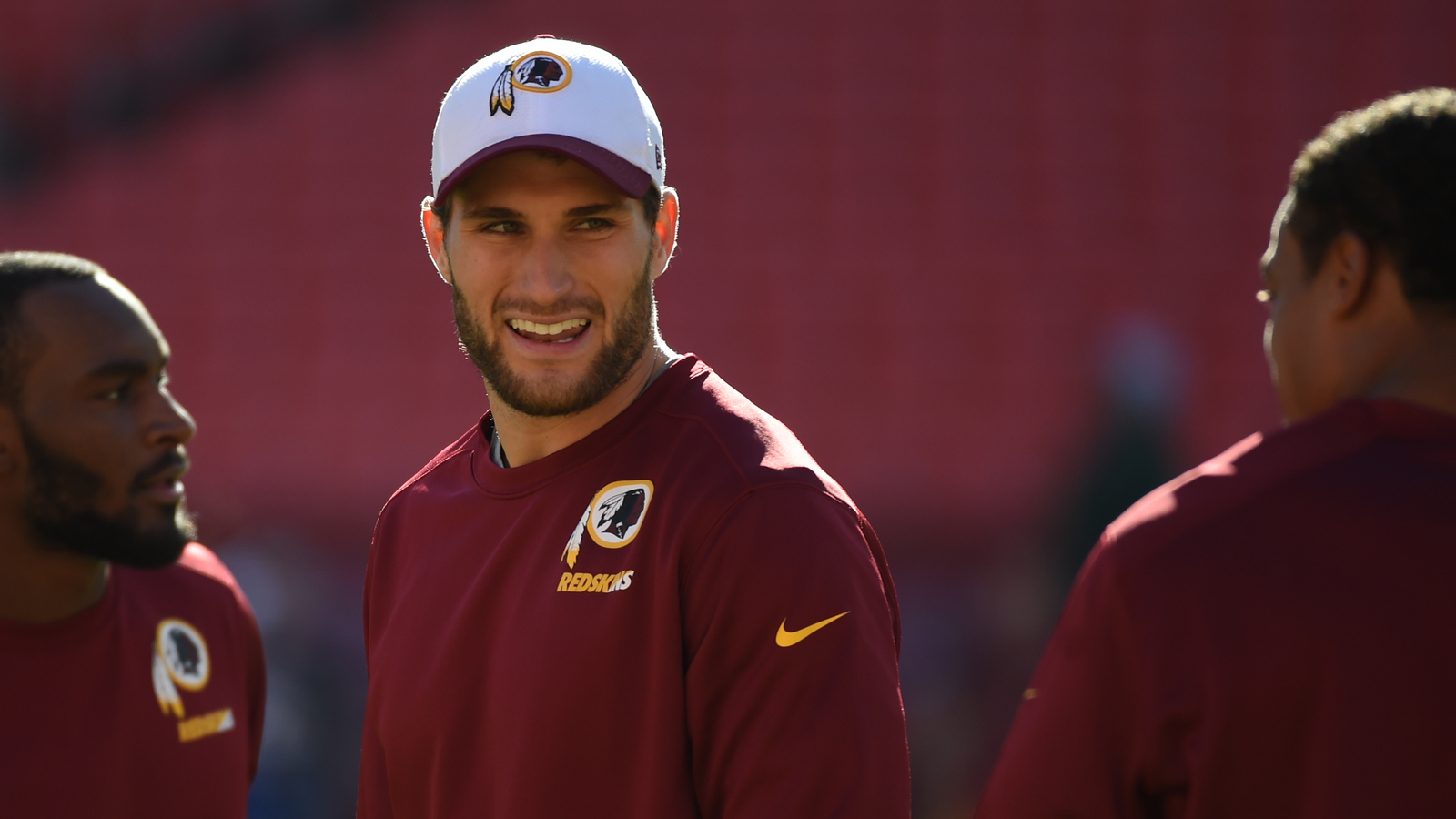 Have faith in him, give him guaranteed money (but not enough that's going to kill the cap) and square away the most important position for the next half-decade, while backloading it enough to sign need players this offseason to take advantage of a weak NFC East.
As for Cousins, that ceiling question still applies. He threw for 4,200 yards, 29 touchdowns and 11 interceptions last year and lost a wild-card game. Realistically, what's the best he can do in 2016: 4,500 yards, 34 touchdowns, 9 interceptions? Does that sound about right? So if that's the case, what does that mean for his contract?
First, looking at total money in meaningless, as guarantees and backloaded deals and reworked contracts make that irrelevant. Putting that aside for a moment, here are the NFL QBs getting $20 million per year: Rodgers, Wilson, Roethlisberger, Manning, Rivers, Newton, Ryan, Flacco. We know Cousins isn't gettin Rodgers, Wilson, Roethlisberger, Manning, Newton or Flacco money. (We'll get to Flacco.) At best he can hope for Rivers or Ryan money, both of which are for around $40 million guaranteed dollars.
So, at best, we're looking for $45-60 million guaranteed if Cousins has a great season. Or, he could pull a Flacco, win an unexpected Super Bowl and then basically have Washington at his mercy. (I wouldn't bank on that one though.)
What would the Redskins offer right now though? Only the team knows, but anything under $30 million guaranteed would be laughed at (he's getting $20 million guaranteed this year and it'd be more next year!) It'd have to be in the $35-40 million range, right, with some concessions on out clauses and guarantees. (Both sides have to bend in this case.) That sounds reasonable for a guy who has never beat a winning team in his career. It also keeps them from having to pay Flacco money should the unthinkable happen this season.
That stat is why the downsides for Cousins are enormous: he gets injured, he has a bad year, Trent Williams gets injured, DeSean Jackson gets injured, the team just has one of those bad-luck NFL seasons resulting in a 9-7 team ending up with a 5-11 mark. Maybe Team Cousins thinks the resulting contract offer wouldn't be that low. Competent quarterbacks still get paid pretty well. Or maybe he'd get Ryan Fitzpatrick money and have to prove himself once more.
To me, the juice isn't worth the squeeze as they say, for neither Cousins nor the Redskins. The team has a good quarterback they can lock up for reasonable money right now. For Cousins, I begrudge no man or woman the right to get as much money as they can, especially football players, who are involved in such a violent sport in which careers end in a snap. But that's exactly why he should strike now and see if the Redskins will bite on a deal that'll make him Andy Dalton Lite.
If he's worth it, there'll be a lot more money coming his way down the road.