Kirk Cousins Must Transition To "Captain Kirk" Mode For The Rest Of 2016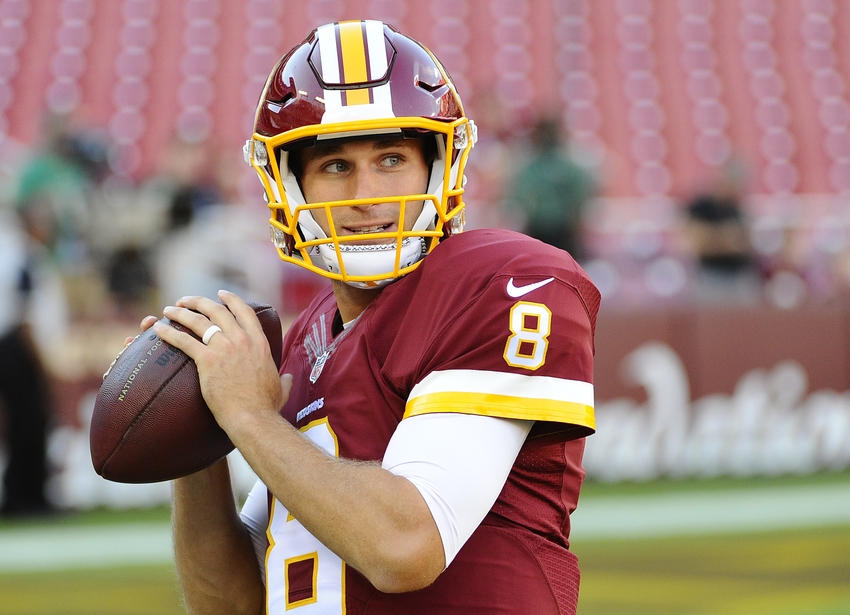 The Washington Redskins were in a very similar predicament this time last year. Following their Week 8 bye week their record stood at 3-4. From that point onward, the Redskins would go on to win six out of their last 9 games and clinch the NFC East. The main culprit behind that success was Quarterback Kirk Cousins.
"It's not whether you get knocked down, it's whether you get back up." That's a very simple statement from Hall of Fame coach Vince Lombardi but it's so very fitting for the current state of affairs of the 2016 Washington Redskins. They've had some tough breaks, lost some close games, but their record stands at 4-3-1; they are still in the playoff contention.
Facing adversity has been a reoccurring theme for the franchise the past few seasons. During the 2015 season the Redskins struggled early, posting a 3-4 record before their Week 8 bye. Kirk Cousins was in the midst of his first season as the starter and his productivity was low, but that all quickly changed.
From Week 9 onward, the Redskins posted a 6-3 record, winning out their last four games of the season. The focal point of the second half of the 2015 season was Cousins. In the second half of the season Cousins posted league leading numbers as he went 195 of 275 for 2,429 yards. He also posted 20 touchdowns with just 3 interceptions. Cousins is a bit skeptical of his ability to really duplicate last year's success, per ESPN's John Keim.
I don't know that you ever look at last year and hope for something to be repeated in the sense that every year is different. We certainly did some good things last year in the second half of the season and would love to go on a run like we did last year. But, boy, every game and every season is its own entity and you never want to rest on past success or expect that just because it happened in the past.
It's a daunting task to repeat the performance Cousins and the Redskins had a year ago, but from a statistical standpoint; Cousins has the Redskins standing in a better position than he did just a year ago.
The Redskins currently have the fourth best total offense in the league, averaging 410.2 yards per game. They also have the third best passing offense in the league, averaging 298.8 yards per game.
Cousins struggled early on this season, but the past few games he's regained his comfort level in the pocket. He is doing the things he supposed to do. He has been precise with his throws, shown great ball security, and has continued to make his case as the franchise quarterback.
Through eight games this season Cousins has completed 215 of 321 attempts for 2,454 yards (sixth in the league) along with 12 touchdowns and 7 interceptions. That is good for a 93.1 quarterback rating. Jay Gruden seems to be confident in Cousins moving forward, per ESPN's John Keim:
He's made steady strides of getting better. Ball security has been good. You know, we still…Obviously the red zone stuff we have to address, but I think he's getting better across the board and I think the more he plays, the better he is going to get.

There's areas to improve without a doubt and he'll tell you the same thing and that's what is great about Kirk. He understands that. He can throw for 450 yards and find the five or six plays in the game that he wishes he had back and he wants to improve upon. That's the good thing about him. He'll continue to improve.
The Redskins return to action Sunday slated to take on the 5-3 Minnesota Vikings Sunday. As the bye week comes to and end, and the Redskins began their push to the playoffs, it time for Cousins to go to the closest and retrieve his cape.
It's time for Captain Kirk.
This article originally appeared on