Kirk Cousins feeling confident after dominating Packers on SNF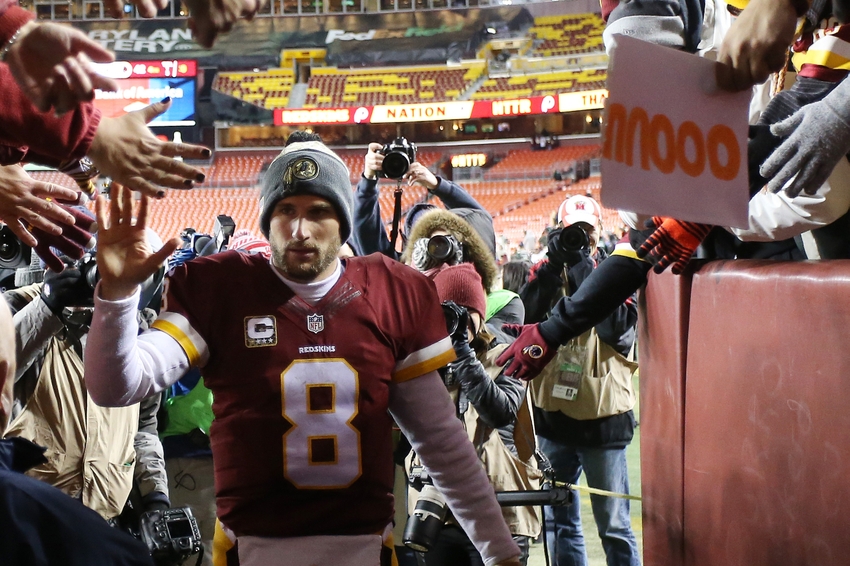 Washington Redskins quarterback Kirk Cousins is quite the character. He was feeling confident after the team's big win over Green Bay on Sunday…
There aren't many players feeling better about themselves after Sunday's festivities in the NFL than Washington Redskins quarterback Kirk Cousins. Need proof?
Here's Cousins' interaction with GM Scot McCloughan after the team's big win over the Green Bay Packers on Sunday night:
"HOW YOU LIKE ME NOW?" #Redskins QB Kirk Cousins giving GM Scot McCloughan plenty to like after a huge win against the #Packers #NBC4DC pic.twitter.com/WnAwgf7Fft

— NBC4 Sports (@NBC4Sports) November 21, 2016
Hilarious. Savage. Perfect.
Cousins is playing this season on the franchise tag, which he was basically forced to accept as a way of 'proving himself' this year to the brass in the Redskins' front office. After this kind of performance against Aaron Rodgers in a prime time matchup, how would you react?
Kirk Cousins was on another level tonight #HTTR #GBvsWAS pic.twitter.com/K1ObbQ5o68

— SNF on NBC (@SNFonNBC) November 21, 2016
This is not Cousins' first exciting post-game celebration. We were treated to this gem not long ago:
Kirk Cousins May Have Topped 'You Like That' With 'Ooooweeee!'https://t.co/993D7ovEwn

— SportsCast (@SportsCast_THN) November 13, 2016
And of course, a year ago in the same uniforms, here's the famous, "You like that?"
(You Like That?) https://t.co/bNqExFnZzi

— 21 Stevie (@illestevie) November 13, 2016
It makes me so happy to see another great performance by Cousins, who was selected in the fourth round of the 2012 NFL Draft, one that is known for its class of quarterbacks, including Andrew Luck, Ryan Tannehill, and Redskins first round pick Robert Griffin III.
It was a curious move at the time to take Cousins so quickly after selecting Griffin, but the Redskins and their fan base certainly aren't second-guessing anything now, as this team has only lost one game — a three-point loss to the first place Lions on the road — since September.
Cousins has made himself a lot of money this season, likely from the Washington Redskins, and he looks to have legitimately emerged as one of the NFL's better quarterbacks.
I like it, Kirk.
This article originally appeared on