Kiko Alonso Wins Game for Dolphins With Pick-Six (Video)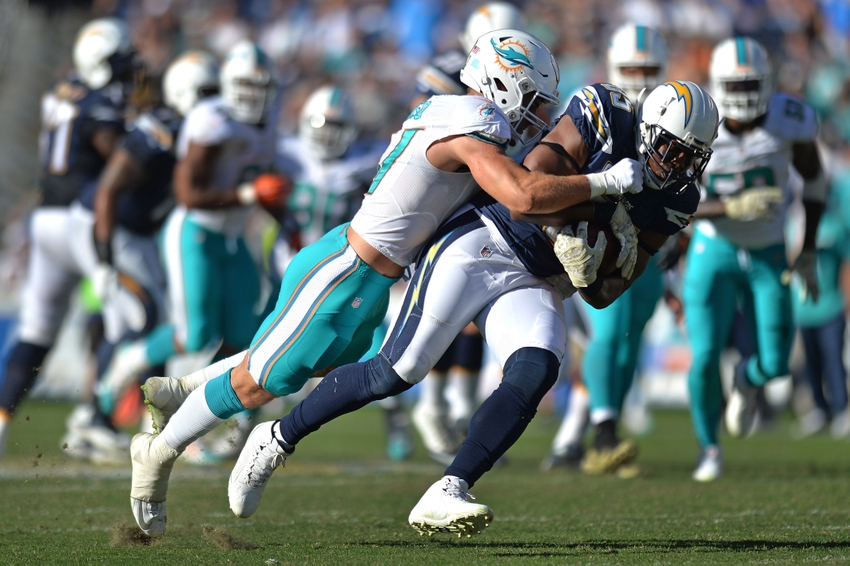 Miami Dolphins linebacker Kiko Alonso hasn't looked special on his new team, but he helped repay Mike Tannenbaum's faith with a game-winning pick-six.
As a rookie for the Buffalo Bills, former second-round pick Kiko Alonso looked like a future star in the making. He had 159 tackles and four interceptions. It seemed like he could do literally everything you could hope for from a linebacker.
A year later, Chip Kelly would ship LeSean McCoy to the Bills for Alonso, in the hopes that the former Oregon star would be the leader of his defense for years to come. However, both Kelly and Alonso were shown the door after the 2015 season.
The Miami Dolphins acquired both Alonso and Byron Maxwell from the Philadelphia Eagles. Both players were disasters for the Eagles in 2015 and they hadn't played at a high level through the first nine weeks of the regular season.
But in Sunday's game against the San Diego Chargers, both players came up big. Maxwell had an interception, but he couldn't come close to touching Alonso's play.
The Chargers took a 24-21 lead on a beautiful 51-yard pass from Philip Rivers to Tyrell Williams, but a deep bomb from Ryan Tannehill to DeVante Parker allowed the Dolphins to knot things up at 24-24.
Rivers and the Chargers were in opponent's territory and looked poised to win the game, but Rivers, who had 324 passing yards, threw a back-breaking fourth interception.
That interception would win the Dolphins the game. Alonso took the ball to the house for 60 yards, and the Dolphins boosted their record to 5-4, leaving the Chargers to mull over yet another blown fourth quarter lead.
It was a perfect play from Alonso, who showed off the instincts in coverage that made him a rookie star who soaked up four interceptions. He peeled off the man in the slot, read the screen/drag, and jumped in front of the pass. From then on, the Chargers had no chance of catching him.
That pass, by the way, was intended for Tyrell Williams, who caught the key touchdown pass just minutes earlier in the game.
This article originally appeared on