Keys to Victory: Oakland Raiders at Baltimore Ravens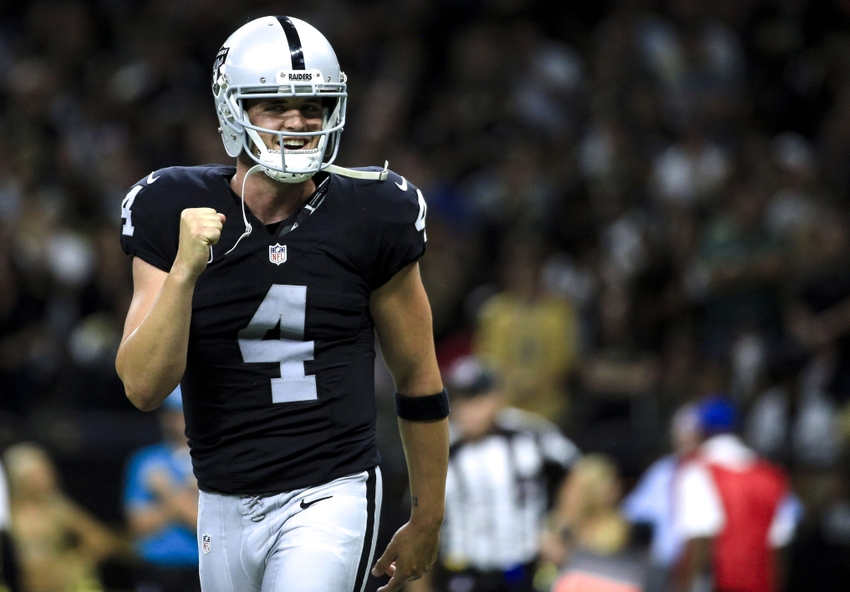 The Oakland Raiders hit the road once again, this time to face the Baltimore Ravens in Week 4, looking to add another 'W' to the win column. Here are three keys to victory.
The Oakland Raiders are 2-1! With the team earning a road win last week, they hope to do so once again on Sunday, as they travel to the stronghold of the Baltimore Ravens, M&T Stadium.
Here are some keys for the Raiders to get to 3-1.
Don't beef with Steve Smith
He may get a shot at the NFL's Hall of Fame, but he certainly deserves a spot in the NFL's best trash-talkers Hall of Fame.
One of the stories this week has been his "beefing" with Jacksonville Jaguars cornerback Jalen Ramsey. He also has coined the phrase "Ice up, son." to go with many other of his great trash-talking quotes.
In last year's game against Oakland, Smith torched the Raiders secondary for 150 yards on ten receptions.
Even after a recovering from a torn achilles, Smith is still getting it done. In Week 3 vs. the Jaguars, he had 87 yards on eight receptions. While he may not be the Steve Smith he was with the Panthers, he has a season total of 13 receptions, 204 yards, and one touchdown. So he's still a threat.
The reason why I say for the Raiders not to "beef" with Smith is because he plays better when he is angry. He may be past his prime, but a player like him will still beat you with his competitiveness, aggression and will — if you let him.
The Ravens also don't have much for receiving weapons, so keeping Smith subdued is key to victory for the Raiders.
Defense! Keep it up!
If you told me to bet my life on the Raiders only giving up one touchdown last week, there is no chance I would have made that bet. Any Smart man wouldn't, but with the injection of rookies Cory James and first-round pick Karl Joseph, Oakland's defense looked better.
There are still issues in the passing game with tight ends, and the run defense could have been exposed a lot more by Tennessee, but they decided to put the game in Mariota's hands. In "keys to victory" against the Titans, I mentioned creating enough chaos to create turnovers — which they did, with one fumble and two interceptions.
Khalil Mack hasn't been the dominant force we are used to seeing, so when he gets back to form, that will help this defense out quite a bit.
Is Joe Flacco elite?
Well maybe at one point, but right now he isn't. However, that doesn't mean he can't carve up this defense, if given time to throw. Flacco's receiving options are very limited, and the Baltimore run game has been average at best.
Baltimore's offense ranks 21st in passing offense, 26th in rushing offense and 25th overall in total offense. The Raiders rank last in passing defense, 29th in rushing defense, and last in total defense. *Monkey covering eyes emoji*
Keep the Carr Rolling
To say the least, Carr has been the best player on the Raiders this year. His struggles from last year have been turned into somewhat of strengths this year, with Carr handling pressure much better, and also performing in the fourth quarter.
Carr is on pace for a 4,500+ passing yards and 25+ TDs — something Raiders fans haven't seen since Carson Palmer in 2013 or Rich Gannon in 2002.
Carr ranks third on footballoutsiders.com in DVOA (which ranks a QBs value per play) and second in DYAR (which ranks a QBs total value.).
Does Carr still have an occasional misread, and does he sometimes over/under throw pass? Sure. But it's clear that we have a franchise QB, folks.
The Ravens defense is solid, especially up front, with Brandon Williams and Timmy Jernigan. On the edges they have aging players in Terrell Suggs and Elivs Dumervil, who are past their primes, but still productive. If the Raiders offensive line can keep playing at a high level, they can take advantage of the Ravens defensive holes.
Baltimore's 8th ranked rushing defense goes up against Oakland's 2nd ranked rushing attack.
The Raiders 8th ranked passing offense battles the Ravens 3rd ranked passing offense.
Baltimore is ranked 2nd in total defense, but their first three opponents have been the Bills, Browns and Jaguars, who have a combined win total of one.
Oakland has the weapons. Amari needs to be targeted more, but he also has to stop dropping the ball. Seth Roberts too, in regard to the dropped passes.
Crabtree just needs to keep doing his thing. And the more Clive Walford gets involved, as well as the two young running backs — DeAndre Washington and Jalen Richard — the more it helps Carr.
This has all the signs of a trap game, but I feel confident that the Raiders have the better overall talent and skill to beat the Ravens. But Baltimore is at home, which always helps, and the Raiders, unfortunately, haven't shown a game of complete dominance yet.
Just Win, Baby.
More from Just Blog Baby
This article originally appeared on