Key Players for the Panthers in 2016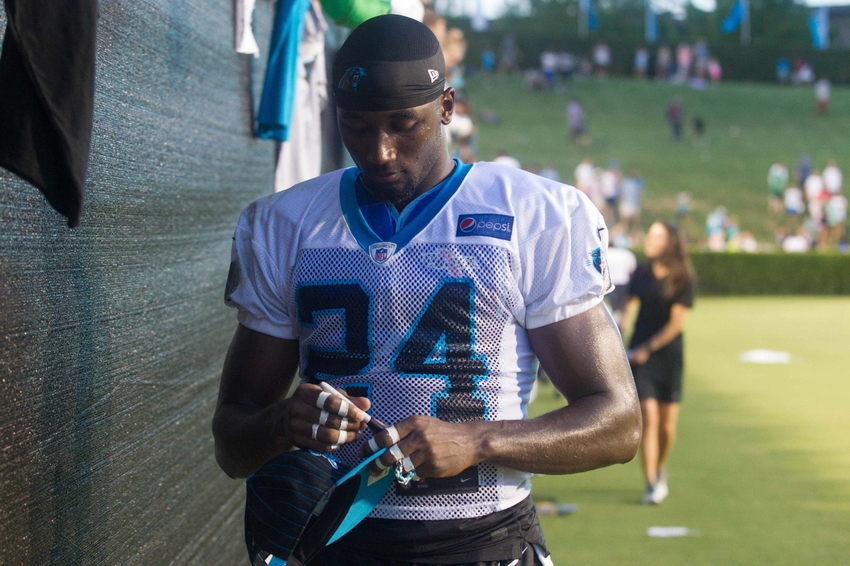 The Panthers have plenty of star talents that they rely on, but these players are just as important in their varying roles.
The season officially starts this coming Thursday for the Carolina Panthers when the team heads to Denver to play the Broncos. With this game coming up it would be a good idea to take a look at the players who will be important to the success of the team this season. These players are not the obvious key players such as Cam Newton, Greg Olsen, Thomas Davis or Luke Kuechly. Instead, these key players are the ones who will help solidify the team and build consistency this season.
Charles Johnson – DE
When the Panthers cut Charles Johnson many people expected him to sign elsewhere but after testing the free agency waters he came back. He mentioned having love for Carolina and wanting to prove himself as reasons for why he returned. Johnson will be expected to give it his all this season and a motivated Johnson is a scary proposition for opposing offenses. Last season Johnson dealt with injury problems which resulted in a down year for him. If he stays healthy this season expect his sack numbers to increase tenfold at least. The Panthers will need his pass rushing ability to get pressure on opposing quarterbacks.
James Bradberry – CB
It is very rare that rookies who do not play quarterback are expected to come into the league and make an immediate impact. However, James Bradberry is one of those rare cases. He will be a starter at cornerback to open the season and the coaches are expecting a lot from him. Bradberry was a shocking pick to many fans of the Panthers. It seemed at the time of the pick that the team was desperate to fill in the hole that Josh Norman left when he signed with the Washington Redskins. Even so, the Panthers might have actually made the right move especially when watching the preseason games he has played in.
Bradberry is long and athletic for a conerback. He has incredible speed and there is potential for him to be a great blitzer. Fans can expect to see mistakes from Bradberry as the season goes along but they can also expect to be amazed by his play making ability. A lot of the team's success on defense will be riding on how well he fills in for the absence of Norman.
Shaq Thompson – LB
Shaq Thompson is a beast and all teams around the league are starting to take notice. He is almost an exact clone of Thomas Davis. Thompson is able to cover wide receivers and tight ends in coverage situations and still has the power to tackle with the best of them when teams decide to run the ball. His play making ability will be a key to this team and will help the other two starting linebackers greatly. Watching Thompson during the preseason shows that he is ready to have a break out year with the Panthers. Expect big things from him this season.
Devin Funchess – WR
Last season Devin Funchess was asked to do a lot more than many expected him to have to do thanks to the injury Kelvin Benjamin suffered. Even with all that inexperience and media bashing of the Panthers wide receiver corp he had a good rookie season. Some experts are now saying that Funchess has a higher ceiling than Benjamin and he could have a monster year with teams trying to stop the other receivers. He has the size and the speed to get open downfield even though he is not lightning quick like Ted Ginn Jr.
If Funchess improves on his route running he could be a very dangerous option for the Panthers. He will be called upon to take pressure off of Ginn and Benjamin throughout the season. If he does a good job of that then the offense will pick up where they left off last season.
Cameron Artis-Payne – RB
Out of all the players who played for the Panthers this preseason it is Cameron Artis-Payne that impressed me the most. CAP (his nickname in many media circles) displayed good awareness and good running techniques throughout the entire preseason. Once he found a hole the offense opened up for him he shot right into it. CAP also was able to get many yards after contact thanks to his compact size and strength.
Even though Fozzy Whittaker is listed ahead of him on the depth chart I believe he will see key minutes this season. The team has some solid depth now at running back thanks to the emergence of CAP as a solid option in case Jonathan Stewart goes down again. It seems likely that by the end of the year CAP will be the first option off the bench for the Panthers.
More from Cat Crave
This article originally appeared on