Kenny Britt Continues to Come Up Big in Passing Game For Los Angeles Rams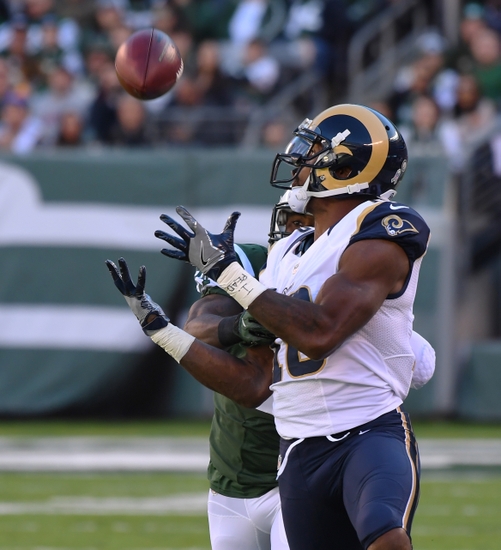 Kenny Britt continues to lead the way for the Los Angeles Rams in the passing game after another strong outing against the New York Jets.
Prior to the start of the 2016 regular season, the Los Angeles Rams rewarded Tavon Austin with a ridiculous $42 million extension with the intention of the wideout being an effective weapon on offense. When looking back, the argument can be made the organization shouldn't have jumped the gun on the deal for Austin and focused on investing more money in Kenny Britt instead.
Britt is on pace to become the first 1,000-yard receiver for the Rams after another solid performance against the New York Jets in which he caught seven passes for 109 yards. Despite all of the controversy surrounding Case Keenum at quarterback, the one positive takeaway from the veteran is the chemistry he's developed in the passing game with Britt as Los Angeles needs all of the help they can get.
After ranking near the bottom of the league in 2015, Keenum was supposed to be a factor in helping the Rams improve on offense this season, but that's been far from the case. The fact that Sunday marked the second time Los Angeles won a game in 2016 without scoring a single touchdown is the perfect example of just how much poorly this offense has played so far.
Hopefully, Britt continues this pace to reach the 1,000-yard mark as the Rams will hopefully be smart enough to provide him with a new deal once the offseason rolls around. Otherwise, Los Angeles may be taking a step back next season when it comes to fixing their passing issues, which is the last thing this team wants to see.
This article originally appeared on