Ken Norton Jr. Ruining Oakland Raiders Defense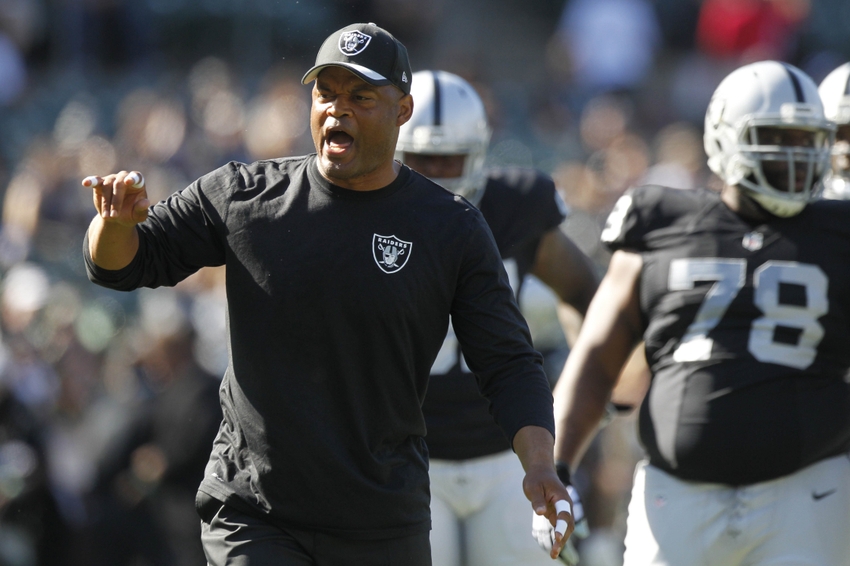 Ken Norton Jr. is having the toughest of times with the Oakland Raiders defense this year. He has great personnel but doesn't put them in position to win.
Oakland Raiders defensive coordinator at Ken Norton Jr. hasn't done the team any good so far. Last year, his first as a defensive coordinator, he seemed a bit in over his head. So head coach Jack Del Rio, a defensive guy, got involved in the defense and it got better.
In this, his second year, Norton has gotten even worse and Del Rio isn't as involved. Perhaps he has more leeway because the offense is so good this year. The offense is the main reason why the team is 4-2 and in the lead in the AFC West.
And in the process, the Raiders are putting up historically bad numbers on defense. If you told a Raiders fan before the season they would be 4-2 after six games, he would take it. But after seeing it unfold, Raiders fans know they are underachieving on defense.
The defense is historically bad because Norton is struggling, pressing all the wrong buttons. If something doesn't change soon, the Raiders will be right around .500 and miss the playoffs. With the talent this team on defense, that would be a crying shame.
Turn the page for a look at what Norton is ruining the Raiders defense.
Strategy and Communication
In the first two games of the season, the Raiders defense gave up over 1,000 yards. They gave up some big plays from getting straight-up beat and others from not knowing what to do. Offenses are good too so you have to live with losing some battles.
But blown assignments because not every man knows his role on a given play inexcusable.  Against the Atlanta Falcons, they got beat deep because the corner expected help and didn't get it. Then things improved when Karl Joseph entered the starting lineup, making coverage calls.
So Raider Nation thought the Raiders finally fixed that problem. But in Week 6, Norton struggled to call the defense in and the Raiders paid for it. Anytime the Kansas City Chiefs shifted formations, it confused the Raiders.
Remember, Del Rio took over defensive play-calling for last year for the same reason. We're in Week 6 of Norton's second year now so that kind of stuff shouldn't happen anymore. You can't play when you don't know what to do so the Raiders have to correct that.
His Boys From Seattle
I understand Norton wanted Malcolm Smith because he knows the defense from Seattle. But he is undersized, too small to cover big tight ends and not particularly good against the run. He was a coverage specialist in Seattle and now he's an every-down player.
Smith couldn't go against the San Diego Chargers so the Raiders signed Perry Riley to fill in for  him. Then against the Chiefs, Norton went with Smith more and the Raiders got run on. He and fellow inside linebacker Cory James are too small to stop the run.
A bunch of hype started when outside linebacker Bruce Irvin signed and it was all for not. I don't know why because Irvin never had 10 sacks or more in his career. The two sacks he has with 1-on-1 blocking came when the quarterback held the ball for four and five seconds respectively.
The Raiders pay him almost $10 million a year and opposing offenses don't have to game-plan for him. And he does not set a good edge, giving up all the long runs outside in Week 6. Irvin was at his best in coverage when he was in Seattle so don't act surprised.
Not Using Mack Right
Outside linebacker Khalil Mack is the most dominant SAM linebacker in the NFL since Lawrence Taylor. When he lines up at SAM, you can't protect the passer or run the ball. Most of the time, running plays go to the strong side and Mack destroys tight ends.
He beats them so badly, he can jump into of middle of the defense or outside to make the play. Mack also rushes the passer well from there and does well as an end in sub-packages. That's how he made the All-Pro team at defensive end and outside linebacker.
Last year, Mack started the year off slowly because the tried and failed to turn him into a LEO. He can't trash running plays to the strong side while Norton has him at LEO. LEOs are long like Aldon Smith and Charles Haley to keep tackles off of them.
But to keep his boy Smith in an edge-rushing role, he's not doing anything with, Norton has Mack out of position. Taking your best player out of his best position isn't a good idea. And you would think Norton learned last year the Mack was at his best when he moved back to SAM.
Fit Systems to Players: Front-7
Another thing Norton seems not to have learned from last year is fitting systems to personnel. Del Rio had the Raiders in more 3-4 looks when he took over the defense last year. But Norton seems determined to make his 4-3 under work with 3-4 personnel.
Mack at LEO isn't the ony misfit as they often line 300-pounder Stacey McGee up as a 4-3 end. McGee is best lined up as a 2-gap 3-4 end and or a 4-3 3-technique. Irvin should be a WILL as he played plenty of inside backer in sub-packages last year.
Then Riley, the banger, can line up at MIKE, giving the Raiders size and athleticism at inside backer. Shilique Calhoun can play the other outside backer spot until Smith returns. It's time to line nose tackle Dan Williams head up on the center instead of shading him to the left too.
Of course, Mario Edwards Jr. lines up at the other end then kicks inside on passing downs. Danico Autry can fill that role until Edwards gets himself ready to play again. This lineup gives the Raiders front-7 the ability to get after the quarterback and stop the run.
Fit Systems to Players: The Secondary
Rookie Karl Joseph is doing well and veteran Reggie Nelson has improved after a rough start. So for those reasons I'll go ahead and leave the safeties alone in this slide. But Norton doesn't seem to realize that he needs to keep his corners in bump and run.
Sean Smith got beat deep by losing his eye discipline in Week 1 and looking for help he didn't in Week 2. But ever since, Smith has been balling, intercepting passed when they try him deep. It doesn't look like they want to keep trying Smith deep.
And David Amerson started the season balling but he's gotten touched up a little bit lately. The reason why is because Norton is running a lot of zone defenses these days. Smith came from Kansas City, where they play man coverage in all the time.
And Amerson was a budding star with the Washington Redskins then got cut when they moved to zone coverage. So it's more than obvious that playing zone coverage isn't playing to their strength. So there's not reason for Norton to sit back in a bunch of zone defenses.
Bottom LIne
Ken Norton is an ex-player that didn't have any coordinator experience until joined the Raiders last year. He seemed a bit overwhelmed by it last year and this year, when he should be better, he's even worse. But Del Rio hasn't done anything to help him this year.
Del Rio has improved the defense everywhere he's been but that was without Norton. That's his boy so he won't likely fire his old teammate from back in the day. But he needs to take control of the defense like he did last year before it's too late.
The Raiders have a playoff caliber offense and the personnel of a playoff caliber defense. And Norton is ruining that and could ruin an opportunity to go to the playoffs this year. I don't know if it's indecision of what but the calls don't even get in on time.
Then there are other things you have to adjust to when the team lines up in certain formations. The team should be prepared for it already and know what to do when they see it. But for some reason, the Raiders look unprepared on defense.
More from With the First Pick
This article originally appeared on