Keep an eye on rookie DE Brian Mihalik during Eagles' OTAs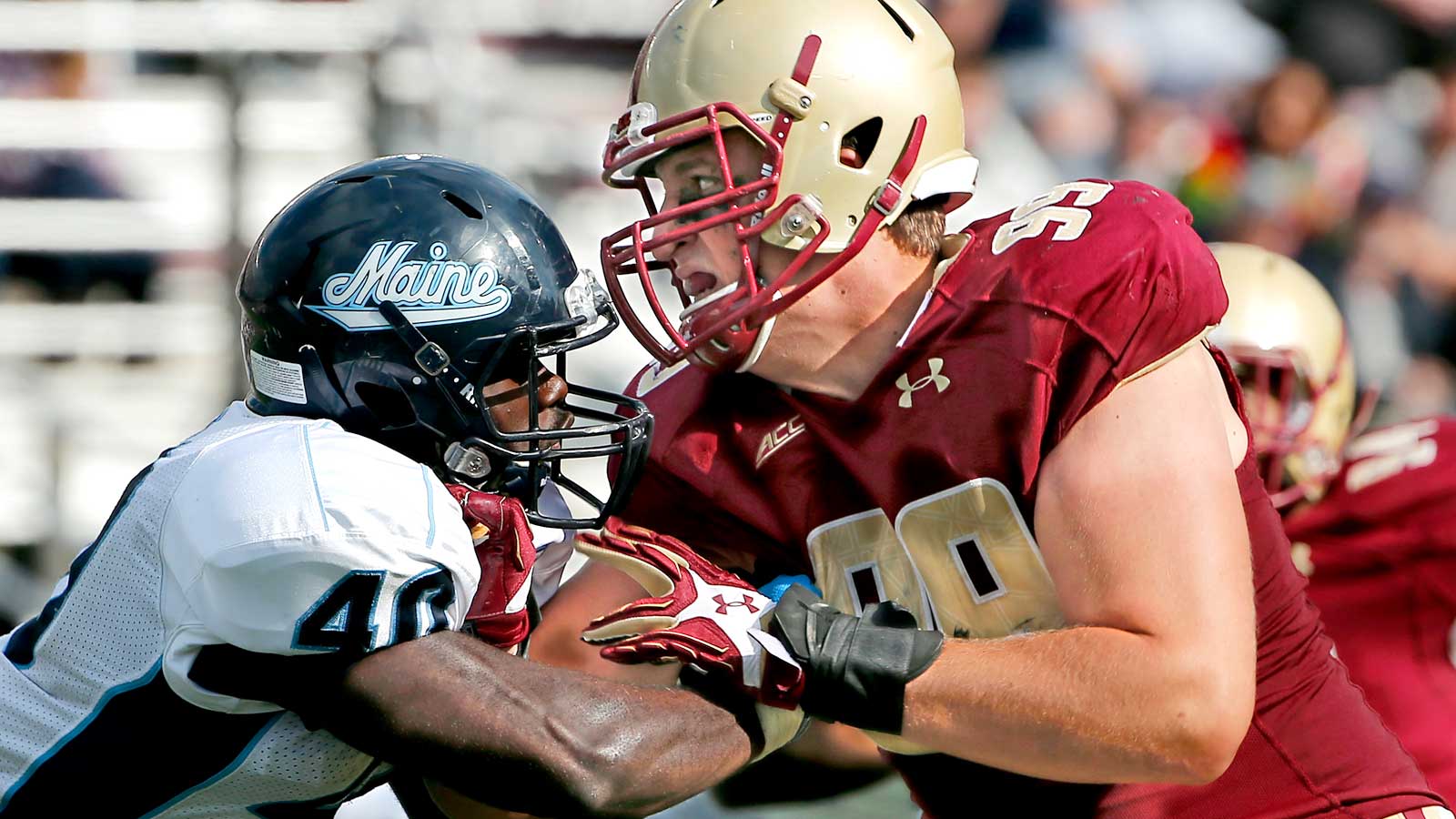 When the Philadelphia Eagles selected Boston College defensive lineman Brian Mihalik with the No. 237 overall pick in the 2015 NFL Draft, they found themselves this draft's tallest player overall. Towering over players at 6-foot-9, Mihalik never found a fit in college playing in a 4-3 base defense. The Eagles believe his transition to defensive end in their 3-4 base defense could help him realize his full potential. The Eagles lack depth along their three-man front, and Mihalik has the potential to make serious progress up the depth chart during the team's first set of OTAs that will run from May 26th through May 28th.
If you want to know why the Eagles took a chance on a prospect with underwhelming game tape at the college level, you'll have to look no further than Chip Kelly's classic "big people beat up little people" mantra.
"If you want the prototype for big people beat up little people, he's obviously the biggest person that we've drafted or brought in since we've been here," said Kelly, per Zach Berman of the Philadelphia Daily Inquirer.
Of course, there is some projection involved when it comes to Mihalik's pro prospects. The prospect never put up big production while at Boston College.Kelly believes that Mihalik, who played 4-3 base defensive end at Boston College, is best suited as a two-gap, four-technique defensive end.
Milahik impressed Kelly specifically when he ran a 4.88 40-yard dash at 302 pounds and added a 34-inch vertical jump. In order for Mihalik to make his mark in OTAs, he will have to display some of the rare athleticism he showed for his size when the Eagles worked him out during the pre-draft process.
"There's a certain amount of teams that he fit, and he's that ideal – if you could put one together [for the 3-4], that's what it is," Kelly said. "He hasn't played it, so there's a projection there. That's why he got drafted where he got drafted."
Mihalik saw a transition to 3-4 defensive end as an inevitable fate in his progression to the NFL, and he remains confident that he has he ability to make a smooth transition.
"I think they saw I fit really well in the scheme," Mihalik said to Zach Berman of the Philadelphia Daily Inquirer. "I think it'll be a decently smooth transition. It's a position I project well to with my size. I think I was going to play in the 3-4 no matter what."
There is certainly upside for Mihalik to gain some ground on the depth chart at defensive end. Although Fletcher Cox is one of the Eagles' most dominant defenders, he is entrenched as the five-technique defensive end. At the four-technique, the Eagles used a rotation in 2014 that featured Cedric Thornton and Vinny Curry. Thornton was strong against the run but generated very little pass rush, and Curry was the opposite. This made for a matchup that some opposing offenses found a way to exploit.
Mihalik may not have college production on his side, but he has the size and athleticism to project as a stout four-technique defensive end. His journey up the depth chart at that position begins this week during the team's first set of OTAs.
(h/t Philly )
Photo Credit: Winslow Townson/USA TODAY Sports