Karlos Williams Facing Another Suspension by NFL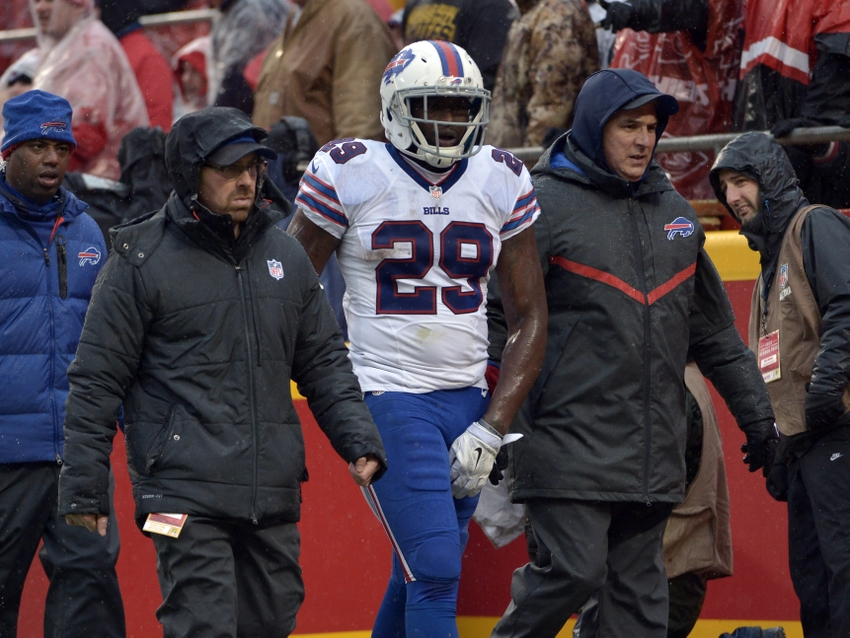 Former Buffalo Bills' running back Karlos Williams will begin his second suspension of the season — a much longer suspension.
Former Buffalo Bills' running back Karlos Williams — currently on the Pittsburgh Steelers' practice squad — continues to fall into a steep sophomore slump.
First reported by Ian Rapaport of NFL Network, Williams has violated the NFL's Substance Abuse Policy and with it being his second offense this season, he will be suspended for a total of 10 games.
Karlos Williams began his sophomore season as a member for the Buffalo Bills. However, showing up to training camp overweight and being handed a four-game suspension by the NFL led the Bills to releasing him before the season started.
It was apparent that football wasn't a priority for the young running back and it seems as though Doug Whaley has "dodged a bullet" as many fans are putting it.
Bills vs. Bengals QB and WR Fantasy Football Advice & Predictions
The fallout comes after breaking out as a rookie for Buffalo the year before, being drafted by the team in the fifth round. In his first six NFL games, he tied a record by scoring a touchdown in all six games as a rookie. He finished the season with 517 rushing yards, 7 rushing touchdowns, 96 yards receiving and 2 receiving touchdowns.
After not making the Bills' roster, Karlos Williams found his way onto the Pittsburgh Steelers' practice squad. He has yet to be activated to their 53-man roster this season and with his 10-game suspension, it will be a while before anyone gets to see him play again.
Even sticking him on a team with his older brother, Vince Williams, didn't help him get on track. Vince is in his fourth-year as a linebacker for the Pittsburgh Steelers and is on track this season to break all of his season-bests this year.
It's sad that Karlos Williams has found himself in this downward spiral. For any football fan, seeing someone with that much talent take it for granted will always be sad. He could've been a major force to be reckoned with in this league, but he will have to put that aside for another 10 games.
Bills' fans will always remember the memories you gave us in your rookie year and we just hope you get back on track and continue a successful NFL career.
In other running back news, the Bills' current backup Mike Gillislee suffered an injury during Wednesday's practice. More details on that can be found on the next page.
Injuries continue to haunt the Buffalo Bills, who saw a hamstring issue with Mike Gillislee on Wednesday.
It's been an issue for the Buffalo Bills ever since training camp started — injuries.
Sammy Watkins, Eric Wood, Shaq Lawson, Reggie Ragland, LeSean McCoy, Robert Woods and countless more have missed valuable time and it has contributed to just a 5-5 record on the field.
During Wednesday's practice, Mike Gillislee became the latest Bills' player to leave early with an injury — suffering tightness in his hamstring.
Cordy Glenn didn't practice w #Bills bc of a back issue. Mike Gillislee limited w hamstring injury that happened during practice.

— Vic Carucci (@viccarucci) November 23, 2016
Should Bills' fans be worried?
The last time we asked this question, it was with McCoy and his hamstring. Everyone said he would be okay and wouldn't miss any time. He ended up missing time. With his dislocated thumb in last Sunday's game, there's a possibility he misses even more time. If that happens, the Bills will need Gillislee's production.
With that being said, yes Buffalo Bills' fans should be worried — not because he might miss Sunday's game, but because he might not be 100%.
Don't get me wrong, it didn't seem to be too big of a deal and no one showed any real concern for it. However, if McCoy ends up missing Week 13 vs. the Jaguars, Gillislee will be asked to carry a huge load. Luckily, the Jaguars' run defense ranks 23rd in the league.
So far this season, Mike Gillislee has rushed for 326 yards and 4 touchdowns in 10 games this season — with an average of 5.8 yards per carry. He also has 40 receiving yards and one receiving touchdown this year, adding to his versatility. He has been a very key part of this offense and has complimented LeSean McCoy well each and every week.
The Buffalo Bills will need both of them healthy on Sunday to make up for their broken wide receiving corps.
Here's to a speedy recovery.
Do you think both McCoy and Gillislee will be active on Sunday? Leave your comments below!
More from BuffaLowDown
This article originally appeared on