Karl Joseph Can Help Fix Oakland Raiders Defense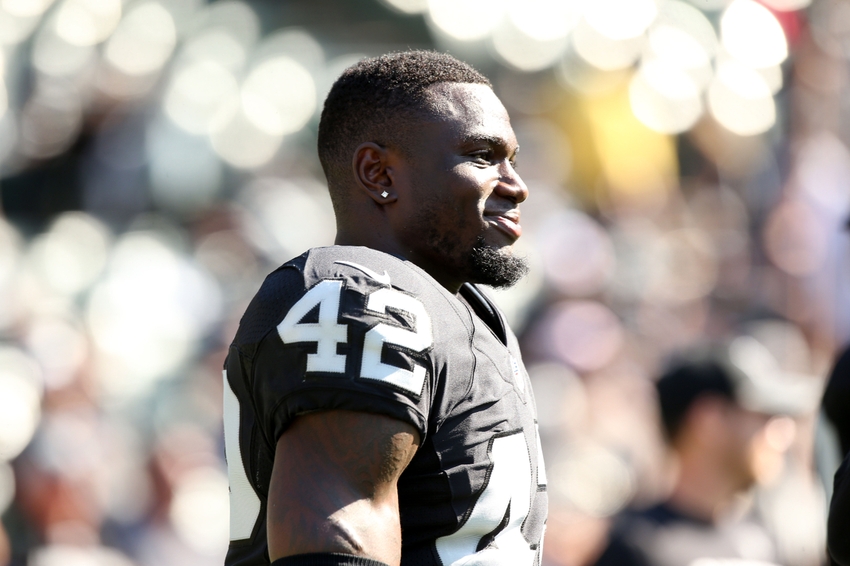 The Oakland Raiders drafted safety Karl Joseph in the first round in May to tighten up the secondary. Sunday against the Tennesee Titans, he will have his first opportunity.
With Charles Woodson at free safety, it was hard to complete deep balls on the Oakland Raiders last year. The majority of his five interceptions came when opposing teams tried to go deep. So far this year, opposing teams are having their way with the Raiders on deep balls.
The Raiders have given up the most pass plays over 20 yards and over 40 yards so far. And these aren't just a bunch of short passes that went for big yardage after the catch either. The Raiders brought in Reggie Nelson to play free safety this offseason.
And they also drafted Karl Joseph in the first round to give the back end of that defense more help. But since he tore his ACL just last season in college, the Raiders wanted to ease him into the NFL. So he has yet to play a singe solitary snap on defense yet.
In the first two games, the Raiders gave up 1,035 yards with their first-round pick on the bench.  And that prompted head coach Jack Del Rio to tell the media, "I think it's time to see Karl Joseph. Of, course, Del Rio wouldn't say if he would start but he has to.
Turn the page to see what he can bring to the defense.
Ballhawk
Joseph is an absolute ballhawk, because his range and instincts always take him to where the ball is. Before he was injured last year at West Virginia, he had five INTs in four games. But since his injury was at the beginning of his fourth game, those five INTs really came in three games.
His instincts were a big help in that area as his play recognition is one of his biggest strengths. You can tell he's a film junkie as he often diagnosed pre-snap in college. Combine that with his speed and he intercepted any pass that stayed in the air long enough.
He no longer has mid-terms or finals to study for so he has more time to watch film now. And his already praise him for getting in the building to watch a lot of tape. Veteran Reggie Nelson is the free safety now but if he continues to struggle, Joseph can play there.
The Raiders are paying Nelson a lot of money but they can't allow him to keep playing that badly. He looks lost at times and seems to always get there late. Perhaps he can move to strong safety if this continues because one thing he still does well is tackle.
Big Hitter
His instincts and range take him to the ball right before or right as it gets to the receiver. So when he can't make the INT, he can at least break the pass up to cause an incompletion. But Joseph's favorite way to cause an incompletion is jarring the ball lose with a big hit.
He had a lot of KOs in college so when he gets his chance, look for more of the same. Big hits aren't just momentum changers, they scare opponents when catching the ball in your area. There will be some receivers that drop the ball in his area out of fear.
Back in the old days, opposing receivers that ran routes over the middle lived in constant fear. They knew either George Atkinson or Jack Tatum were ready to put a big hit on them. You can't play the way they did back then but Joseph's hits are almost always within the rules.
A big part of that Raiders mystique is being a physical team with big hitters. They haven't put that on display over the first two games but putting Joseph in the lineup will change that. His hard hits will rally his teammates around him often.
In the Box
Joseph doesn't just pick on 5'9″, 185-pound receivers when it comes to his hard hits. In college, he put 280-pound tight ends on their back. And the hit didn't come just as the ball arrived, he was running with the ball, after the catch.
He also laid out a few 235-pound running backs, attacking the line of scrimmage on a running play. He's only 5'10", 207 pounds, but he brings that hat, no matter who it is. He has even taken on 300-pound guards in the running game and held his own.
They don't get any bigger than offensive guards on the football field. Not everyone his size can comfortably play in the box but he is clearly one of those guys that can. This isn't just something he could do in college and can no longer do in the NFL either.
In the preseason, he met Green Bay Packers running back Eddie Lacy near the goal line and stopped him. And Lacy lost wieght to get himself into the 240s this offseason. I put Joseph in a class with guys like Tyrann Mathieu as far as little guys that play much bigger.
Man Coverage
Joseph is versatile in every way there is to be versatile at the safety position. Another part of his skill-set that NFL defenses welcome is his ability to cover man-to-man. He has cornerback hips so Joseph can play any type of man coverage you need him to play at that.
He can play off-man, press-man or just plain shadow the man he is covering. And at the same time, he can cover any position on the field that you need him to cover.
He can cover running backs, receivers and tight ends so Joseph is a nice chess peice to have. Just like at the beginning of last year, the tight end position is killing the Raiders right now. They solved that problem last year by using Taylor Mays to cover opposing tight ends.
But he's on the street now because of his inability to stay off the weed. This year, the Raiders will likely have Joseph at strong safety to solve the problem. And because of the talent this young man has, he will go right in there and gets it done.
Bottom Line
When Joseph didn't start at the beginning of the season, I thought something was wrong with him. We didn't see him much in the preseason so I thought his knee wasn't ready yet. But the word out of Raiders camp is they were easing him in.
I don't know how much sense it makes to have him on special teams while your defense gets killed. A first-round pick sat while the Raiders led the NFL in passes over 20 and 40 yards given up. Defensive coordinator Ken Norton Jr. is to blame for that one.
Coordinators usually decide who starts unless the head coach overrides. It sounded like Del Rio did just that when he said, "It's time to see Karl Joseph." And unless he is too far under 100 percent, we should expect him to play well.
I don't think there's any question that he will at least play better than Keith McGill did last Sunday regardless. It would be nice for the Raiders to see Nelson and cornerback Sean Smith get it together to. But Joseph can and should do his part to improve the defense.
This article originally appeared on