Kansas City Chiefs vs. Denver Broncos: Matchup analysis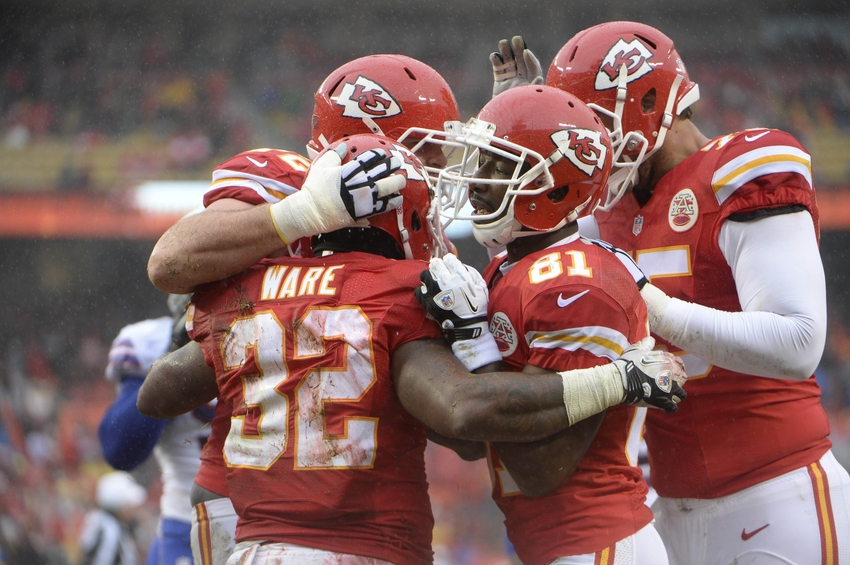 Welcome to week 12 folks.
It's been a bumpy season, but we're just getting started. The Chiefs are sitting at 7-3 ahead of where they were at this point last season at 5-5. On Sunday we begin our push for the playoffs as we have four of our final six games against divisional opponents. Sunday the Chiefs are on the road to Denver coming off a bye. It's Sunday Night Football, and the Chiefs are 3-8 in primetime since Andy Reid became our coach. It's time to see what the Chiefs are really made of.
Spencer Ware vs. Denver Broncos Defensive Line
This isn't quite the same Broncos defense the Chiefs faced the last few years. The Broncos rank 29th in rushing yards allowed per game, and stuff the run only 12% of the time (League average is 19%). Last year the Broncos ranked 3rd in rushing yards allowed, and stuffed the run 24% of the time (league average was 21%).
The loss in rush defense can partly be attributed to the loss of Malik Jackson and Danny Trevathan. But it doesn't stop there. Jared Crick (ranked 113th), Sylvester Williams (81st), and Billy Winn (72nd) are all playing at a below average level according to PFF. Derek Wolfe (ranked 26th) returned to practice on Monday after sustaining an elbow injury against Oakland on Nov. 6th, and should aid the Broncos rush defense.
With the Chiefs up against a weak rush defense expect a heavy workload for Spencer Ware against the Broncos. In games Ware has at least 15 attempts he averages 4.46 yards per carry for 88 yards. So far this season the Broncos have faced an average of 28.4 rushing attempts per game giving up 4.4 yards per carry. It's safe to say no matter the outcome we can expect to see much of Spencer Ware this Sunday Night.
Justin Houston vs Broncos Offensive Tackles
Justin Houston in his second game back from injury may end up facing none other than former teammate Donald Stephenson. And Houston likely could not be happier. Stephenson currently stands as one of the worst starting tackles in the NFL ranking at 79th overall. Stephenson's new teammate Russell Okung is rated as the 47th tackle.
The Denver Broncos as a whole so far this season have given up 26 sacks at a rate of 8% of passing plays (league average is 6.1%). In their last two meetings combined Justin Houston sacked Peyton Manning a total of four times.
The saving grace for the Broncos is Dee Ford will likely miss the game allowing the Broncos to double team Houston. Broncos tied end Virgil Green ranks fifth in the NFL in pass blocking, and will give Denver an edge against Justin Houston. And don't forget the Chiefs rank 26th in stopping the run allowing 121.1 rush yards per game. If the Chiefs allow the Broncos to get their run game going it will limit Houston's ability to attack the Quarterback.
Mitchell Schwartz against Von Miller
This may end up being the most important matchup of the night. Mitchell Schwartz against one of the best pass rushers in the league in Von Miller. When Schwartz was with the Browns last year Schwartz gave up just one pressure the whole game.
So far this season the Chiefs as a whole are giving up sacks on 6.5% of passing plays, but allowed just one pressure all game against the Buccaneers.  Over the last two weeks Eric Fisher and Mitchell Schwartz combined have only allowed one pressure. After early season struggles the offensive line seems to have finally gelled.
Von Miller so far this season has had at least a half sack in 8 of 10 games this season. However, Miller has slow down a bit after getting 6.5 sacks in the five first games of the season. In the last five games Miller has had only three sacks. He's still on pace for his best season since 2012, but won't have an easy time getting to Alex Smith on Sunday.
More from Arrowhead Addict
This article originally appeared on