Kansas City Chiefs "turnover" a new leaf against New York Jets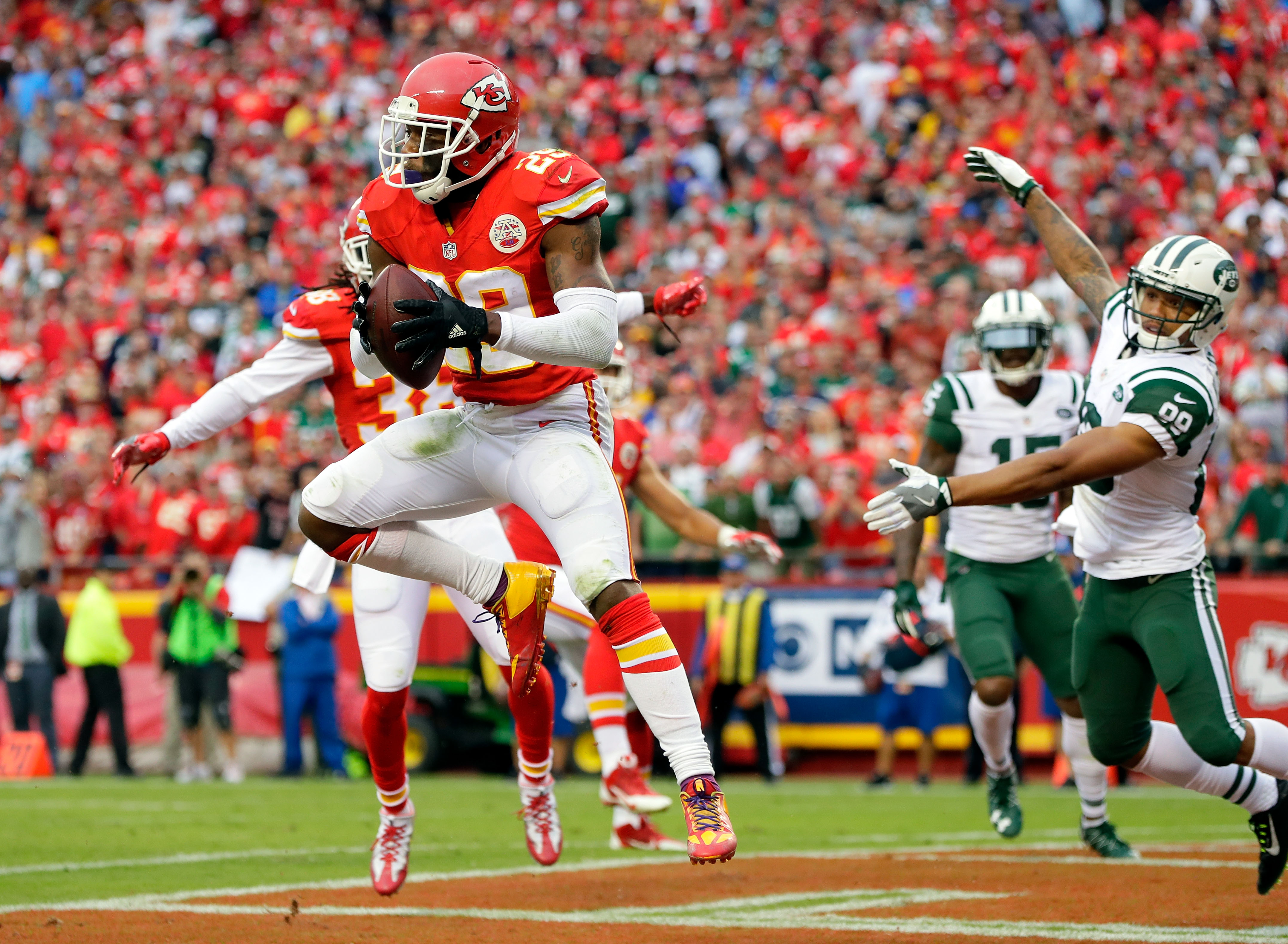 And the award for worst pun in a Chiefs blog post title goes to…..
The Kansas City Chiefs dominated the New York Jets and their quarterback Ryan Fitzpatrick on Sunday in route to a 24-3 win at Arrowhead Stadium. It was the first time this season that the Chiefs didn't fall behind by double digits early in the game and not surprisingly, it worked out pretty well for them. The Chiefs forced a whopping EIGHT turnovers in the game (including six interceptions of Fitzpatrick) and returned two of those turnovers for touchdowns. There is definitely room to question the amount of points that the offense put up off those turnovers, but the bottom line is that KC won by 21 points and there isn't a Chiefs fan alive that wouldn't have happily accepted that result before the game started.
The two best things about this game that Chiefs fans should feel good about going forward is that they finally figured out how to get off to a fast start and that their defense looks capable of making big plays even with their young secondary and without the injured Justin Houston. There may be some people out there that will "poo poo" the Chiefs defensive performance by saying "Fitzpatrick imploded". While NOBODY can deny that Fitzpatrick played poorly, it was KC's defense that unhinged him.
In the Jets first two games of the season (a home loss to the Bengals and a road win in Buffalo) they averaged 29.5 points per game with Fitzpatrick at quarterback. Dating back to 2014 Fitzpatrick had a touchdown to interception ratio of 51 to 24 in his 30 games played going into Sunday. So Fitzpatrick was averaging less than an interception per game over his last 30 games before he rolled into Arrowhead to face the Chiefs. Just last week against the Bills he completed over 70% of his passes for 374 yards (that's 11.0 yards per attempt) a touchdown and no interceptions. So when KC holds him to just 45.5% completions, 4.3 yards per attempt and SIX interceptions that is an amazing defensive effort. Period.
While the six interceptions are definitely the flashy stat that will get the most attention it may not even be the most encouraging stat of the game when it comes to the pass defense. That honor should go to the 15 passes defended that the Chiefs had. To put that in context, the Chiefs had only seven passes defended last week in their loss to the Texans and just three in their opener against the Chargers. What that means is that the Chiefs didn't just make big plays they consistently had tight coverage on the Jets receivers all game long. I haven't gone back and watched the game a second time yet, but my initial reaction is that Marcus Peters, Steven Nelson, Eric Berry, Ron Parker, and Derrick Johnson all had very good days in coverage overall. If the Chiefs are able to cover like they did on Sunday (even without all the interceptions) then their defense is going to be very hard to score against.
The pass rush was definitely a concern going into this game. The Chiefs may not have recorded a single sack on Sunday but it felt like they were constantly putting pressure on Fitzpatrick. The defensive line seems to be coming into their own after a rough first week against the Chargers. They were solid against the Texans last week and they were good again on Sunday against the Jets. Not only did they collapse the pocket against the Jets, but they did a great job of corralling Matt Forte and the New York rushing attack. Forte was averaging 26 carries and 98 yards rushing per game so far this season but only had 15 for 65 against the Chiefs.
While the defense had a banner day the offense continues to be a work in progress. There were times on Sunday where the offense looked very good. However, when a team has eight turnovers and only scores 24 points, that's not all that impressive. Then when you factor in that the Chiefs returned two of those eight turnovers directly for touchdowns (meaning that KC only mustered 10 points on offense off the other six) things actually look pretty bad in terms of offensive production.
In my opinion, things were going fine up until Spencer Ware's touchdown dive was ruled a fumble. Had that touchdown stood, the Chiefs would have had 17 points on offense and we probably aren't having this discussion. Unfortunately, the touchdown didn't stand and the Chiefs offense basically disappeared from that point on. Up until then the Chiefs did a great job of mixing in some Ware runs (he finished with 75 yards rushing) with quick short passes. The Jets have a great defensive front and with the Chiefs down both of their starting guards (and one of their backups) it was a smart game plan by Andy Reid. Alex Smith was really accurate for most of the game (although he did miss a wide open Conley late in the game) and did a masterful job of spreading the ball around to nine different targets. He finished 25 of 33 (75.8%) for 237 yards, a touchdown and no interceptions.
The Chiefs weren't horrible on offense they just found ways to ruin otherwise promising drives. Obviously there was the Ware fumble, but there were also penalties, dropped passes, and poorly timed sacks. If the Chiefs could just be a little more clutch when it counted on offense this game easily could have been 45-3. Now, the Jets deserve some credit for that. As was previously mentioned their front seven is REALLY good. So when you add to that the injuries on the KC offensive line it makes sense that KC would have some issues on offense in this one, but it still doesn't excuse only 10 offensive points off of all those turnovers. Let's hope they get some guys back on the line before next week's game against the Steelers. Pittsburgh has a dangerous offense and with them coming off a horrible outing against the Eagles they'll be looking to rebound. That means the KC offense is going to need to do a better job of putting points on the board if KC wants to keep pace and capitalize on the positive momentum they have going after this game.
So what do you think Addicts? Were you 100% thrilled with this game? It's hard to argue with the outcome, that's for sure. The defense played lights out, but was their big day enough to make you overlook a questionable output by the offense? I'd love to hear your thoughts in the comments below.
As always, thanks for reading and GO CHIEFS!!!!!!!!!!
More from Arrowhead Addict
This article originally appeared on