Kansas City Chiefs: Too flawed to advance
Lyle Graversen/FanSided via Arrowhead Addict

Fansided I'm hoping most Kansas City Chiefs fans will understand the pain I'm in after watching the Chiefs bounced out of the playoffs once again. This time it was at the hands of the Pittsburgh Steelers. The Steelers are a good team and they absolutely deserved to win that game. However, the game was very much winnable for the Chiefs. Unfortunately, the same issues that have plagued Kansas City throughout the season reared their ugly head again at the worst possible time. There isn't one single scape goat to blame. This wasn't a fluke where the Chiefs were just "off" for one night. The Kansas City Chiefs are a flawed team and that is why they will be watching as two other teams compete for the Lamar Hunt trophy next weekend.
I am typing this a little before eleven PM Sunday night so the pain of the loss is still very fresh in my mind. I don't know that I have it in me to put too much into words tonight but I do have some things to get off my chest. Let's start with a few key points.
* The defense performed admirably. Yes, the Steelers racked up yards but the Chiefs kept them out of the end zone all night. Le'Veon Bell destroyed them in the first half but they did a better job of corralling him in the second half when they easily could have worn down. You factor in that they were without three of their most important run stoppers in Derrick Johnson, Jaye Howard, and Allen Bailey and I feel confident in saying the defense isn't to blame.
* The holding call was the single most heart breaking moment in recent Chiefs history. Look, it was technically holding, but the refs let that go multiple times per game in every single game. It happens to KC pass rushers constantly. In Tamba Hali's prime it would happen to him on almost every passing play. Now to be fair, I always complain that it should be holding when it's KC's pass rusher that it happens to but since they don't call it then it is heart wrenching for them to call it in that spot.
* The offense is 100% to blame for this loss.
It's that third point that I want to expand a little on before I call it a night and try to sleep off this loss.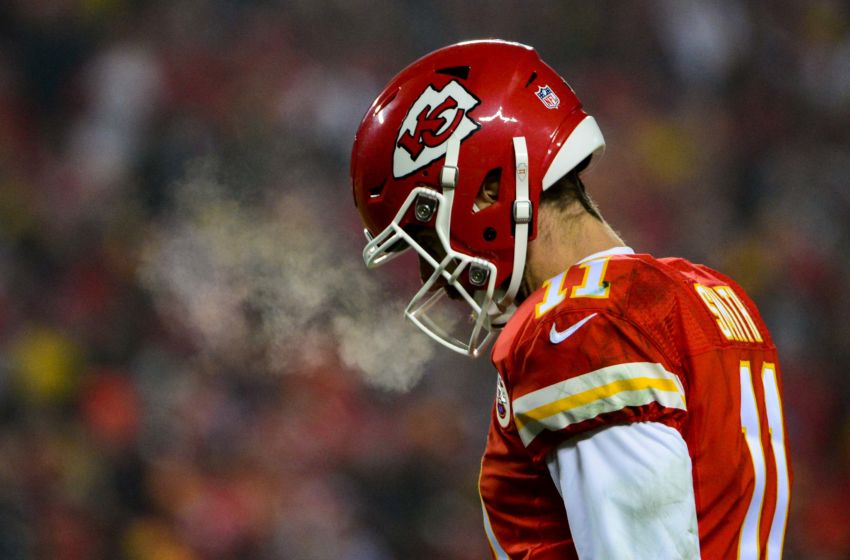 I think we can all agree that the Chiefs offense was to blame for most of their woes this season. While there is a lot to like about the "we win and lose as a team" mindset, the bottom line here is that it was the offense that didn't get the job done. What everyone may not agree on is what the main problem with the offense is.
There are many who will point the finger at quarterback Alex Smith. They will tell you that he is THE problem with the offense and that until the Chiefs get a better quarterback they will never be a true Super Bowl contender.
There are others who will place the majority of the blame on Andy Reid. It is his play calling and game management that is coming up short time after time. Some are so extreme that they would advocate getting a new head coach all together but most will simply contend that Reid needs to give up the play calling duties.
There are certainly other things that people complain about when it comes to the offense like the offensive line play or lack of weapons after Travis Kelce, Tyreek Hill, and Jeremy Maclin, but I think the bulk of the blame falls on Reid and Smith.
Here's my take.
The Chiefs play caller (Reid), quarterback (Smith), and offensive line/run game are a bad fit for each other. I believe you can win a Super Bowl with Andy Reid calling plays. I believe you can win a Super Bowl with Alex Smith as your starting quarterback. I believe you can win a Super Bowl with the Chiefs offensive line and limited running game. I do not believe you can win a Super Bowl with the combination of all three. We've seen it fail too many times over the past several years. The Chiefs are a good and talented football team but they are just too limited on offense to compete with the truly elite teams come playoff time. Something has to change.
If KC enters the 2017 season with those three things unchanged I don't see them as likely to be a true Super Bowl contender. I have a solution for next year but I don't think many of you will like it.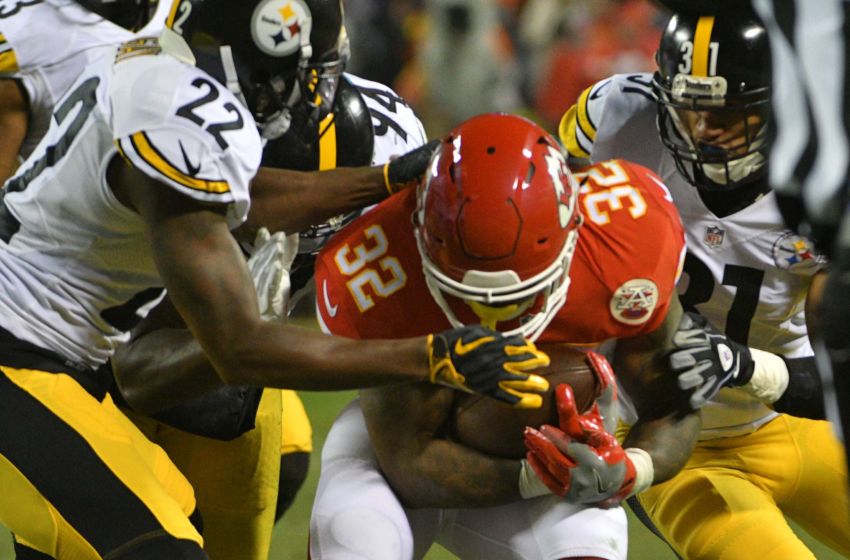 Here's the deal.
Andy Reid isn't giving up calling the plays. He gave up his GM duties when he came to KC and he wouldn't know what to do with himself if he gave up the offense too. Reid is one of the best all around coaches in the NFL so you take the good with the bad even when the bad is incredibly frustrating at times. So the Chiefs have to field an offense that can still win with Reid calling plays.
While I am fine with KC drafting a quarterback early, there isn't a player available in this draft that is likely to be better than Smith in 2017. So if you want to win the Super Bowl in 2017 you are likely going to have to do it with Alex Smith. So draft a quarterback to develop for the future that won't have Smith's limitations, but again, if you want to win it all in 2017 you need to figure out how to do it with Smith at the helm.
My solution for 2017 is to get the running game fixed. The Chiefs offensive line simply doesn't generate enough push at the point of attack. Spencer Ware is a fine running back but he isn't special. A "fine" running back behind an offensive line that doesn't push anyone around isn't going to be enough of a factor to win with a limited quarterback and a sometimes frustrating play caller.
I think KC needs to cut ties with Jamaal Charles (which hurts to say) and draft one of the talented running backs in the 2017 draft. It is a deep enough class that you could possibly even get a clear upgrade over Ware in the second round. Then you bring in a couple more offensive linemen to compete for jobs through either the draft or free agency and try to get the offensive line to generate some more push.
That's the only way I can see winning with both Reid and Smith at the helm and I just don't see either of those two going anywhere next season. They have to figure something out on offense though otherwise next year will likely end with this same sick to my stomach feeling that I have right now. You'd think I'd be used to it after all these years of being a Chiefs fan but the sting never goes away. In fact, it seems to hurt more and more with every year that goes by. Another Chiefs season is in the books and its over because the Chiefs are just too flawed on offense. Period.
I know you're hurting Chiefs fans. I wish there was something I could type that would take the pain away. Unfortunately that's all I have for you tonight (or this morning, or whenever you are reading this). It's just going to take a little time to get over this one but eventually I'll be back and ready to cheer them on next season and I'm guessing you will be to. We're Chiefs fans, that's just what we do.
Thanks for reading my weekly ramblings for another season Addicts. It's very much appreciated.
More from Arrowhead Addict
This article originally appeared on