Kansas City Chiefs: Reflections on an ugly win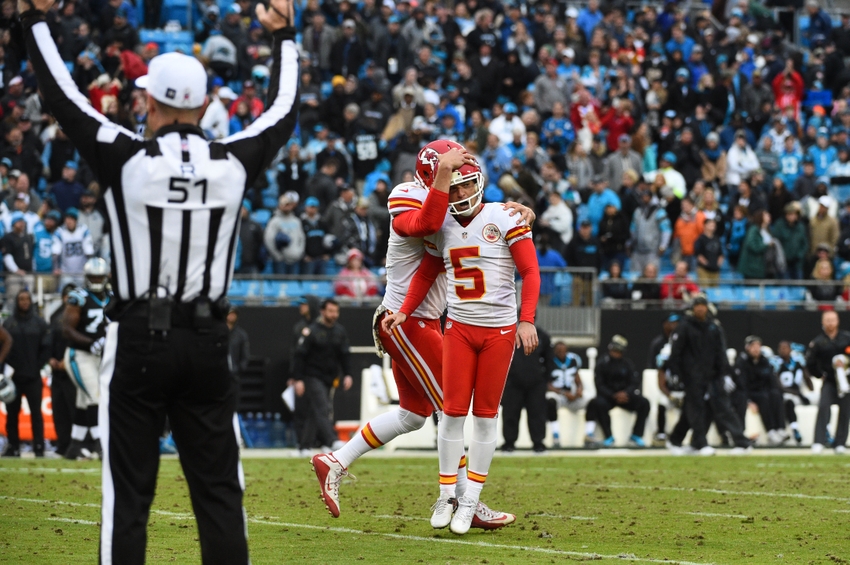 Stop me if you've heard this one before, the Kansas City Chiefs played an ugly game of football on Sunday and still walked away with the win. This time around it was the Carolina Panthers that were on the losing end of the Chiefs freakish ability to find a way to win a game by any means possible. This week it was definitely the defense that bailed the team out as both Eric Berry and Marcus Peters forced key turnovers late in the game that ultimately lead to the Chiefs victory. Last week my post after the win over the Jaguars was titled "The good, the bad, and the ugly" and I definitely could have gone with that same approach this week. In an attempt to not get too "schticky" I think I'll just go with some basic reflections on this one.
* Alex Smith wasn't good. At all. Let's get the biggest negative out of the way first so we can move on. There are no excuses for Smith. I don't care if Jeremy Maclin was out. I don't care how good the Carolina defense is. I don't care if he had multiple balls dropped by his receivers. Smith was bad. He missed two EASY touchdowns where all he had to do was not panic and deliver an average throw and its six points. He has to be better. Period. That having been said, I'm still not on the Nick Foles bandwagon and wouldn't be surprised at all if Smith rebounds with a great game next week.
* Spencer Ware is good. I know most of us know this by now, but I honestly wasn't expecting KC to move the ball on the ground at all in this game. While his 61 yards rushing isn't a huge total, his 4.9 yards per carry was impressive. The Panthers are only allowing 3.4 yards per carry on the season and they clearly were keyed in on stopping the run. Despite that Ware was able to be productive. That bodes well for KC as they move forward.
* I don't want to beat a dead horse but how much more would Rod Streater be helping this offense with Maclin out compared to Albert Wilson? I am absolutely done with that guy giving up on balls while they are in the air. I can't believe his teammates stand for it and I sure don't get why they continue putting him out there AND why Smith continues to target him. Heck, let's give Demarcus Robinson a look and see what he has to offer. The amount of targets being wasted on Albert Wilson and Demetrius Harris right now is absurd. They could cut both of those guys today and sign new guys off the street and I'd be just fine.
* Tyreek Hill is a special player. Look, what Hill did in college is reprehensible and if he does something like that again he deserves whatever is coming to him, but he's a special player on the football field. With Jeremy Maclin out the Chiefs targeted Hill more than anyone, even Travis Kelce (more on him in a minute). He's dynamic with the ball in his hands and leaves fast NFL defenders behind in the blink of an eye. If the Chiefs can get everyone healthy at some point this season they may have the best collection of skill players we've ever seen in KC even with Jamaal Charles on the IR.
* What's up with KC not getting Travis Kelce and Chris Conley more involved with the offense? I get that sometimes you have to take what the defense gives you, but those two are physically gifted enough that you can find ways to get the ball in their hands. Andy Reid's offense with Alex Smith at the helm should consist of a healthy dose of slants and crossing routes that get the ball out fast. Both Kelce and Conley have the speed and physical stature to thrive on those routes. I just don't get it. It seems like such a simple way to play to their strengths and get this offense clicking. Am I missing something here?
* I pride myself in being able to admit my mistakes. This offseason I wanted Laurent Duvernay-Tardif replaced in the starting lineup either through the draft or a free agent signing. The Chiefs were smart to be patient with him. The guy is paying dividends now and I'm not so sure he hasn't been their best offensive lineman over the course of their current winning streak. He still makes a mistake now and again but he has a combination of power and athleticism that is undeniable and unlike last season it seems like his awareness and technique is coming around too.
* Cairo Santos is nails. Remember when we worried about letting Ryan Succop walk? We should have known better than to doubt that Dave Toub guy. Seems like he might know what he's doing.
* Dee Ford is just flat out great. The guy has literally gone from first round bust to one of the best defensive players in the NFL in one season. I'm not being overdramatic here either. He was a mediocre rotational pass rusher last season and now he's dominating week in and week out. He's become a force against the run. He's beating offensive tackles twice his size with both speed and power (which most of us never thought we'd see). It's been so fun to watch. As I type this Ford is tied for the NFL lead in sacks with ten and he had another nullified by a penalty against Carolina that would have given him the outright lead. If Justin Houston is even remotely close to as healthy as he claims to be when he returns to the field the Chiefs could instantly have the best pass rush duo in the NFL.
* The defense and coordinator Bob Sutton continue to deserve all the praise in the world. They won that game for the Chiefs. Eric Berry went complete beast mode on that interception return for a touchdown and Marcus Peters came up with a game winning big play after getting picked on for most of the day. The Chiefs had one of their best days stopping the run despite being without two thirds of their starting defensive line. They also continue to survive despite being ravaged by injuries at the cornerback position. Kenneth Acker was forced to play a ton of snaps on Sunday and yet the defense just continues to get the job done. If this unit gets healthy for the playoffs this could be one of those special units that carries the rest of the team on its back.
* Finally, despite the ugly offensive production I truly believe that all Chiefs fans should feel ecstatic about this win. Most KC fans had this game down as a loss when the schedule came out. I know the Panthers record isn't great, but they'd been playing much better of late and have legit talent on both sides of the football. To go into their home stadium when they desperately needed a win and find a way to beat them is outstanding. That defense will make a lot of offenses look bad and I truly believe we'll see Smith rebound from his bad outing on Sunday. The Chiefs have heart and a fight in them that never goes away and that will serve them well as the season progresses. If the offense can find some continuity this team could get hot and then watch out!
So what do you think Addicts? Were there other things that stood out to you in this game that I didn't touch on? Is there anything that I mentioned that you disagree with? I'd love to hear your thoughts in the comments below.
As always, thanks for reading and GO CHIEFS!!!!!!!
More from Arrowhead Addict
This article originally appeared on