Kansas City Chiefs: Post Super Bowl Thoughts
Lyle Graversen/FanSided via Arrowhead Addict

Fansided Whew!!! This may be a blog for Kansas City Chiefs fans, but how can you start a post on the Monday after the Super Bowl with anything other than a few words on what an amazing game the Super Bowl turned out to be. Through three quarters it was an absolute snooze fest as the Atlanta Falcons jumped out to a 28-3 lead. Then it was the New England Patriots that came storming back in record fashion and cementing their status as one of the greatest dynasties, quarterbacks, head coaches, etc. in the history of the NFL. It was a game for the ages. There are a million outlets where you can discuss and debate that game today. I thought I would give you a few Chiefs related thoughts that I had while watching this final game of the NFL season.
First, I've always thought I would rather have the Chiefs make and lose a Super Bowl than not make it all together. I may have to rethink that after seeing what happened to the Atlanta Falcons. I tweeted out after the game that I seriously didn't know how I would handle it if the Chiefs lost a Super Bowl in the same fashion that the Falcons did. That wasn't just hyperbole, I really don't know what I would do. I was sick to my stomach and noticeably shaken for days after KC's collapse to Indianapolis in the playoffs a few years back. I couldn't sleep after their recent loss to the Steelers in the divisional round. If they lost a Super Bowl in even more heart breaking fashion…. I just can't even imagine. All I can say is my heart goes out to anyone who loves the Atlanta Falcons as much as I love the Kansas City Chiefs.
Enough about my mental instability in the face of post season Chiefs losses though, let's actually talk about some take aways for the Chiefs going forward after watching this game.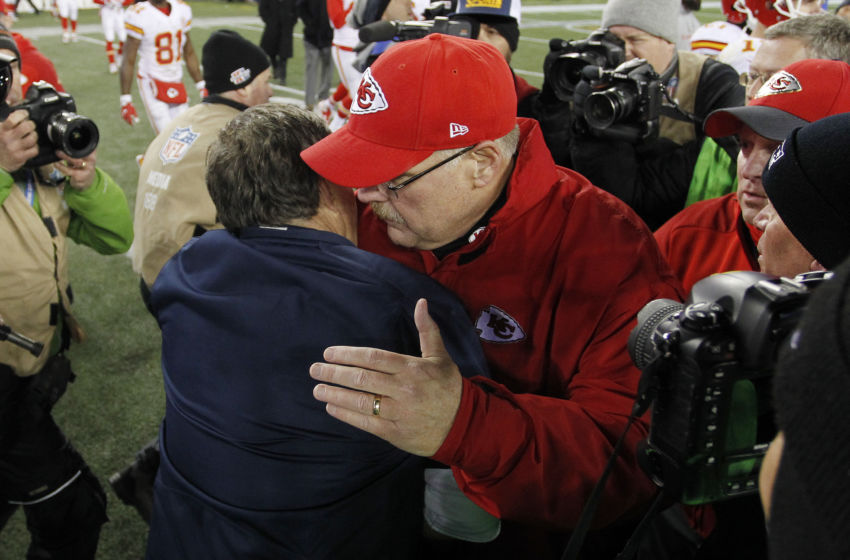 As I watched the two major offensive streaks of this game, Atlanta jumping out to a 28-3 lead and the Patriots epic Tom Brady led comeback I thought to myself… "The Chiefs can't win this kind of game". What I mean by that is the Chiefs aren't going to win an offensive shoot out with an offense the caliber of Atlanta's and they don't have (and won't have next year) a quarterback that can do what Tom Brady did with history on the line.
Now, you may be thinking this is where I say what many Chiefs fans are already screaming from the mountain tops "Get rid of Alex Smith! He's just not good enough for a Super Bowl!" While, Alex Smith may never win a Super Bowl, I'm going to frustrate many of you and keep saying what I have been since the Chiefs season ended….that the Chiefs best option is to keep Smith around for one more season.
The bottom line is that while Smith is frustrating and limited there just aren't any options available that can walk in next year and turn KC's offense into a high powered machine like Atlanta's or go toe to toe with Tom Brady in the fourth quarter of a Super Bowl. If getting a guy like that was easy every team would have one. That guy isn't walking through the door this offseason.
I'm not going to go off on a long anti-Tony Romo rant here, but let me summarize my feelings. He's old. He's too injury prone to count on. There is no way Romo would have Reid's huge playbook mastered in one year (especially if they are limiting his reps for health concerns). As good as Romo was (and he was REALLY good for a while) anyone thinking he's going to stay healthy AND revert to his prime at his age while learning a new offense and playing behind a worse offensive line is simply grasping at straws. You want an elite quarterback SOOOOOO bad that you're willing to suspend logic and mortgage the future just so you can hope it may be true for at least a short period of time. For all those reasons I listed it would absolutely FOOLISH for KC to trade away draft picks that can help build this roster up and invest even MORE salary cap space to the quarterback position than they already are which would also take away from the overall roster to get Tony Romo. It isn't happening and it shouldn't happen.
The Chiefs can't win a Super Bowl in 2017 in the same fashion that New England did (or even how Atlanta tried to). The best teams fit their style of play to their roster. They don't let league wide trends influence them. KC's best bet to win in 2017 is to follow a blueprint that is unique to their roster but probably best resembles that of the Broncos championship team last season. They need to keep building the defense and they need to bolster their running game. That way the pressure isn't on the limited Smith to carry the load. The team leans on the defense and running attack and Smith simply plays efficient football while distributing the ball to playmakers like Travis Kelce, Tyreek Hill, and Jeremy Maclin.
Should the Chiefs commit an early draft pick to a quarterback to groom for the future in hopes that he will eventually turn into their Tom Brady or Matt Ryan? 100% yes, absolutely, without a doubt they should. BUT…..that quarterback should be sitting second string to Alex Smith next season. I wish we had an elite quarterback option for 2017, but we don't. So the Chiefs need to build their team accordingly: defense and running game. Period. Re-sign Eric Berry, add another inside linebacker, add a big play threat running back, strengthen the offensive line. That's the blueprint.
This was a great Super Bowl. It was fun to watch. It's easy to get envious of what those teams can do. They didn't get that way overnight. They drafted and developed their star quarterbacks. Kansas City hasn't done that (yet) so they shouldn't try to follow that path to a Super Bowl in 2017. That doesn't mean there isn't a path to a KC Super Bowl in 2017, it just won't look like Atlanta and New England's from this season.
So what do you think Chiefs fans? Did you enjoy the Super Bowl? Did it make you excited for next season to roll around or were you too busy suffering from quarterback envy? Do you agree that there aren't any elite QB options available so the Chiefs best bet is to build around their defense and running game while they try to develop a young quarterback? I'd love to hear your thoughts in the comments below.
As always, thanks for reading and GO CHIEFS!!!!!!!!!
More from Arrowhead Addict
This article originally appeared on