Kansas City Chiefs: Kudos to John Dorsey and Bob Sutton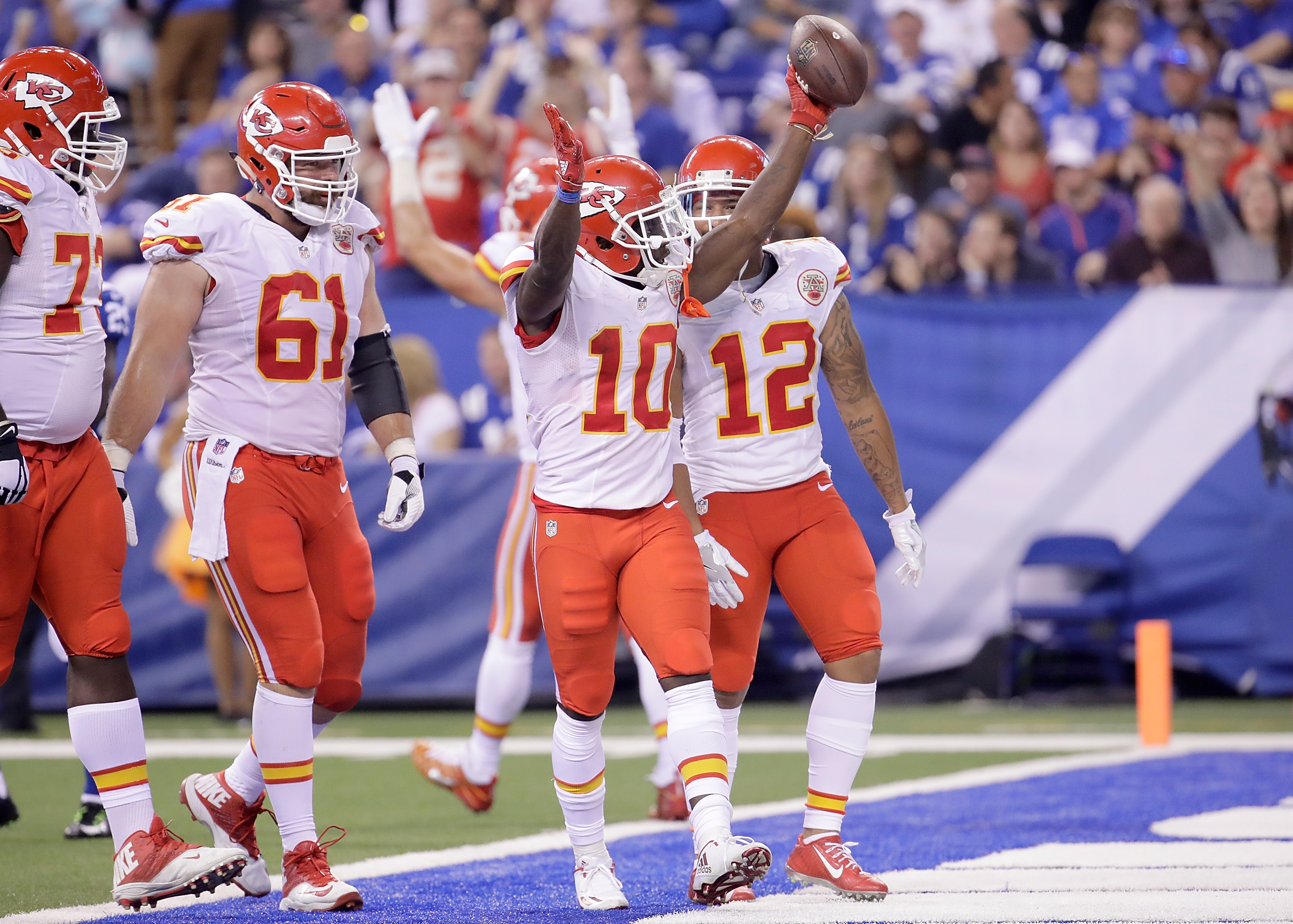 The Kansas City Chiefs dominated the Indianapolis Colts 30-14 on Sunday. It was a game that was controlled by the Kansas City Chiefs from the opening whistle. While the Colts kept things interesting for much of the game, they were really never able to make things close as KC proved to be the better team in all three phases of the game. While we could spend time discussing the individual players that stepped up and made plays in this game (Travis Kelce, Tyreek Hill, Dee Ford, Phillip Gaines), I'm instead going to focus on the two unsung heroes of this win. Those being KC General Manager John Dorsey and Defensive Coordinator Bob Sutton.
In my opinion, those two men had more to do with Sunday's win in Indianapolis than any other two people that are part of the Chiefs organization both on and off the field. That's not to take away from the players or from head coach Andy Reid, but I think Sunday's game really emphasized just how good of job Dorsey and Sutton have been doing. Before I get into the specifics, I would also point out that the stark contrast of Dorsey and Sutton's job performance compared to their Indianapolis counterparts was glaring and it ultimately motivated me to make them the focus of my piece this week.
If you look at the Indianapolis Colts they may be as close to the polar opposite of the Kansas City Chiefs as you can find in the NFL. They have a phenomenal talent at quarterback in Andrew Luck that basically is carrying the entire team on his shoulders. They are struggling because the talent amassed around him is abysmal and that may be most apparent on the defensive side of the ball. The Chiefs offense has been inconsistent at best this season and at times has been flat out ineffective. Despite the fact that the Chiefs were down to their second string quarterback and third string running back the Colts couldn't find a way to get KC off the field. If I was a Colts fan this morning I'd be screaming for the job of GM Ryan Grigson.
Thankfully I am not a Colts fan and thankfully I have John Dorsey as my favorite team's General Manager and Bob Sutton as my team's defensive coordinator.
Let's start by talking about the job Dorsey has done.
The Kansas City Chiefs came into Indianapolis already without two of their most talented and dynamic players in running back Jamaal Charles and pass rusher Justin Houston. As the game progressed the Chiefs also lost their starting quarterback Alex Smith and their emerging star (and Jamaal Charles replacement) Spencer Ware. When you add starting guard Parker Ehinger to that injury list it would be easy to justify the Chiefs being outmanned and outgunned against any team in the NFL. In a league known for parity (I got it right this week!) if you lose that many key players to injury it should be hard to compete from a talent standpoint.
Here's where John Dorsey deserves all the credit in the world. The Chiefs were without their starting quarterback, their top two running backs, a starting offensive lineman, and their best defensive player and they still had an all around more talented team on the field than the Indianapolis Colts. That is impressive roster building and I don't see how anyone could argue otherwise.
While I hope Alex Smith is back in action next week we've seen concussions derail entire seasons and taking two head shots in one game like that makes me nervous about Smith's status going forward. However, thanks to the signing of Nick Foles the Chiefs are poised to survive the loss of their starting quarterback better than 90% (or more) of other NFL teams would be able to. That's huge.
Charcandrick West filled in well for the injured Jamaal Charles and Spencer Ware and if neither are available next week I have faith that a combination of West and Darrin Reaves (currently on the practice squad) can get the job done. How many other NFL teams could continue to operate their offense the same way when down to their third and fourth string running backs?
Then there is the success of Dorsey's draft picks. It would be easy to make a case against Dorsey with two of his draft picks from this past May (2nd rounder KeiVarae Russell and 5th rounder Kevin Hogan) already on other teams, but the bottom line is this team is loaded with Dorsey's picks that are making key contributions. Chris Jones looks like a force of nature on the defensive line. Tyreek Hill may end up being one of the most electric playmakers taken in his entire draft class. Parker Ehinger has already shown promise as a starting offensive lineman and D.J. White and Dadi Nicolas look like they have promising careers ahead of them as well.
Besides the recent departures of Russell and Hogan, the other big knock against Dorsey's drafting had been the use of a first round pick on Dee Ford. Most of us were either close to labeling Ford a complete bust or had already done so months ago. Now Ford leads the team with seven sacks and as I am typing this that is tied for fourth best in all the NFL. Ford isn't a perfect player but if he can consistently apply that kind of pressure then if/when they get Justin Houston back healthy they will have one of the best pass rushing duos in all the NFL.
This is arguably one of the most complete rosters from top to bottom in the NFL and John Dorsey deserves recognition for that. To have a team that has had these kind of injuries sitting at 5-2 and still looking like they can match up talent wise is truly impressive.
Now let's take a moment to give some credit to Bob Sutton.
Confession: I've called out Bob Sutton on this very site numerous times. I've said he doesn't get after his players enough, doesn't motivate them enough, doesn't make in game adjustments enough. I've been hard on him but I have to give credit where credit is due. Bob Sutton has been great these past three weeks.
The Oakland Raiders, New Orleans Saints, and Indianapolis Colts are all among the highest scoring offenses in the NFL. Combined, they are averaging over 27 points per game on the season. Against the Chiefs defense the past three weeks they have averaged just 15 points per game. That is impressive.
As I am typing this Sunday night the Chiefs currently rank 8th in the NFL in points per game allowed with a 19.6 point average. That is impressive enough by itself but when you factor in that five of KC's seven games have come against the top eleven scoring teams in the NFL (SD, NO, Oak, Indy, and Pit) it becomes that much more note worthy. Then when you factor in that they have done it without their best pass rusher and a revolving door of young inexperienced cornerbacks opposite Marcus Peters and there simply is no way to not give some credit to Bob Sutton.
In case anyone was going to make the argument that the players deserve most of the credit and not Sutton's schemes let me throw a couple more numbers at you. The Chiefs are tied for 25th in the league at yards per carry allowed against the run and are tied for 21st in the league in quarterback sacks. They are also a very low 27th in the NFL in 3rd down conversion percentage allowed. So the team isn't stuffing the run, isn't getting to the quarterback all that often, and allows an overall high percentage of third down conversions. So how is the defense thriving? Well, the Chiefs defense is playing great situational football. They may not have a ton of sacks but Sutton has been able to dial up pressure at the right time to get the defense off the field. They may give up a high number of third down conversions but eventually they pick their spot and make a stop when it counts.
He has also done a great job of putting his players in a position to create turnovers. They lead the NFL in interceptions and are currently tied for first in the NFL in total turnovers forced. The Chiefs defense is clearly a defense that steps up and makes plays when it counts. If you combine that with solid defensive game plans like they have had the past three games against very good offenses it becomes very difficult to score on Kansas City.
The Chiefs have really turned around what was a somewhat disappointing start to their 2016 season with three consecutive wins. John Dorsey and Bob Sutton deserve credit for their role in all three of those wins but maybe none more than this past game against the Colts. Thanks to the work these two are doing I like the Chiefs chances this coming week against the Jaguars even if they still have some of their big names out.
So what do you think Addicts? Do you think John Dorsey and Bob Sutton deserve kudos for their work so far? Do you agree that this game against the Colts especially showed off their superiority at their perspective jobs compared to their Colts counterparts? I'd love to hear your thoughts in the comments below.
As always, thanks for reading and GO CHIEFS!!!!!!!!!!!!
More from Arrowhead Addict
This article originally appeared on