Kansas City Chiefs: Another unbelievable win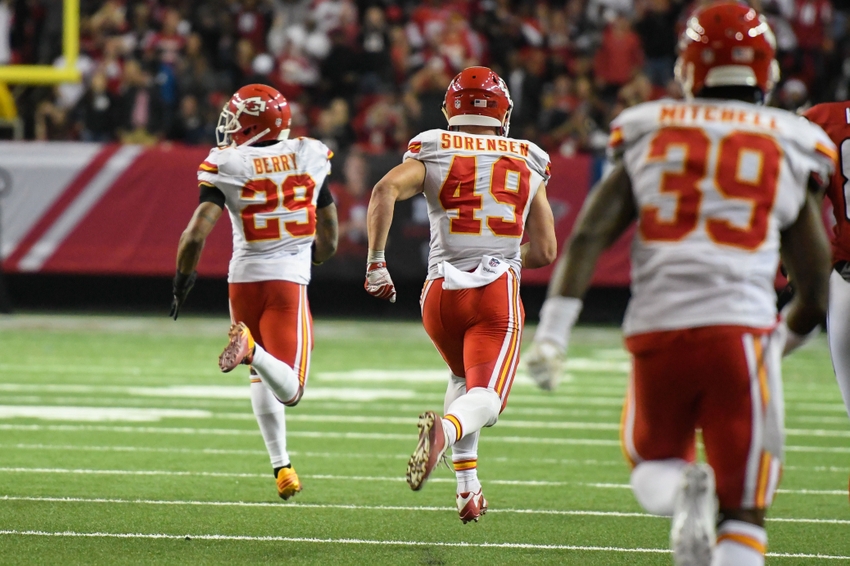 Being a fan of the 2016 Kansas City Chiefs should come with a disclaimer: not recommended for the faint of heart. For the second straight week the Chiefs won in a manner that had to be seen to be believed. Last week it was the Chiefs capitalizing off a missed 62 yard field goal and then banking in their own game winner as overtime expired. This week it was Eric Berry returning a two point conversion pass from Matt Ryan 100 yards to give the Chiefs a one point win over the Atlanta Falcons. If you add their two dramatic come from behind wins against Carolina and San Diego into the mix it means that four of KC's nine wins have come in nerve racking fashion.
Does that mean that the Chiefs are lucky?
Does it mean that Kansas City is a team of destiny that just won't quit?
Let's hope it's the second, but if the Chiefs are a team of destiny I worry some of us may not live to see it. Can you imagine if the Chiefs keep winning like this in the playoffs or even (knocks on wood) the Super Bowl? I'm only 39 years old but I worry my heart may not hold up at this rate!
My health concerns aside, I had three other main takeaways from this game.
The first has to do with the Chiefs quarterback, Alex Smith.
Let me preface what I'm about to write with this disclaimer:
The Atlanta Falcons are REALLY bad on defense. I get it, putting up good numbers against the Falcons is different than doing it against the Broncos. That being said…..
Alex Smith did what he needed to do against a team that we all knew was going to put up points. The fumble was hard to watch (of all the times for him to not tuck the ball and take off). The missed easy touchdown pass down the sideline to Spencer Ware in the fourth quarter looked like it could be costly. Still, when the smoke cleared Smith was 21 of 25 for 270 yards and a touchdown. If you want to complain about those couple of mistakes you can, but you have to be a flat out Smith hater not to see that he did his part to get this win.
The biggest plus was that Smith pulled the trigger and threw the ball downfield even if his target had a man on him. The past few weeks Smith was just flat out too timid and gun shy. That wasn't a problem this week. I especially appreciated how he converted a few key third downs this week. While the Chiefs were still only 3 of 10 on third down, they converted a couple of big ones when it counted and Smith was at the center of it.
If this is the Alex Smith that we get from this point on the Chiefs have a shot to make some noise in the playoffs. The defense has proven themselves capable of making the big plays when it matters most. They just need an offense that can keep up. Today they got that and if Alex Smith can keep the same mindset as the season plays out (even against tougher defenses) it may be enough to get the job done.
Next up, a few thoughts on head coach Andy Reid.
Right there next to the play of Alex Smith, the play calling of head coach Andy Reid was in contention for the award of the most frustrating thing about watching the Chiefs in recent weeks. Andy Reid is an absolute genius when it comes to his knowledge and ability to design plays. However, recently it seemed that he was his own worst enemy as he over thought things and got "too cute" with some of his calls.
Against the Atlanta Falcons Reid seemed to understand that a conservative offense wasn't going to cut it. The play designs seemed to shift the focus from passes that travel towards the sideline to passes that travel down the field. While Smith deserves credit for executing the passes, Reid deserves equal credit for dialing up these plays in the first place. While Smith has been guilty of not pulling the trigger with some down field targets, part of the problem in recent weeks has been that the plays themselves seemed too conservative in nature. That too was fixed this week.
Just like with Smith, I REALLY hope that Reid understands how much better this offense works when they are a little bit more aggressive. Reid HAS to keep this approach going forward. A few other things I really appreciated about the game Reid called today include:
* How he really designed the offense to go through Travis Kelce. With Jeremy Maclin out Kelce is the clear go to guy, but the Chiefs hadn't taken full advantage of his abilities in recent weeks. Against the Falcons Kelce ended up with 8 receptions for 140 yards. Even if Maclin is back against Oakland I hope Reid keeps dialing up plays for his star tight end.
* How he wasn't afraid to make gutsy and aggressive play calls. Wether it was picking up a fourth down early in the game or the fake punt that ended up going for a touchdown, Reid wasn't afraid to be aggressive and it's a big reason why the Chiefs won.
* On a related note, when KC lined up to go for it on fourth down at midfield in the third quarter it forced Atlanta to use a time out. While KC decided to go ahead and punt that burned time out would have come in handy for the Falcons at the end of the game. Reid usually loses the battle of time out usage and clock management so winning it this week was huge and he deserves credit where it is due.
Finally, a few thoughts about Eric Berry.
Dear John Dorsey and Clark Hunt,
Get the bank truck loaded up and ready to roll because you're going to have to back that bad boy up to Eric Berry's house at the end of this season. Look, it was the right call to franchise tag Berry this offseason. He was wanting to be the highest paid safety in the NFL coming off of a battle with cancer and having looked more like a run stopping specialist than the guy who makes big plays in coverage. I didn't think KC should have paid him then and so the franchise tag was a smart call. Unfortunately, if you franchise a player and then he proves himself to be invaluable to your team you end up paying through the nose to keep him.
Well, after this week its time to pay through the nose to keep him.
The Chiefs have now won two games because of Eric Berry. Without him they would be 7-5 instead of 9-3. I don't think that's even up for debate. This week was obvious with both the pick six and the two point conversion return that netted Kansas City nine points in a game they won by one. The other was the Panthers game where his pick six turned the tide in that game that they ended up winning by three on a late field goal.
Those are the games that the Chiefs won because of dynamic plays that Berry made on the field, but Berry's value also goes beyond that. He is THE vocal leader in the locker room. No other player is as vocal, as respected, or as passionate as Eric Berry. It's cliche to say that a player is "the heart and soul" of a team, but it may just be 100% accurate for Eric Berry on the Chiefs.
Finally, while not as important as his play on the field or impact in the locker room, you can't discount Berry's popularity either. He may be the fans favorite player on the entire team. His play on the field, his leadership, his work ethic, his character, and his incredible story of overcoming cancer make him one of those rare players that an entire fan base can get behind.
When you factor in those points and add to it that KC's other major free agent to be is a 340 pound man that is developing a history of back problems and it looks like all the signs are pointing towards a big pay day for Eric Berry with the Kansas City Chiefs and I couldn't be happier.
Before I wrap this up I have to say a few words about Albert Wilson. There may not be a bigger critic of Wilson's play in the Chiefs blogosphere than me. However, he was huge on Sunday. Enough so that I feel like he's earned a little slack going forward. You still won't see me joining his fan club any time soon but he absolutely exploded for that touchdown on the fake punt and came up with another huge play on that third down conversion on the game ending drive. Kudos Albert, well played sir.
Finally, this win sets up arguably the biggest division game in the AFC West in a long time. The 10-2 Raiders now come to Arrowhead on Thursday night to face the 9-3 Chiefs. With KC already having a win in Oakland another win would essentially put them a game up on Oakland despite the fact that their records would be equal. On the other hand, if Oakland wins it puts them two up in the win column with only two games to play. It's not technically a winner take all game, but it isn't far from it either. The Chiefs are going to need their opportunistic defense and aggressive offense from this Atlanta game to show up again on Thursday night if they want to get another win against a very good Raiders team.
So what do you think Addicts? Do you agree that we finally got good Alex Smith and good Andy Reid in this game? Do you agree that they are going to have to pay to keep Eric Berry in Kansas City? I'd love to hear your thoughts in the comments below.
As always, thanks for reading and GO CHIEFS!!!!!
More from Arrowhead Addict
This article originally appeared on