Kansas City Chiefs: A First Round Quarterback Primer
Lyle Graversen/FanSided via Arrowhead Addict

Fansided It's nearly impossible to get Kansas City Chiefs fans to agree about anything. That's why its notable when one of those rare times comes along that we all agree on something. It seems like now is one of those times and the thing we all agree on is that the Chiefs need to invest in a quarterback early in the 2017 draft. We can disagree about current quarterback Alex Smith all day long but regardless of if you are a believer or despise the man we all agree that they need to draft his eventual replacement.
Some of you reading this are already knee deep in your own draft research. You've poured over scouting reports and watched hours of tape on your own to help form your own opinion. Unfortunately, this post isn't really for you. This post is for those of you that haven't had the time (or desire) to do a lot of research on the top quarterback prospects. You may have read on blogs like this about why this quarterback may be right or wrong for the Chiefs but aren't sure what to believe. So I thought I'd do a post this week to give you a little basic knowledge on the four quarterbacks that are widely viewed as possible first round targets.
Obviously, the Chiefs could draft a quarterback after the first round and you'll find people that are fans of guys like Brad Kaaya, Nathan Peterman, Davis Webb, and Chad Kelly. We've got plenty of time to delve into those options before the draft, but let's start by getting you up to date on the four guys that the Chiefs might target with their first pick in April. Those four being: Mitch Trubisky, Deshaun Watson, DeShone Kizer, and Patrick Mahomes.
Let's start with the guy most (although certainly not all) experts think will be the first quarterback taken.
Mitch Trubisky – North Carolina – 6'3″ 220 lbs
While there may not be a clear cut consensus top quarterback in this draft class, Mitch Trubisky of North Carolina is the guy that is at the top of more quarterback prospect rankings than any other. If there was one of these four quarterbacks that I feel is least likely to fall to the Chiefs in the late first round it would be Trubisky. Here are a break down of his main strengths and weaknesses.
Strengths
*Good size with a solid build for taking NFL caliber punishment
*Strong arm, maybe not elite but strong enough to make all the NFL caliber throws
*Solid accuracy
*More advanced at reading the entire field than other top prospects
*Good athleticism and mobility to extend plays
Weaknesses
*Only one year of starting experience
*Mechanics need some "tweaking"
*Can hold onto the ball too long at times
Trubisky has promising upside and has drawn comparisons to Detroit's Matt Stafford. His inexperience makes him a little risky at the top of the first round, but his combination of physical tools and ability to see the entire field will probably land him somewhere in the top ten picks. If he were to fall far enough that the Chiefs could realistically move up to get him he would be a great pick. A year of developing with Andy Reid while backing up Alex Smith would probably be enough to make the needed adjustments to his mechanics and let him adjust to the speed of the NFL game. Chiefs fans shouldn't get their hopes up for Trubisky, but I guess you never know.
Next up…..
Deshaun Watson – Clemson – 6'2″ 215 lbs
Deshaun Watson is far and away the best known of the top quarterback prospects thanks to his spectacular showings in the past two national championship games against Alabama. Coming off his legendary performance this year that carried Clemson to the win many were ready to crown him the best quarterback in this draft class. However, there are some concerns that can't be ignored. Here are a break down of his main strengths and weaknesses.
Strengths
*Top notch leadership skills
*Proven to perform at his very best in the biggest moments ("clutch")
*Great athleticism and mobility, makes plays with his feet
*Has made some amazing "highlight reel" throws throughout his career
Weaknesses
*Just average arm strength (accuracy struggles on some deep throws)
*Slender frame may not be able to take NFL punishment (especially if he takes off and runs a lot)
*Inconsistent Accuracy
*Limited experience reading the entire field
There may not be a bigger wild card in this year's draft than Watson. If a team falls in love with him as a person/leader of men and believe his ability to come through in the clutch will carry over to the NFL he could be a top ten pick. However, if teams see enough inconsistency in his accuracy and worry that his frame won't hold up to NFL caliber hits (some worry he may measure even smaller than listed at the combine) he could conceivably be on the board when the Chiefs pick. My bottom line is that I would be thrilled with the Chiefs drafting him where they pick in the late first round. However, it would make me nervous if they gave up a lot to trade up into the top 10-15 picks in order to get him. Watson's best chance to be great in the NFL would be a situation like Kansas City where he could develop (and add some bulk) while learning from a great coach and playing behind an experienced veteran.
Next up…..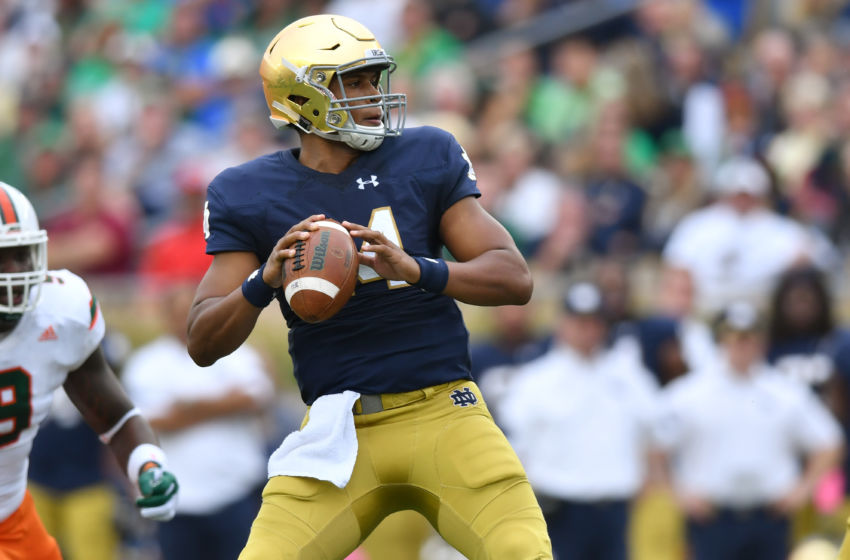 DeShone Kizer – Notre Dame – 6'4″ 230 lbs
If playing quarterback was strictly about the physical tools that the prospect possesses DeShone Kizer would be the clear number one quarterback in this draft class. There are definitely more pluses than minuses on Kizer's scouting report, but just how much will the questions about his game effect his draft stock? Here are a break down of his main strengths and weaknesses.
Strengths
*Ideal combination of size, athleticism, and arm strength
*Will read the entire field and work through progressions
*Has shown the ability to be accurate at times
*Intelligent/Mature/Hard Working
Weaknesses
*Inconsistent play and accuracy (actually got worse as 2016 went on)
*Decision making was questionable at times
*While intelligent, some have wondered about his mental toughness as he struggled after being benched and dealing with coach Brian Kellly's sometimes harsh coaching style.
*Doesn't seem to be the sum of his physical parts (yet)
DeShone Kizer is a promising prospect. If a NFL coach believes they can max out his potential he could shock some people and be the first quarterback off the board. If Kizer doesn't impress when meeting with teams face to face he could slide all the way to the Chiefs in the late first round. It's a double edged sword for KC fans with Kizer. On one hand, if Kizer is going to be our quarterback of the future you would want him to impress in meetings and for his inconsistencies to be easily fixable with good coaching. However, if both of those things hold true then Kizer may not last long enough for the Chiefs to get their hands on him.
Finally, the last of the four top prospects is…..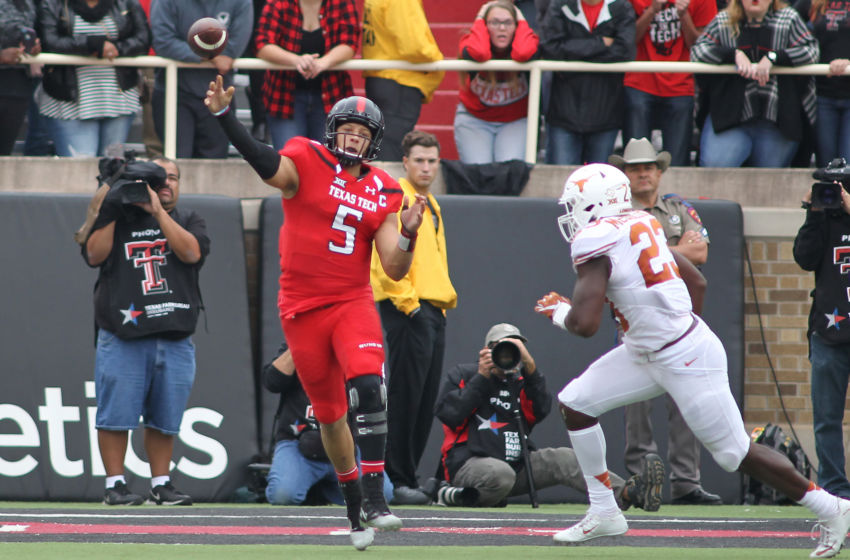 Patrick Mahomes – Texas Tech – 6'3″ 220 lbs
Perhaps the hottest quarterback in the Chiefs blogosphere right now is Texas Tech's Patrick Mahomes. At the end of the season many saw Mahomes in the second tier of quarterbacks that I listed at the beginning of this post but as time has passed his draft stock seems to be heating up. Here are a break down of his main strengths and weaknesses.
Strengths
*Good arm strength (can make all the throws)
*Good accuracy
*Gets the ball out quick
*Good athleticism and mobility
*Strong competitor
Weaknesses
*His college offense hasn't produced NFL QBs and has almost no QB responsibilities for making reads pre or post snap
*Footwork is a mess
*Gunslinger mentality is a little too cavalier at times (little too willing to "chuck it" under pressure)
Patrick Mahomes is another very interesting prospect in this draft. His arm strength, accuracy, athleticism, and competitive nature make him incredibly tempting to take a chance on. However, the Texas Tech offense (and those like it) simply have failed to produce NFL caliber quarterbacks. Could Mahomes be the first to break through? There may not be a quarterback prospect in this draft that needs quality coaching and time to learn the NFL game more than Mahomes. I LOVE him as a fit for the Chiefs and think he could be special if Andy Reid has time to groom him before he gets thrown to the wolves. That having been said, if a team were to draft him early in the first round and start him right away I could see him setting a record for interceptions in a season as he simply isn't ready to lead an NFL style offense right out of college.
So there you have it Chiefs fans, your first round quarterback primer for this year's draft. So which quarterback(s) do you like for the Chiefs? Do you have your heart set on one guy or are you just hoping they draft SOMEBODY? Regardless, now you have a few of the essentials for all four of the top prospects to base your decision on.
As always, thanks for reading and GO CHIEFS!!!!!
More from Arrowhead Addict
This article originally appeared on