Kaepernick's protest is not dividing 49ers locker room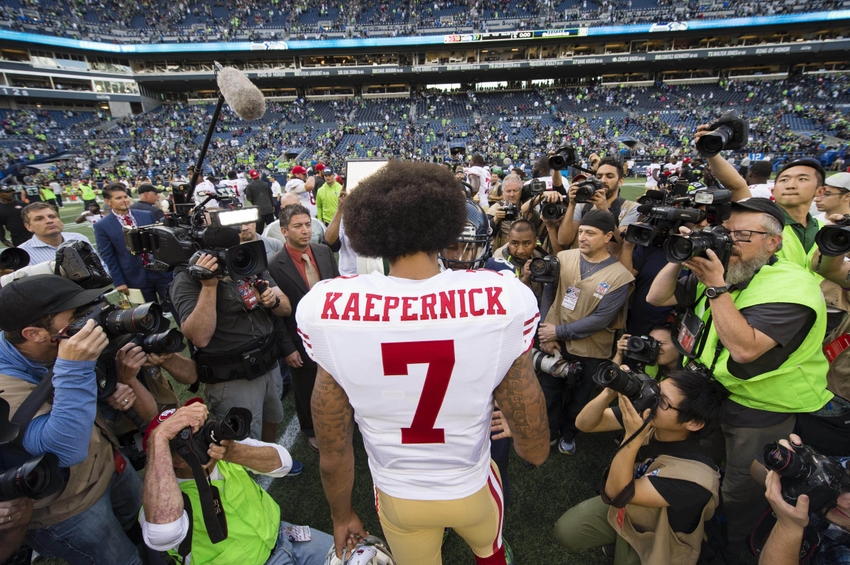 Despite supposed reports to the contrary, the San Francisco 49ers locker room remains tight despite — or perhaps in part because of — Colin Kaepernick's protest.
Colin Kaepernick is in a select group of individuals: non-playing backups who consistently make national headlines. Kaeperinck's protest of police violance and racial bias — kneeling during the playing of the National Anthem — has inspired many others to protest in the same or different manners. Nevertheless, it has its detractors.
Some such criticism has claimed that Kaepernick's antics have divided the San Francisco 49ers locker room. This, however, holds no truth whatsoever.
The 49ers mainstay left tackle Joe Staley talked to CSN Bay Area recently:
"I feel the locker room is really close. I don't feel any of that division people from the outside are saying at all.

I wouldn't need to tell you if there was. I think any kind of division like that is pretty evident. I don't think that's going on at all . . . I don't see that around this locker room at all."
Staley is right. The NFL, being under the spotlight that it is, cannot hold secrets of locker room discord very long. Remember the conflicts between Jim Harbaugh and the front office? Remember the frustration with Kaepernick last season? While the team tried to cover up externally, it was obvious stuff was going on.
No such reports are leaking this time around.
The 49ers are still a tight unit — even if they are struggling on the field.
All statistics, records and accolades courtesy of ESPN.com, Pro-Football-Reference.com and Sports-Reference.com unless otherwise indicated.
This article originally appeared on