Kaepernick Jersey Sales Soar To The Top Despite Controversy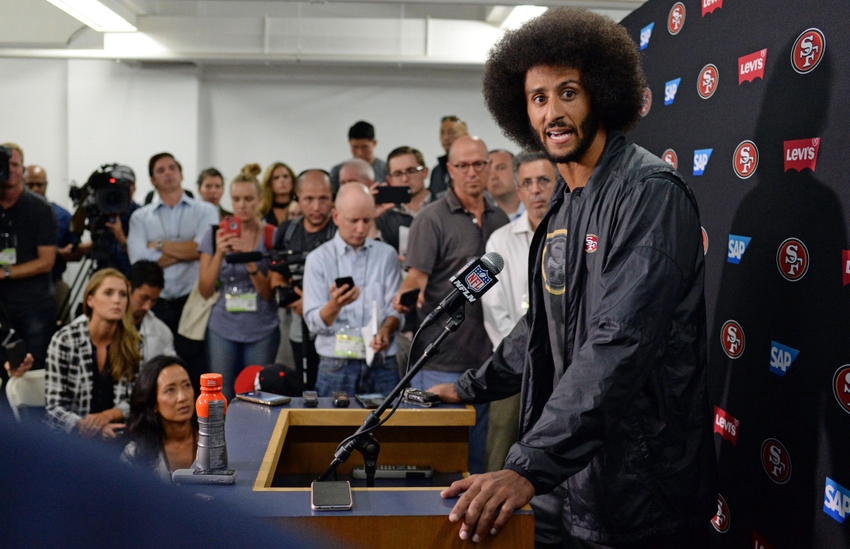 The 49ers' quarterback is the most talked about player in sports right now, and his jersey sales are starting to reflect it.
---
Love him or hate him, Colin Kaepernick's jersey has become one of the hottest commodities around.
Since the media noticed him not standing during the playing of the national anthem, which occurred prior to kickoff of the San Francisco 49ers' preseason game against the Green Bay Packers on August 26, Kaepernick has skyrocketed into the top five in jersey sales, according to NFL.com.
If you haven't heard, the 28-year-old quarterback has chosen to sit (and later kneel out of respect for the military) when the anthem is being played in protest of police brutality and racial inequality.
Despite the enormous amount of backlash he's received, Kaepernick has clearly gained a following of sorts, who now are showing their support by purchasing his jersey.
On the gridiron, only 49ers' safety Eric Reid has joined Kaepernick in protest.
It'll be interesting to see who, if any other players at all, will decide to exercise their First Amendment rights during the anthem in the coming weeks.
Regardless if you agree with him or not, there is something to be said for a person putting their livelihood on the line for the sake of a major social issue. Considering the crossroads that he's at in his NFL career, it would seem as though this is a lose-lose situation for Kaepernick.
In any case, his No. 7 jersey is nearly No. 1 on the market, a truly incredible feat given his low on-the-field value at this point.
This article originally appeared on