Julius Peppers, Clay Matthews ready for some football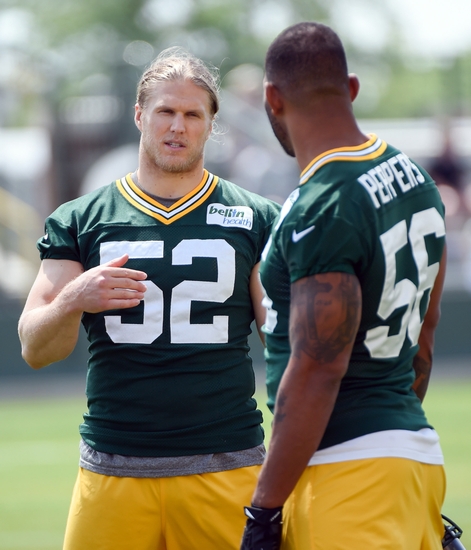 Julius Peppers and Clay Matthews, the Green Bay Packers star outside linebackers, can now put allegations that they used performance enhancing drugs behind them.
That's because the league cleared them today, along with Pittsburgh Steelers linebacker James Harrison, of any wrongdoing.
Mike Neal, the former Packers defensive lineman/outside linebacker, is still being investigated, according to reports issued today.
It was just this past week that Peppers and Matthews met with league officials to answer questions about the allegations that were originally published in an Al-Jazeera report.
Even though the main source for the report recanted the things he was reported to have alleged, the league still pursued its investigation that finally came to a halt with today's announcement.
The players, with the support of the NFLPA, initially dragged their feet and refused to be interviewed by the league – mostly because there was no evidence.
Peppers and Matthews didn't comment on the situation as it was ongoing, but Harrison did … he went so far as to call NFL Commissioner Roger Goodell a crook and criticized the league office for its insistence that he be interviewed.
When the league threatened the players with suspension, they finally agreed to the interviews.
Now for Peppers and Matthews, they can concentrate on football just as the team prepares to play its final preseason game Thursday night at Kansas City.
Though Ted Thompson came out a couple of weeks ago to state that the team supported the Packers players, had the league decided it was going to punish the players, there would have been little Green Bay could have done about it.
Would it have affected the Packers on the field?
Well, that's like asking Minnesota Vikings fans whether the loss of quarterback Teddy Bridgewater will affect the team's record in 2016.
Of course it would have affected the Packers. Just when the team seems to be getting the right pieces in place at the linebacker position, losing both of their most experienced veterans would have had a huge impact on the team's defense.
It appears that this could be Peppers' final season in Green Bay, but Matthews is still under contract for a couple more seasons. Losing both of those guys would have significantly disrupted the Packers' plans on the defensive side of the ball.
Neal, who is still waiting to be signed by an NFL team, was an important part of the team's success in recent years, but Green Bay decided to give linebacker Nick Perry a one-year contract and not pursue signing Neal.
In the end, we feel this was a good (and only) move by the league.
Now it's time to play some football.
More from Lombardi Ave
This article originally appeared on