Joshua Garnett is Slowly Justifying 49ers' Draft-Day Trade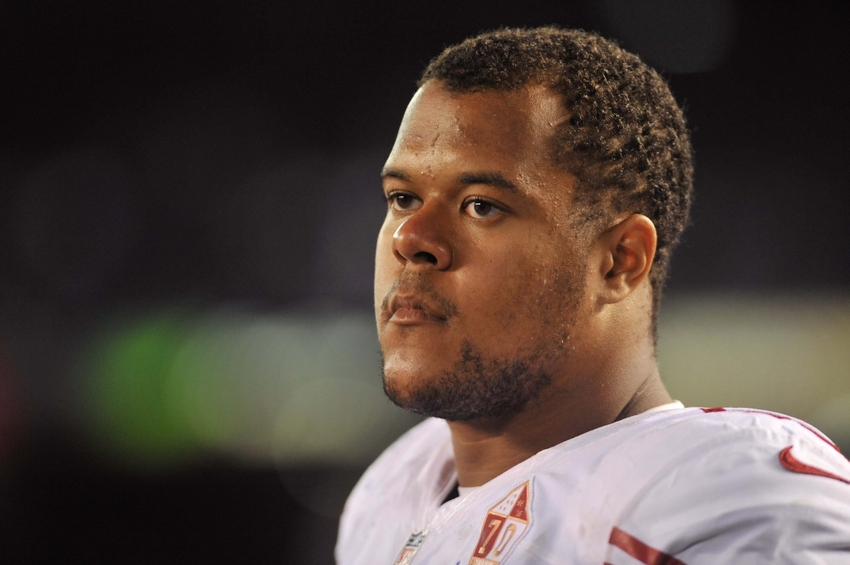 The draft-day trade that brought Joshua Garnett to the 49ers' bemused some, but the guard is slowly justifying that move.
Few people expected the name of Joshua Garnett to be called when the 49ers traded back into the first round of the 2016 NFL Draft, and it was a move that left many bemused.
San Francisco could have used the pick on any number of promising pass rushers, while linebacker Myles Jack seemed an ideal fit for a team rebuilding a once-vaunted defense.
Those who questioned Garnett's selection appeared vindicated when he was left out of the starting lineup for the first five weeks but, since replacing Andrew Tiller at starting right guard, the former Outland Trophy winner has begun to justify the pick.
Watching Garnett's college tape, it was not difficult to see why the 49ers liked him.
Indeed, the success of the Niners from 2011 to 2013 had been built on the strength of the defense and the O-Line, which featured guards in the form of Mike Iupati and Alex Boone who dominated in the run game and had the athleticism to pull and clear holes for Frank Gore.
Pulling and getting to the second level were two things Garnett did exceedingly well at Stanford and he has unsurprisingly continued to impress in that area with the 49ers.
Take this play from Sunday's defeat to the Patriots for example, Carlos Hyde shows patience as a runner to make a 12-yard gain, but he would not be able to do so without Garnett pulling across to the left side of the line and clearing a path, assisting Vance McDonald with his block before getting to the next level to take out another defender.
Garnett is blessed with impressive athleticism for a man of his size, but perhaps his biggest asset as a run-blocker is his brute force, which he uses to devastating effect to flatten Cardinals safety Tony Jefferson in the Week 10 meeting with the Cardinals, though it only results in a five-yard gain for Hyde.
That kind of strength and ability to simply overpower people has also been of use in pass protection, with Garnett helping spring Colin Kaepernick for sizeable gain on a scramble play by knocking down not only the defender, but also teammates Daniel Kilgore and Zane Beadles.
Pass protection was not regarded as an area where Garnett excelled in college, but it is a facet of his game in which he has evidently progressed.
Garnett can too often get caught up in hand fights when pass protecting and often fails to maintain his block through the snap – enabling his opposing defender to still make an impact om the play.
However, when Garnett does set his feet and lock on to his target, he is an extremely difficult man to move and defenders who have come face to face with double teams from Garnett and mammoth right tackle Trent Brown have been unable to make any sort of headway into the backfield as pass rushers.
Patriots linebacker Dont'a Hightower was once such defender to be frustrated by Garnett, who helped provide Kaepernick with a clean pocket, although the 49ers quarterback was unable to take advantage.
What is impressive is that the examples of strong pass protection from Garnett have not been sporadic, they have been plentiful and helped give Kaepernick opportunities to succeed, as he does here against Arizona on a long completion to Quinton Patton.
Garnett's target, defensive lineman Frostee Rucker, does not achieve anywhere close to the same penetration as his teammates and is taken completely out of the play as Garnett once again proves immovable.
For all the areas in which Garnett has impressed, he is far from the finished article and still has strides to make as a run blocker, where he is sometimes unable to take full advantage of his undoubted physical attributes.
On this one-yard run by Hyde, three parties can be determined to be at fault. Brown's block on the outside is nothing short of atrocious, while Hyde hits the wrong hole, bouncing to the outside instead of running into the crease opened up by Garnett and center Kilgore.
But Garnett could also do considerably better. Although he denies Alan Branch inside leverage, he ultimately loses the physical battle, with Branch able to extend his arms and separate, getting off the block to help bring down Hyde for a minimal gain.
Branch gave Garnett all he could handle. Garnett loses the leverage battle on this play. Brown's block on the edge isn't great either. pic.twitter.com/ZRmZLPRVrq

— Nicholas McGee (@nicholasmcgee24) November 23, 2016
Garnett could also serve to improve his balance. Occasions where he has lurched into a block with too much forward lean and lost his footing have been too regular.
He also frequently has issues getting to his assignment in time and fails to make meaningful contact as a result, as was the case on this play that saw Hyde dropped in the backfield on a redzone series that ended in the Niners settling for a field goal.
Though there are issues that need to be corrected, Garnett is already making an impact and opening up holes in the running game as well as providing a more significant contribution in pass protection than had been expected.
Garnett still has a long way to go in his development but, as long as he continues to make the strides he has done so far in his 49ers career, the draft-day trade San Francisco made to acquire him will continue to look better and better.
This article originally appeared on