Joshua Dobbs caps off incredible comeback with Hail Mary TD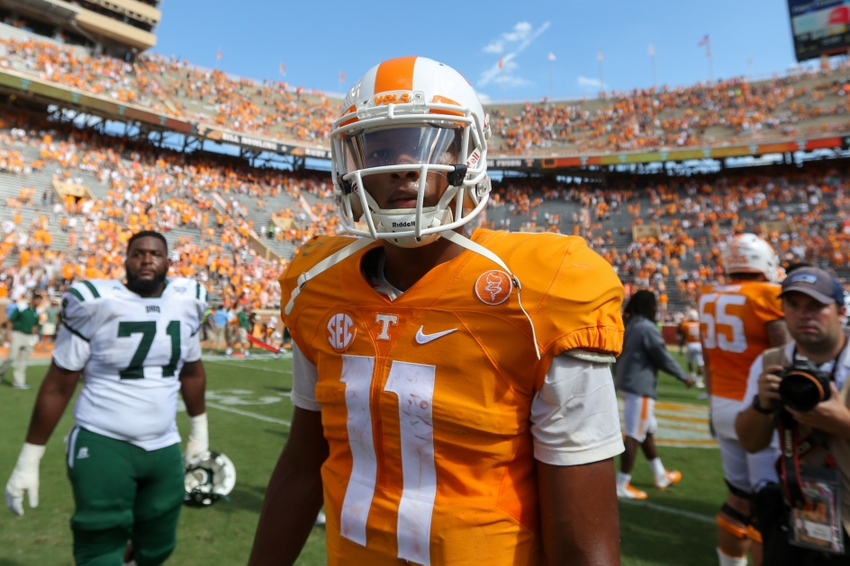 The Tennessee Volunteers and quarterback Joshua Dobbs capped off a thrilling game with a Hail Mary that went for a touchdown as time expired…
Joshua Dobbs and the Tennessee Volunteers apparently can't lose.
The Vols have been the 'comeback kids' of sorts this college football season, and not even a touchdown pass with 10 seconds left on the clock can put this team down and out.
Georgia did just that, sending Volunteer fans into a state of shock at the end of a game that Tennessee should have lost, and then should have easily won. Jacob Eason threw a beautiful touchdown pass with 10 seconds left in the game to give the Bulldogs a 31-28 lead. They got slapped with a 15-yard penalty after the play that was assessed on the kickoff, and another penalty on the kickoff that put the Vols in great field position.
This is the play that ensued.
Tennessee wins on Hail Mary! (via @AthlonSports) pic.twitter.com/dl1giHD4tg

— Athlete Swag (@AthleteSwag) October 1, 2016
It's a ridiculous play by the receiver, but a heck of a throw by Joshua Dobbs to put the ball in a perfect place to actually allow the receiver to make a play. Dobbs was dropping the ball where it needed to be in clutch moments in this game, and despite finishing just 16-of-26 passing, there was a lot to like about his performance as a whole.
This. All of this. It really happened.

https://t.co/sFB4fXS2Zr pic.twitter.com/2ejUWkmtYM

— Tennessee Football (@Vol_Football) October 2, 2016
As much as NFL Draft pundits have been talking about the likes of DeShaun Watson, DeShone Kizer, and Brad Kaaya, Dobbs is going to be a player that figures into the conversation when it comes to some of the best quarterbacks in this year's draft. He's got all the tools there, as evidenced in this win over Georgia.
This play will possibly define Dobbs as a college player, and it's certainly worthy of his top moment to this point. What an incredible game. What an incredible finish.
This article originally appeared on