Jordan Todman returns opening kickoff 99-yards (Video)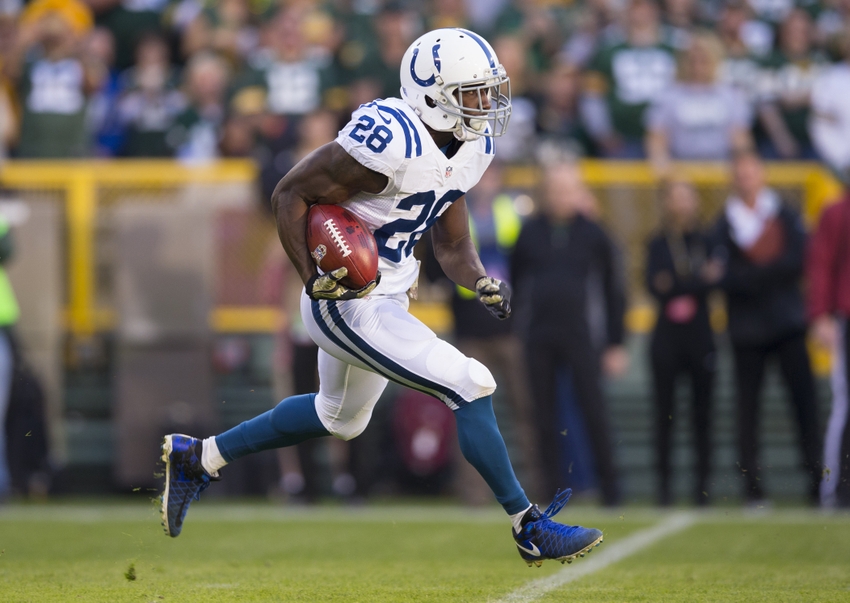 Sunday's clash between the Indianapolis Colts and Green Bay Packers featured a matchup between Andrew Luck and Aaron Rodgers…and Jordan Todman.
There was plenty of anticipation at Lambeau Field late Sunday afternoon. The Green Bay Packers welcomed the Indianapolis Colts in an interesting interconference clash.
Anytime you can get a couple of young and talented quarterbacks in the same game, only good things are expected. Fifth-year pro Andrew Luck was making his first regular-season appearance at Lambeau Field while Aaron Rodgers was hoping to stay hot after a rough beginning.
But the only bad start for the Pack was provided by their kickoff coverage units. The opening of the contest featured a 99-yard return for a score by Colts running back Jordan Todman.
Talk about an improbable beginning? Todman was an offseason free-agent pickup from the Pittsburgh Steelers. The club also added running back Robert Turbin and the latter has been the main backup to veteran Frank Gore.
Todman entered Sunday's game at Green Bay without a rushing attempt or a reception. That despite the fact that he had played in each of the team's first eight games. What he had done is return five kickoffs for a total of 116 yards, a 23.2 yards per try. His longest return was only 31 yards.
That changed on Sunday at Lambeau Field as the 2011 sixth-round pick of the San Diego Chargers and former University of Connecticut star gave Chuck Pagano's team a lead just 13 seconds into the contest. The journeyman running back had not scored a touchdown of any kind since he was a member of the Jacksonville Jaguars in 2014.
Who knew?
More from FanSided
This article originally appeared on