Jordan Reed's One-Handed Diving Catch is Just Ridiculous (Video)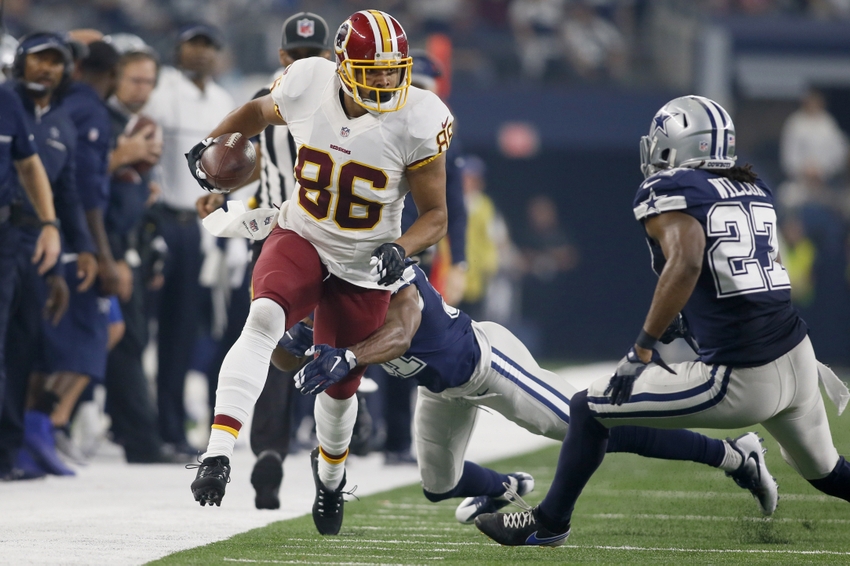 Washington Redskins tight end Jordan Reed is one of the most exciting players in the NFL and he reminded us of his prodigious talent on Thanksgiving Day.
The 6-3-1 Washington Redskins needed all of their playmakers to stand out in a tilt with the 9-1 Dallas Cowboys. Every game counts in the race for the playoffs, but knocking off the best team in the league, especially when they are your bitter division rivals, might just count more mentally.
Earlier in the game, the Redskins announced that Reed would be questionable to return with a shoulder injury, and he was spotted with his arm in a sling. Injuries have been a problem for Reed during his career, but the tight end was able to return to the game.
He didn't miss a beat either. The shoulder injury clearly did not affect him on this ridiculous grab, which is yet another incredible play he can add to his growing collection.
Reed is on the outside, matched up one-on-one with one of the best safeties in the league in Byron Jones. If you recall, Jones used to play cornerback and he is a fast, athletic beast with the Combine record for longest broad jump.
Well, Reed toasted him, getting a perfect release off the line of scrimmage. He still had to come down with a one-handed catch on the sideline, but he pulled it off, making Kirk Cousins (playing on the franchise tag) look good in the process.
Just to make sure he finished off the drive spearheaded by his catch, Cousins found Reed for an easy score in the flats:
Cousins to Reed…
YES.

That's SIX for the @Redskins! #WASvsDAL #HTTR https://t.co/NaDlVMhRDQ

— NFL (@NFL) November 24, 2016
Like a walk in the park.
The former Florida Gators star had four receptions for 53 yards and a touchdown on five targets following the score, though Vernon Davis had actually outgained him. Against Dak Prescott and Ezekiel Elliott, all the Redskins pass-catchers needed to shine, and Reed certainly did on this play.
This article originally appeared on