Jordan Reed Played Through Separated Shoulder vs Cowboys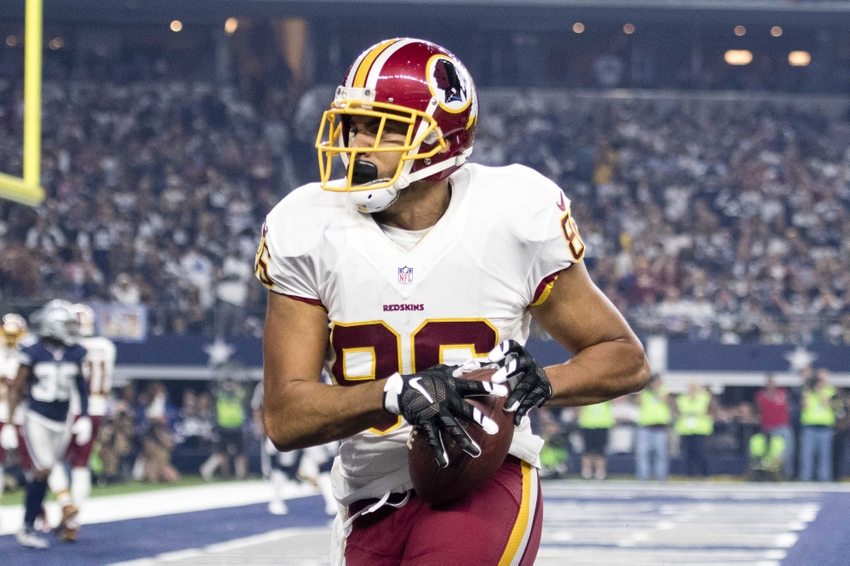 Washington Redskins tight end Jordan Reed is top-five at the position, and he deserves plenty of praise for the guts he showed on Thanksgiving Day.
Early in the Washington Redskins 31-26 loss to the Dallas Cowboys on Thanksgiving Day, tight end Jordan Reed exited the game with a shoulder injury and was deemed questionable to return. He was spotted on the sidelines with his arm in a sling, but he would return to the field in the second half.
Not only did Reed return, but the former Florida Gators standout excelled. Reed caught a game-high ten passes for 95 yards and two touchdowns. On a day in which the likes of DeSean Jackson, Kirk Cousins, Dak Prescott, Dez Bryant, and Ezekiel Elliott shined in a shootout, Reed stood out as the best player on either offense.
Even though Reed was bossing the Cowboys defense, you could clearly see that he was in pain. According to Redskins head coach Jay Gruden, Reed separated his AC joint in today's game, and it will be interesting to see how they manage his injury going forward.
Gruden said Jordan Reed suffered an AC joint separation

— Around The NFL (@AroundTheNFL) November 25, 2016
As we saw today, Reed can play through the pain, and he is a critical piece for this offense. The Redskins, however, do have pass-catching depth, and it is worth remembering that Vernon Davis caught five of his seven targets for 68 yards in another positive performance.
That said, Reed was the Redskins hero in the loss. He made a ridiculous one-handed grab that set up his first touchdown reception, and that play will be remembered as one of the best catches of the 2016 season.
This article originally appeared on