Jordan Reed Placed Into Concussion Protocol After Experiencing Symptoms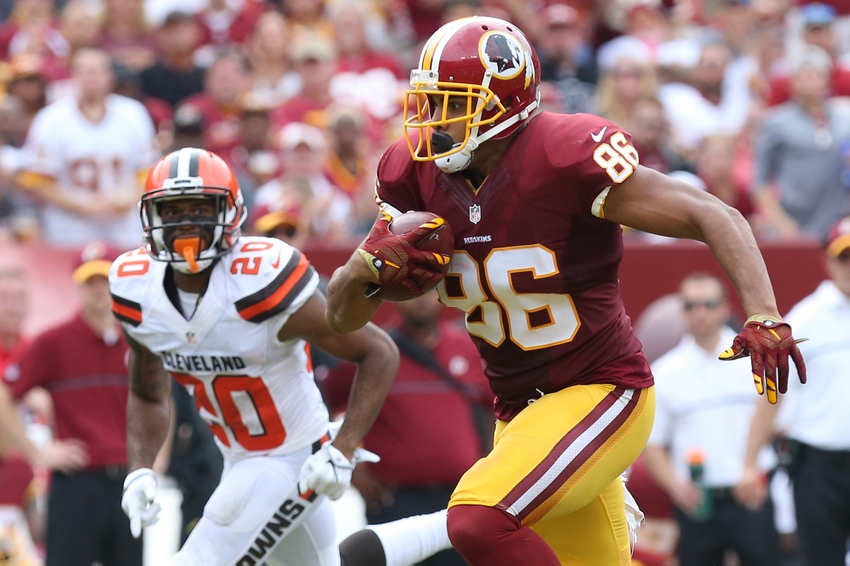 Jordan Reed was experiencing concussion like symptoms. The Redskins have to be worried about the star tight end moving forward.
The Washington Redskins could end up being without one of their star players on offense this week. It has been reported that tight end Jordan Reed was placed into concussion protocol after experiencing symptoms on Tuesday. The reports were confirmed by Redskins head coach Jay Gruden in a press conference on Wednesday afternoon.
[Reed] came in Tuesday morning with some symptoms and we take the cautious approach and [are] getting him checked out.
The Redskins need to hope that Reed is okay, as he has been the best offensive weapon for them to start the season.
Through five games in 2016, Reed has been fantastic on the field. He has caught 33 passes for 316 yards and two touchdowns during the season. Reed has been able to be a matchup nightmare and he has been consistently open during games. He is developing into Kirk Cousins' security blanket and he could end up having a monster year. That is, of course, if the injury bug does not bite him.
Throughout his college and NFL careers, Reed has had trouble staying healthy. Over the first three years of his career, he missed 9 total games and was limited in several other. He still played well when he was on the field, but the fact that he has never played a full season is concerning.
Also, Reed has suffered a good deal of concussions during his career. According to unofficial numbers, he has suffered five. These number came per Rich Tandler of CSN.
Reed is in the concussion protocol. This is, unofficially, his fifth concussion between Florida and #Redskins

— Rich Tandler (@Rich_TandlerCSN) October 12, 2016
With that kind of history under his belt, the Redskins need to be extra careful with how they treat Reed. They need to ensure that they do not rush him back in order to preserve his long term health. As of right now, Gruden is reluctant to comment on what the next step is for the team, as the concussion diagnosis has not been confirmed:
I don't think in those terms and I'm not considering it a concussion until we get all the results right now. You know, he just had some symptoms, it doesn't mean it is. We just want to make sure we take the right steps.
This injury will hopefully not keep Reed out long term. Best case scenario, he does not have a concussion and he will be on the field in Week 6 against the Eagles. Worst case, he may have to miss this week and Vernon Davis will start. No matter what happens, the Redskins will be able to make up for his production. Still, it would be nice for them to have him on the field.
This article originally appeared on