Jordan Reed Jukes Joe Thomas Out of His Cleats (Video)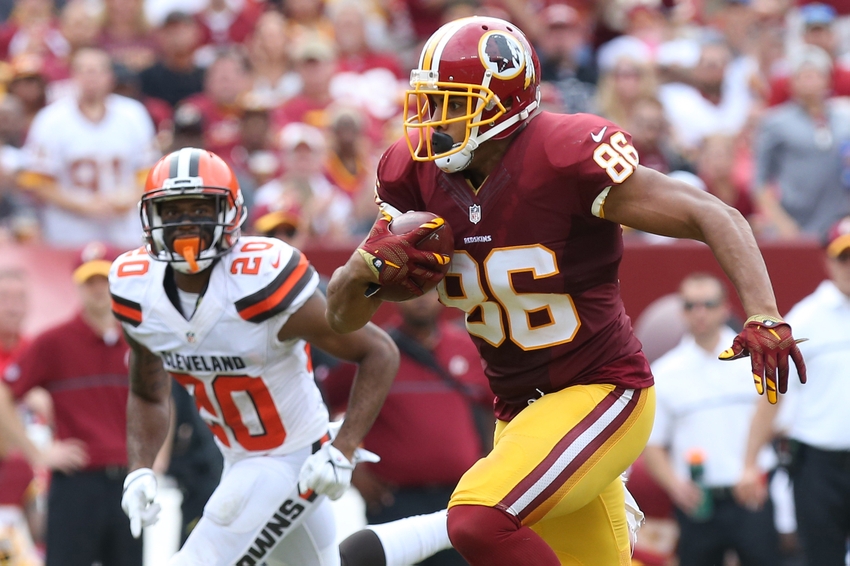 Washington Redskins tight end Jordan Reed put Green Bay Packers linebacker Joe Thomas on skates with a nasty juke move he calls his 'crossover'
As the Green Bay Packers hit the road in hopes of ending their losing streak against the Washington Redskins, things weren't looking so good through the first 2.5 quarters. In Week 11 on Sunday Night Football, the home team in Washington got out to a six-point lead in the third quarter. Before halftime, though, Redskins tight end Jordan Reed absolutely wowed everyone and embarrassed Green Bay.
With Kirk Cousins and the Redskins driving, he found his tight end in the open field on the right side. That's when the former Florida star unleashed the fury in the form of a nasty juke move.
Take a look below at the incredible juke move by tight end Jordan Reed to a helpless Joe Thomas. It was such a juke move took Thomas out of his cleats:
Reed's jaw-dropping moves will more than likely make the rounds as one of the best highlights of Week 11. It was such a crossover that it goes to show Reed continues to make a name for himself.
So far this season before tonight's Week 11 showdown, Reed had totaled three touchdowns and has an average of 10.4 yards per reception. He's quietly become a consistent option for the Redskins, especially in clutch situations.
Besides being a quality receiving option for the Redskins, Reed is as down to earth as can be. In an article written by Jake King-Schreifels for Redskins.com, Reed preaches about staying humble, working hard, and making sure to stay focused on the task at hand. Big playmaking moves like this show he's always one step ahead of the opposition.
This article originally appeared on