John Lynch: Making A Case For Canton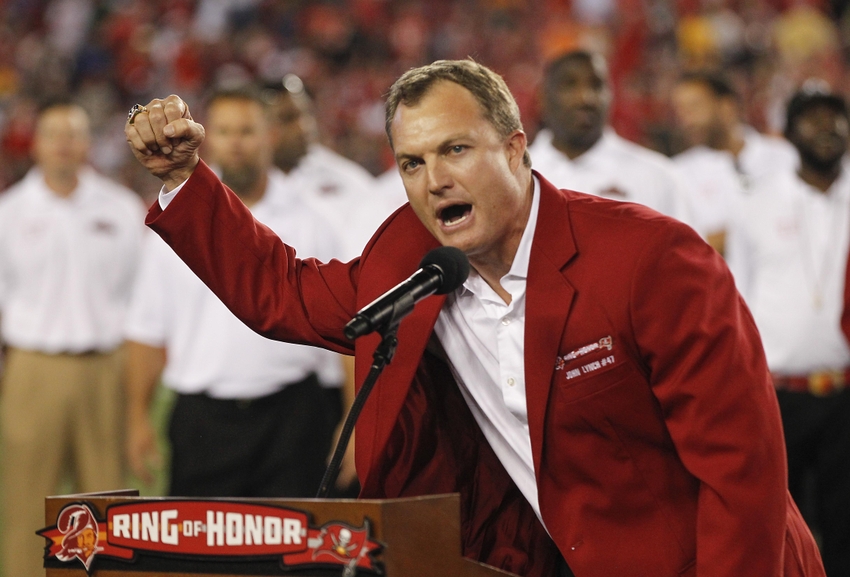 John Lynch has made it as a finalist for the Pro Football Hall of Fame four years running. It's time to give him the gold jacket he deserves.
There were few safeties in the game that garnered the kind of respect – and fear – that John Lynch did. Few that hit harder, played smarter, or came up with clutch plays on a regular basis. On top of that, few that carried himself with the kind of dignity and class Lynch did from beginning to end.
Lynch was playing minor league baseball with the Florida Marlins when he got the call asking if he would leave baseball for football if he was drafted. Hugh Culverhouse and Sam Wyche we looking to bring him to Tampa Bay but wanted to know his level of commitment before drafting him. "Where do I sign?" was all Lynch could say. After trying to break through in training camp and being nothing more than a role player on special teams, Hardy Nickerson encouraged Lynch to keep at it. That he would finally break through.
And boy, did he ever.
Lynch became a pivotal piece in the Buccaneers' turnaround – along with Hall of Famers Warren Sapp and Derrick Brooks – that culminated in a Lombardi Trophy. Lynch would finish his Buccaneers career as the fifth all time leading tackler in team history with 973, sixth in team history in interceptions with 23, all to go along with nine Pro Bow selections, three time first team all pro, and is a member of both the Tampa Bay Buccaneers and Denver Broncos Ring of Honors.
The wait has been long enough. It's time for John Lynch to be inducted. Here are the other semi-finalists;
This may appear to be a difficult class to break through, but seeing as how Lynch has been so close for so many years, you'd have to think he already has a leg up on the incoming semi-finalists. And although safety is a position largely overlooked at the Pro Football Hall of Fame – only nine are currently enshrined – but the Hall of Fame isn't just there to recognize stats. It's there to recognize players that changed and impacted the game. The kind of players that could impact any game at any moment, and did it consistently.
John Lynch was that player. Whether he was a Buccaneer or a Bronco, he was always that player. You'd be hard pressed to find many players on that list that are more deserving for induction. Yes, some players were flashier, some had better stats, but few – if any – carried themselves with the kind of class and respect for the game Lynch did all while playing at the elite level he maintained for so long.
It's time. He's waited long enough as it is. John Lynch has earned the title "Pro Football Hall of Fame Inductee" and I'd challenge anyone to find a player who will represent the Hall as proudly as John Lynch will.
More from The Pewter Plank
This article originally appeared on