John Harbaugh's Kickoff Rule Change Idea: Good or Bad?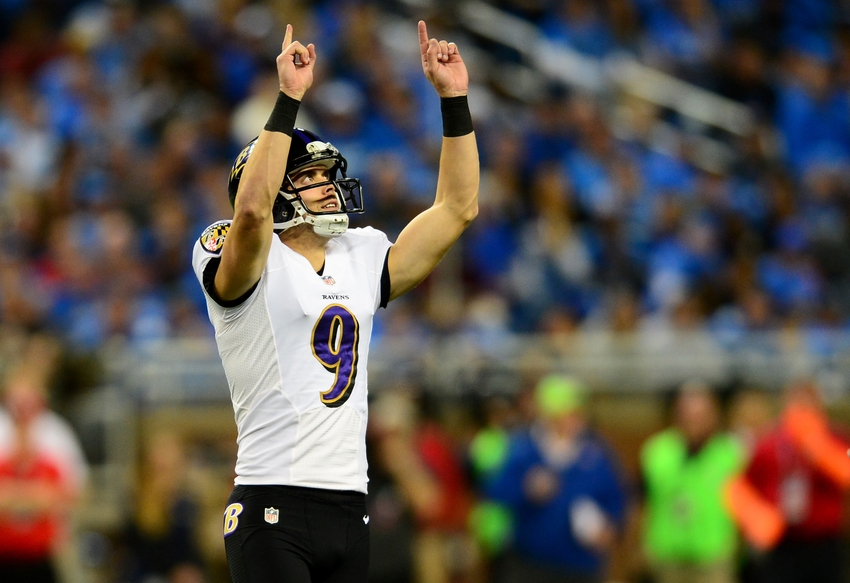 Baltimore Ravens head coach John Harbaugh thinks a kickoff that goes through the uprights should be rewarded with a point. Is he crazy or onto something?
File this under the "never going to happen" category, but Baltimore Ravens head coach John Harbaugh (who has a background in special teams) is advocating for the NFL to take a look at how kickoffs are handled.
The league, in an effort to increase the number of touchbacks (for safety reasons), changed a rule this offseason that touchbacks on kickoffs would be brought out to the 25-yard line, not the 20-yard line like it had been for decades. While this has had a minimal impact on the amount of touchbacks on kickoffs, Harbaugh's new idea would.
The Ravens are advocating that if a kickoff goes through the uprights, it should be worth a point. No, seriously. On CSN Mid-Atlantic, Harbaugh explains:
I'm on record advocating that should be a point. I'm serious now, kinda. Really, how exciting would that make it, for [Ravens kicker Justin Tucker] to make these kickoff touchbacks so valuable? Let's do it. Let's go for it.
Justin Tucker, the Ravens kicker who just kicked three field goals from 50 or more yards in Week 12, agrees with his head coach:
If we're going to keep making the game harder for kickers, you gotta reward us in some way," The ownership, the competition committee, the NFL, they're great at this give-take thing when [Collective Bargaining Agreement ] time comes around, maybe we can throw that one out there. Maybe you get a point for putting the ball through the uprights on a kickoff. I'd really appreciate that.
While this rule is highly unlikely to ever be put into place, it would make the play more exciting. The kickoff is a relatively boring play, especially since return touchdowns have been down this year. The league had no problem moving the extra point back, so why not make this change? You used to be able to go to the refrigerator during the old "automatic" extra point, but with extra points now such an exciting play, fridge trips have now been moved to during kickoffs.
But just think of what could happen if this rule change is instituted. A team could potentially get nine points on one possession (a touchdown, two-point conversion, and a point for the kickoff), resulting in possibly fewer onside kicks. The league wants to cut-down on the number of returns, so why not really entice teams to kick it deep?
With the new touchback rule, teams have begun pooch kicking, resulting in kickoffs not even reaching the end zone. This has resulted in actually more returns, not fewer. If a point is rewarded for a kickoff sailing through the uprights, teams would be more likely to try it and, thus, the number of returns would decrease dramatically.
Now, the Ravens wouldn't be an advocate for such a rule if it didn't benefit them in some way. Tucker has one of the biggest legs in the NFL, so clearly he has an advantage over some of the other kickers in the league. Kicking it through the uprights (which would essentially be a 75-yard field goal) is probably easier for Tucker than it would be for the majority of other kickers in the league, so an unfair advantage could come into play.
Regardless of the advantage built in for Tucker, though, there's no doubt that Harbaugh's idea would add some drama to the kickoff. Let's hope the NFL eventually comes around to the idea. Making the kicking game even more important only adds excitement to the game.
This article originally appeared on