John Elway Is Rebooting the Denver Broncos Again—In A Hurry
Steven Kriz/FanSided via Predominantly Orange

Fansided
John Elway is up to it again. The Denver Broncos missed the playoffs for the first time in John Elway's tenure. He is rebooting them for a return to glory.
Less than 365 days removed from celebrating a Super Bowl win in Denver, the Denver Broncos Vice President of Football Operations, John Elway, is up to it yet again. Forget complacency, Elway is in this for one thing—winning Super Bowls. He's done it time and time again. If anyone knows how to turn something around in a hurry, it is Elway.
The Rebuild
When Elway took over the job in 2011, it took Elway all of two seasons to take a pathetic 4-12 team, and turn it into a team that was 13-3 and widely considered the best team in the NFL by signing Peyton Manning to quarterback the team. There had never been a quarterback of Manning's stature hit the free agent market, and Elway lured him to Denver. 2012 saw Elway's first ever draft pick Von Miller blossom into one of the elite defensive players in the league, and the offense was as potent as nearly any Colts team Manning had ever quarterbacked. 2012 ended in playoff defeat, so Elway went and nabbed Louis Vasquez and Wes Welker to come help.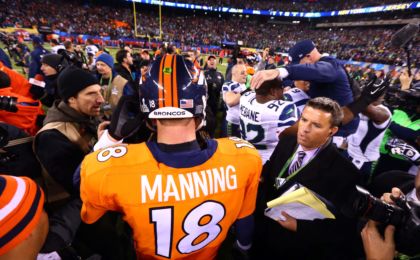 The 2013 Broncos took a major step back on defense, but offensively shattered every meaningful record on offense. Peyton Manning had the best single season a quarterback has ever had, breaking the all-time marks for touchdowns and yards in a single season. Elway and the Broncos rode this offense all the way to Super Bowl 48, just to see it all come crashing down in a humiliating 35-point defeat to the Seattle Seahawks. Elway then saw the need to completely change the identity of the team from an offensive juggernaut, to a swarming defense. With that, he went all in on defense in free agency, signing pro bowlers T.J. Ward and Aqib Talib, and future Hall-of-Famer, Demarcus Ware.
After not maximizing the talent he had assembled in 2014, Elway had the nerve to fire a coach that was perfect in winning the division, and two out of his four years lead his team to the number one seed in the AFC. John Fox was out after yet another disappointing playoff defeat, and old buddy Gary Kubiak was in. He brought along yet another familiar face in Wade Phillips to guide the ultra-talented defense.
A New Way To Win
2015 was the dawning of a new Broncos era. Gone were the regular 40-point assaults on opposing defenses. The offense struggled all season to find an identity, but the Broncos kept on chugging along, riding an all-time great defense. Just two years prior, the Broncos defense couldn't stop a high school team running the Wing-T. Suddenly, the defense was creating their weekly timely turnover to seal and win the game. Despite all the struggles on offense, which included the benching, and then re-entering of Peyton Manning, the Broncos found themselves with yet another number one seed. The Broncos used the home field advantage, and a three-game defensive run for the ages all the way to a Super Bowl title.
2016
More from Predominantly Orange
After all the glory of his first five years, 2016 would prove to be the most frustrating for John Elway. Peyton Manning rode off into the sunset with his new Super Bowl ring in hand, and backup Brock Osweiler bolted Elway, proving to be perhaps the first known player to turn down Elway since he has taken the job. Elway did the best he could with what he had. What he had was very limited cap space, and not a lot of great options at the quarterback position. He drafted his quarterback of the future in Paxton Lynch, and acquired Mark Sanchez to compete with Lynch and 2nd year holdover Trevor Siemian.
In camp, Siemian was equal to Sanchez, while Lynch proved to be a work in progress. Trevor Siemian won the starting job because he was cheaper, and proved to be a safer option. Sanchez was exiled to Dallas, and Siemian was to bridge the gap to Paxton Lynch. The season started out as well as they could have hoped—4-0. However, Siemian was hurt in the week 4 win against Tampa Bay, and Lynch played very well in relief. Lynch would start the next week against the Falcons, but didn't enjoy the same success he had the week before. The Falcons got off to a great start, and Lynch couldn't do enough to bring the Broncos back, leading to their first defeat in the previous 10 games. Gary Kubiak left the stadium in an ambulance that day, leading Elway to ask Kubiak to give up his play calling duties.
The Beginning Of The End
The next week was a short week which Kubiak would miss while resting up after his health scare. According to a recent report from Mile High Huddle, Elway pushed hard for Paxton Lynch to start that game against the Chargers. Instead, an extremely limited Siemian struggled badly and the Broncos lost their second game in a row. This lead to a season long power struggle between Elway and Kubiak. Elway wanted his quarterback in the game as often as possible, and Kubiak wanted to play his guy Trevor Siemian. Kubiak also quickly reverted back to handling the play calling despite Elway's wishes.
The rest is history as the Broncos limped to the finish line, finishing 9-7 and missing the playoffs for the first time in Elway's tenure. Knowing big changes were coming to his staff, and knowing that Elway was going to bring in a legitimate offensive coordinator, Kubiak stepped down as head coach just a day after the final game of the season. News broke of this the morning of the game against the Raiders. For the week leading up to the Raiders game, Kubiak had been steadfast in his plan to play both Trevor Siemian and Paxton Lynch in the meaningless game. This never happened as Trevor Siemian finished out the game, perhaps his last start as a Bronco barring injury. This didn't sit well with Elway.
The Reboot
More from Predominantly Orange
Only hours after Kubiak's resignation, John Elway was back at it. He had already identified his head coaching targets, and had a plan to reboot this team once again. What Elway has done in the past few weeks has been nothing short of remarkable. He has staved off the temptation of hiring Kyle Shanahan, and stuck with his initial gut feeling, hiring Vance Joseph, the defensive coordinator for the Miami Dolphins.
Sources have told me that after the interview with Shanahan, Elway was ready to name him head coach of the Broncos. He was blown away by Shanahan's interview, and was extremely enticed by the success that Shanahan has had with his offenses in his 9 seasons as an offensive coordinator. The Broncos Director of Player Personnel, Matt Russell, was all in on Joseph however. The interview for Joseph sealed the deal. Joseph was open and honest with Elway about where he saw the team, and had an incredible vision for how he wanted to turn around the Broncos offense without hurting the defense. The names he brought into the interview for potential staff members sealed the deal. Elway didn't let Joseph leave town without offering him the job, and the rest is history.
The Dream Team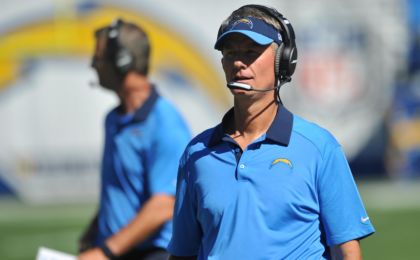 Since naming Joseph head coach, he and John Elway have put together a staff that can rival that of any in the game. Vance Joseph may be a first time head coach, but he is hardly going to have to do it alone with the help of John Elway. The top-2 offensive coordinators on the market were none other than former Broncos offensive coordinator Mike McCoy, and recently released Raiders offensive coordinator Bill Musgrave. Well, why choose when you can have them both? Joseph and Elway went out and hired both McCoy and Musgrave. McCoy will serve as offensive coordinator and Musgrave will be the quarterbacks coach. This was the ultimate Elway power play—a signal to the league that the status quo is not good enough for the Broncos.
The next move was again rooted in passing on temptation for a better option. The Broncos had their sights set on Dolphins assistant offensive line coach Jeremiah Washburn. However, at the last second, they switched gears and hired Jeff Davidson away from the San Diego Chargers. Davidson is a long time offensive line coach in the NFL, and everywhere he has been success has followed. He and McCoy both served on John Fox's staff in Carolina. During his time there, both DeAngelo Williams and Jonathan Stewart enjoyed career seasons in the late 2000's. In 2011 he went to Minnesota, and took part in Adrian Peterson's 2000-yard season. 2016 saw him join McCoy's staff in San Diego. Melvin Gordon went from potential first round bust to top-5 back in just his second season. It is no coincidence then when Davidson is involved, the running game works.
The More The Merrier
For good measure, the Broncos hired John Benton as an assistant offensive line coach. With 30 years of experience, Benton could be an offensive line coach for many teams around the league. But just like backing up McCoy with Musgrave, the Broncos doubled up and gave Davidson support with John Benton. Elway is taking no chances with this offense. He has truly assembled a dream team coaching staff, and isn't done yet.
Wade Phillips was allowed to take a job in Los Angeles, but his heir apparent Joe Woods has taken the reigns as the new defensive coordinator. From what the players have said, Joe Woods is more than capable of keeping the defense at an elite level.
John Elway simply wasn't going to lose Joe Woods, 46, as he was generating interest from other teams. It was either him, or Wade who is now 70 years old. The Broncos took the younger guy—a good move for the future.
More To Come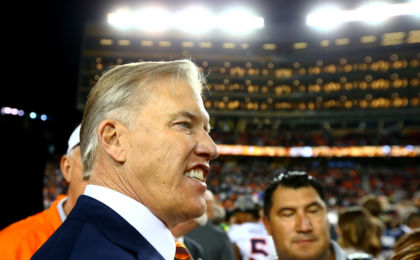 The staff that John Elway has helped assemble over the past few days is other-worldly. The "reboot" is just getting started however. The Broncos have far more room in cap space than they have since the 2014 offseason. They also have a lot of draft capital in the upcoming draft. One thing is for sure, Elway is as competitive a son-of-gun as there is in this world. Not making the playoffs is simply unacceptable. 9-7 is a great season for some teams, as it took the Raiders 14 years to experience a winning record. To Elway, there is only one thing he is interested in, and that is world championships.
Elway has cleaned house, and brought in the dream team. Free agency likely won't be as sexy as it was in 2014, but will be just as vital this time around. Elway will likely revamp both the offensive, and defensive lines. Also, don't rule out a big move for a big time quarterback. Rumor has it, that Tony Romo is looking for a new home. Not surprisingly, he has targeted the Broncos as his number one spot. Another rumor is floating around that Phillip Rivers has privately requested a trade after the team announced they were moving to L.A. Supposedly, Rivers would like to be reunited with McCoy in Denver.
Back To Glory
Whether Elway would like to reload in this way is yet to be seen. He has said that he was happy with his quarterbacks, but this is coming from a guy that said that Tim Tebow would enter the 2012 training camp as the starter. Only time will tell, but the reboot is on. Knowing how great Elway has been at his job, it would be a shocker if the Broncos weren't back on top of the AFC West. In 2017, they will be right back in the conversation to become World Champions once again.
This article originally appeared on