Football world reacts to Joe McKnight's killing with grief and disbelief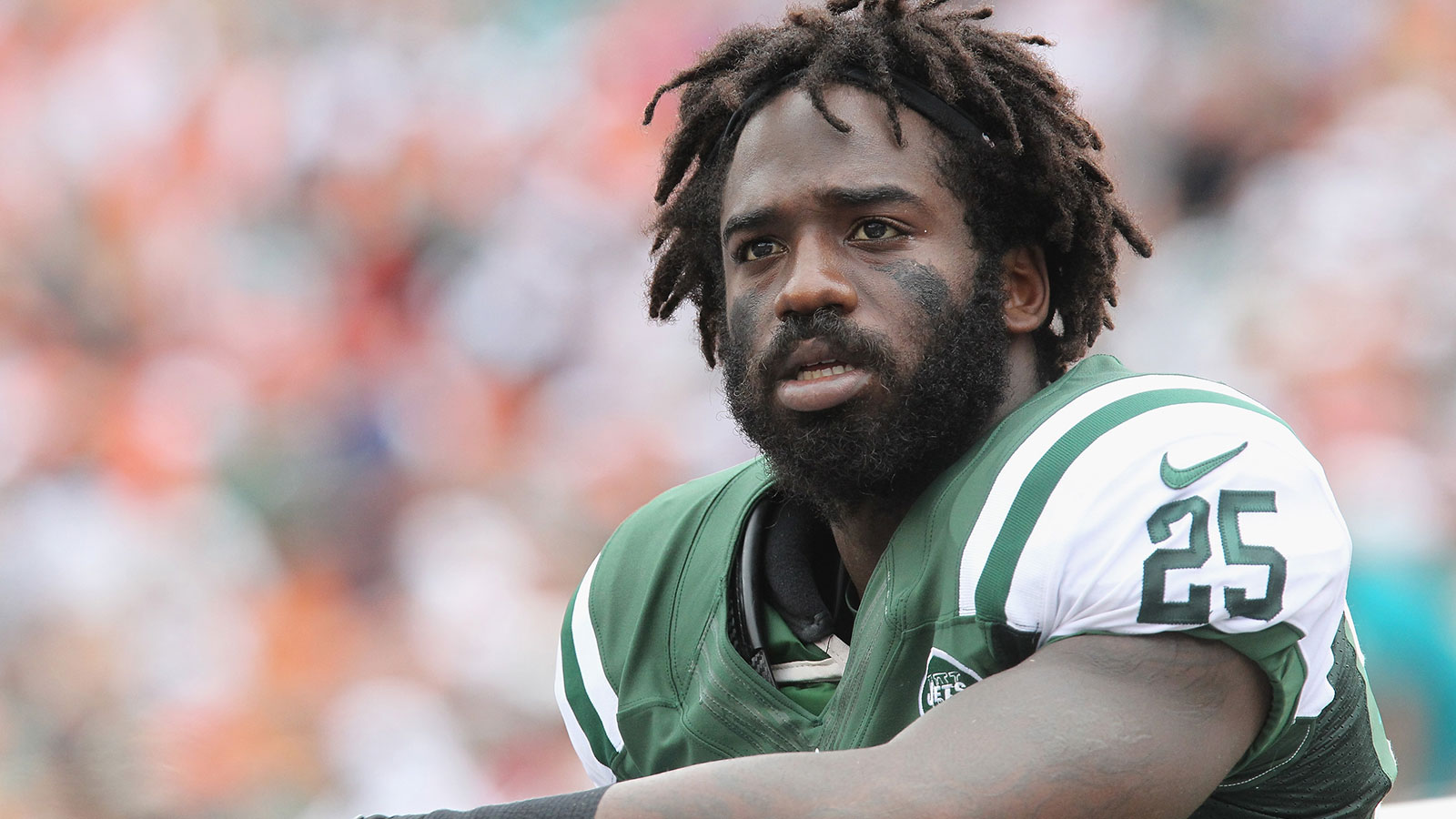 The road rage killing of Joe McKnight rocked the football world Thursday, with former teammates among the many who spoke out on the senseless tragedy.
McKnight, a native of River Ridge, La., is the second former NFL player this year to die as a result of a possible road-rage incident in New Orleans. Former Saints star Will Smith was killed in April in the Lower Garden District.
Deeply saddened by the loss of Joe McKnight. This is a terrible tragedy. Everyone loved Joe and we are going to really miss him.

— Pete Carroll (@PeteCarroll) December 2, 2016
RIP Joe pic.twitter.com/lpDjfNb128

— Brian Cushing (@briancushing56) December 1, 2016
RIP my brother Joe McKnight this one hurts bad

— Reggie Bush (@ReggieBush) December 1, 2016
News about Joe Mcknight is devastating. Just at a loss of words!

— Matt Leinart (@MattLeinartQB) December 1, 2016
#FightOnForever Joe McKnight.

The former USC running back was shot and killed today in Louisiana. https://t.co/6gPTBCHz5A

— USC Trojans (@USC_Athletics) December 1, 2016
Just got a message saying my former teammate Joe McKnight was killed today. This hurt to the heart. I can't stop crying. #RestInPeace

— ANTONIO CROMARTIE (@CRO31) December 1, 2016
Fight On Forever in heaven big bro! #RIP #JoeMcKnight pic.twitter.com/DFf3iUttSA

— Su'a Cravens (@Sua_Cravens) December 1, 2016
Rest In Peace to one of my all time favorite Trojans Joe McKnight … Gone way too soon and I'll pray for your family! Sad man, just sad.

— Su'a Cravens (@Sua_Cravens) December 1, 2016
Sad news about Joe McKnight #rih #endsenselessviolence

— Beanie Wells (@BeanieWells26) December 1, 2016
Man that's crazy RIP Joe McKnight..

— Jarvis Juice Landry (@God_Son80) December 1, 2016
Damn RIP Joe McKnight. Killed in his own city, #504Boys4Life

— Tyrann Mathieu (@Mathieu_Era) December 1, 2016
Damn, he was one of my favorite RB's to come out of USC!!! RIP Joe McKnight. That's crazy, New Orleans really needs help.

— Dom Kennedy (@_DomKen1) December 1, 2016
RIP joe mcknight #504GOAT

— robert kelley (@_2eight) December 1, 2016
Just heard the news man. RIP Joe McKnight. You helped me so much in the little time I knew out in Canada. 🙏🙏🙏

— Di'Andre Campbell (@campbellboydre) December 1, 2016
Man I can't believe my boy @OfficialJoeJet is really gone!!!! When is it gonna stop?!? #RIPJOE

— Bilal Powell (@bilalpowell29) December 1, 2016
R.I.P Joe McKnight 👼🏾 pic.twitter.com/XC8KsTHDhb

— Chad Johnson (@ochocinco) December 1, 2016
RIP Joe McKnight. We gotta do something about these guns

— Eric Reid (@E_Reid35) December 1, 2016
Everybody in the world wanted to be @ReggieBush , us in New Orleans wanted to run the ball like Joe McKnight.

— Tyrann Mathieu (@Mathieu_Era) December 1, 2016
RIP to a SC legend ! Joe McKnight 🙏🏾 pic.twitter.com/7pa3iaaBGN

— Adoree' Jackson (@AdoreeKnows) December 1, 2016
This is just ridiculous smh it needs to stop! My condolences to Joe McKnight's family 😔😔🙏🏿

— LeGarrette Blount (@LG_Blount) December 1, 2016
Shedding a few wondering what's wrong with this world man?? R.I.P. Joe McKnight. Just senseless 😞🙏🏾

— Kenyan Drake™ (@KDx32) December 1, 2016
I am deeply saddened by the senseless passing of Joe McKnight today. Our thoughts and prayers are with his family.

— Coach Ed Orgeron (@Coach_EdOrgeron) December 1, 2016
We're saddened by the tragic death of Joe McKnight and extend our deepest condolences to Joe's family, friends and the Riders organization

— Edmonton Eskimos (@EdmontonEsks) December 1, 2016
The CFL Mourns The Loss of RB Joe McKnight. – https://t.co/dDiOBCz7H8 pic.twitter.com/BCLgY2lXGb

— CFL (@CFL) December 1, 2016
RIP Joe McKnight. Gone way too soon. The violence needs to stop! #PrayersUp 🙏 pic.twitter.com/fOOgg4PpgS

— Vontae Davis (@vontaedavis) December 1, 2016
Man, my heart goes out to Joe McKnight's family. We are constantly reminded how precious life is.

— Doug Baldwin Jr (@DougBaldwinJr) December 1, 2016
Please say a prayer for Joe McKnight and his family. May God have mercy on you

— Husain Abdullah (@HAbdullah39) December 1, 2016
RIP Joe McKnight. I was able to watch my hometown phenom here at USC. Killed in our hometown of metro New Orleans. We are in crisis NOLA

— Wendell Pierce (@WendellPierce) December 2, 2016
One time for @PAC12 brethren, Joe McKnight! #RIP 🙏🏾

— Lance Briggs (@LanceBriggs) December 2, 2016
Frank Wilson's been around Louisiana recruiting for abt 20 years. Said Joe McKnight's one of the 5 most talented LA products he's ever seen.

— Bruce Feldman (@BruceFeldmanCFB) December 2, 2016
Spoke to #UTSA coach Frank Wilson. Said he's heartbroken abt Joe McKnight news. "He was very generous. Always wanted better for his family."

— Bruce Feldman (@BruceFeldmanCFB) December 2, 2016
Just woke up to hear some disturbing news. My condolences goes out to Joe McKnight. #RestInPeace #jetfamily pic.twitter.com/GHkBtK9HMN

— Darrelle Revis (@Revis24) December 2, 2016
It is with deep sorrow that we have learned of the devastating news of the loss of Saskatchewan Roughriders player, Joe McKnight. pic.twitter.com/x7Q8zBr1iL

— Sask. Roughriders (@sskroughriders) December 2, 2016
Rest in peace, Joe McKnight.

Our thoughts and condolences are with his loved ones. pic.twitter.com/vtEihPomt9

— New York Jets (@nyjets) December 1, 2016
Damn…just reading the news about Joe McKnight! Just senseless violence man, great teammate & sense of humor. Rest in power….

— Damien Woody (@damienwoody) December 1, 2016
RIP Joe McKnight … Prayers up 2 the family..🙏🏾🙏🏾🙏🏾

— Demaryius Thomas (@DemaryiusT) December 1, 2016
RIP Joe McKnight! Something has to change this ain't righ, his family is in my prayers. #StopTheViolence

— Todd Gurley II (@TG3II) December 1, 2016
Our thoughts and prayers are with Joe McKnight and his family.

This is a heartbreaking loss.

— Kansas City Chiefs (@Chiefs) December 1, 2016
Shocked to see this.Spent a bunch of time around Joe McKnight while working on Meat Market & after the book. RIP Joe https://t.co/vg7wOWoiuU https://t.co/yAJeLbr6ja

— Bruce Feldman (@BruceFeldmanCFB) December 1, 2016
Sad to see someone lose their life over an argument in traffic. Never knew him but knew of Joe McKnight. May he rest easy

— Justin Pugh (@JustinPugh) December 2, 2016
Sad news about Joe McKnight! It's a cold world out here. Praying for your family!

— theo riddick (@Riddick6) December 2, 2016
Joe McKnight. I'd like to tweet about something other than people dying today. Senseless violence in NOLA is something I'll never comprehend

— Steve Gleason (@TeamGleason) December 2, 2016
Heart hurts to hear about Joe McKnight. Prayers and condolences to his family and loved ones. Rest in heaven brother #RIP #StopTheViolence

— Mark Ingram II (@MarkIngram22) December 1, 2016
RIP Joe McKnight! Live life and love Hard!! Life is so short!! 🙏🏽🙏🏽🙏🏽

— Joe Haden (@joehaden23) December 1, 2016