Joe Flacco dismisses criticism from Ray Lewis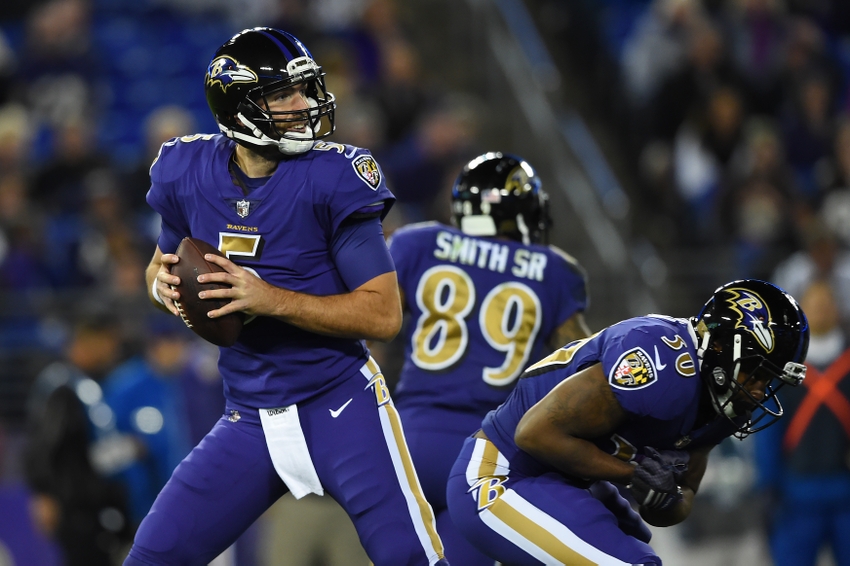 After some public criticism from a former teammate, Baltimore Ravens' quarterback Joe Flacco has simply shrugged it off.
During an appearance on Fox Sports 1's "Speak For Yourself" Thursday, in a discussion about this coming Sunday's game between the Baltimore Ravens and Dallas Cowboys, Ray Lewis chose to offer some criticism of Ravens' quarterback Joe Flacco. It went beyond Flacco's level of play, into some deeper things, and here's some of what Lewis had to say, via to Jeff Zrebiec of The Baltimore Sun.
"I'll tell you what I do know. There's something called talent, right? You see it a dime a dozen," "And then there's something called being passionate about what you do, about really what you do. Me being around it. Gifted? Absolutely. Passionate about what he do? I've never seen that. I don't know what that looks like."
It wouldn't be surprising to learn the notably intense and passionate Lewis did not necessarily mesh with Flacco's more low-key approach. Lewis went on to accuse Flacco of isolating himself on the bench regardless of results on the field, and of not being a talkative, "rah-rah" guy.
Flacco was asked about Lewis' comments during an appearance on Sirius XM NFL Radio, and his response was not at all surprising.
"It's something that I've always dealt with. It's my personality," Flacco said on Sirius XM NFL Radio. "When things are going well, people are asking why it's a good thing. When things aren't going well, they want to question you and different parts of your game. I'm not going to sit here and talk too much about it. It is what it is. Ray can think what he thinks. I'm here to lead these guys, keep us on top and keep us moving forward."
Flacco's current teammates did not hesitate to come to this defense about Lewis.
Eric Weddle about Lewis comments: "he won you a Super Bowl. Did you forget about that?"

— Jeff Zrebiec (@jeffzrebiecsun) November 18, 2016
As Joe Flacco talked to the media about Ray Lewis' comments, several of his teammates shouted, "We got your back, Joe!"

— Garrett Downing (@gdowning14) November 18, 2016
Flacco has mostly underachieved since leading the Ravens to a win in Super Bowl XLVII after the 2012 season, with Lewis as a teammate, when he bet on himself in a well-timed contract year. But to question his passion for football and leadership skills is a big step, and it's a step too far like many Lewis has taken since becoming a media member.
This article originally appeared on